OpenWRT WISP Repeater Mode Configuration
OpenWRT an open source router firmware to boost the performance a normal router by adding many extra useful features. WISP stands for Wireless internet service provider mode. In WISP mode router wireless work as a WAN port and wifi device work as a router. You can use OpenWRT wisp mode to share internet cable to multiple users without adding an additional wifi router.
WISP mode also can use to turn OpenWRT powered router into a wifi range extender to boost wifi signal. OpenWRT WISP repeater mode can configure with non-OpenWRT router also using the simple client mode. In WISP mode router not work as a bridge connection it works as a router so you can not access the device connected to the main router from the device connected to OpenWRT WISP mode. In this post, you will get a simple configuration step to setup the OpenWRT router as WISP repeater mode to work as a wifi booster.
OpenWRT WISP mode Setup with non-OpenWRT AP
OpenWRT Default IP address: 192.168.1.1
Default username- root
Default password: NA
Open a web browser such as Google Chrome, Firefox, and access OpenWRT default IP http://192.168.1.1.
Press the Login button to access the settings page.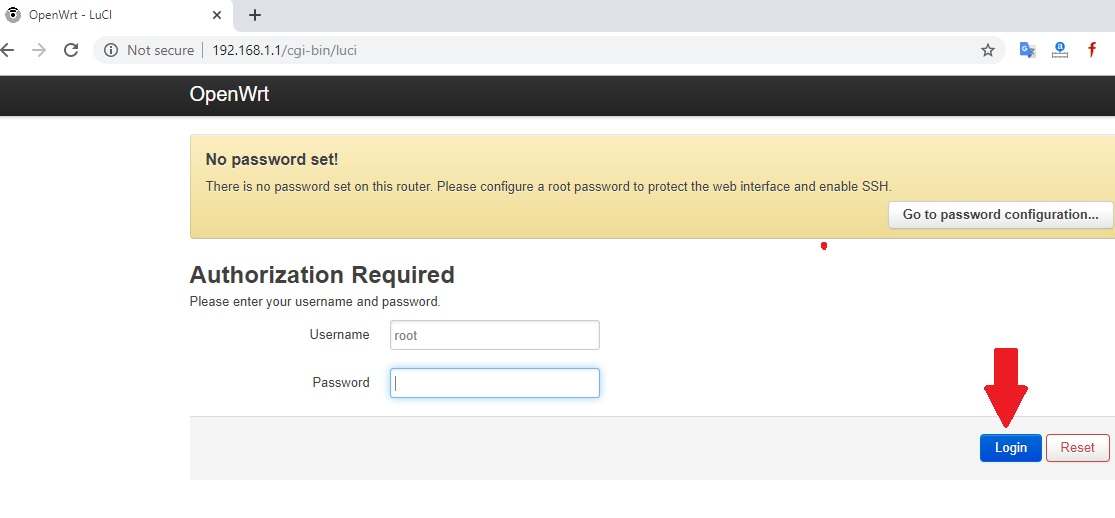 Change OpenWRT Default IP Address
As most of the router comes with a default IP Address http://192.168.l.l  so before setup OpenWRT router it is highly recommended to change LAN IP.
To change LAN IP Go to Network- Interfaces
Find the LAN interface (Green color).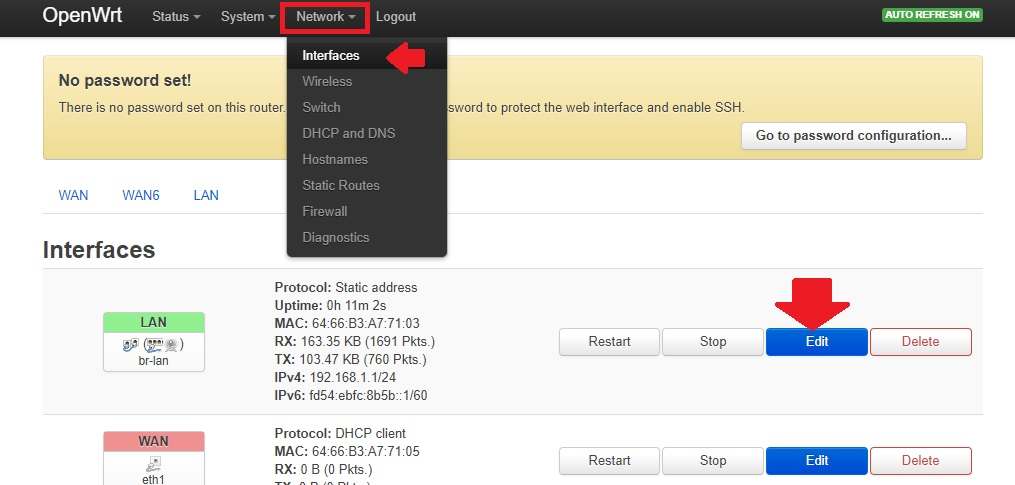 Press the Edit button to enter in network settings.
Protocol: Static Address
IP Address:  change this ip address to new IP address and press Save & Apply button.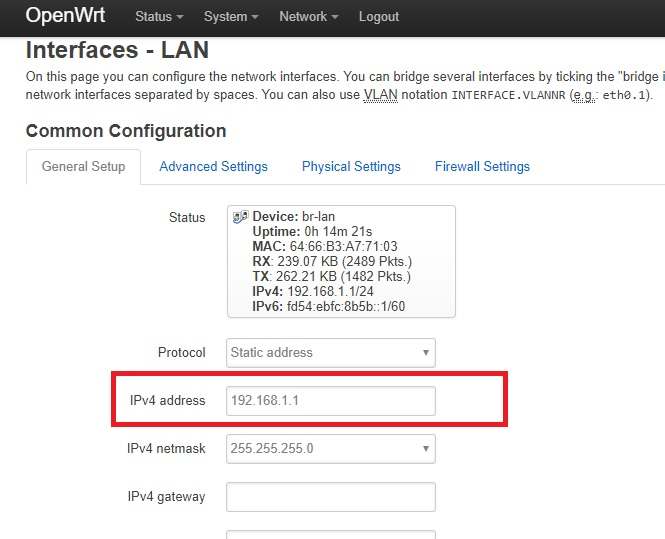 Access OpenWRT with Change new IP address again and follow steps to configure as WISP repeater.
OpenWRT Configuration as WISP Repeater Mode
Now go to Network-Wireless
Press on the Scan button to search wifi network running nearby.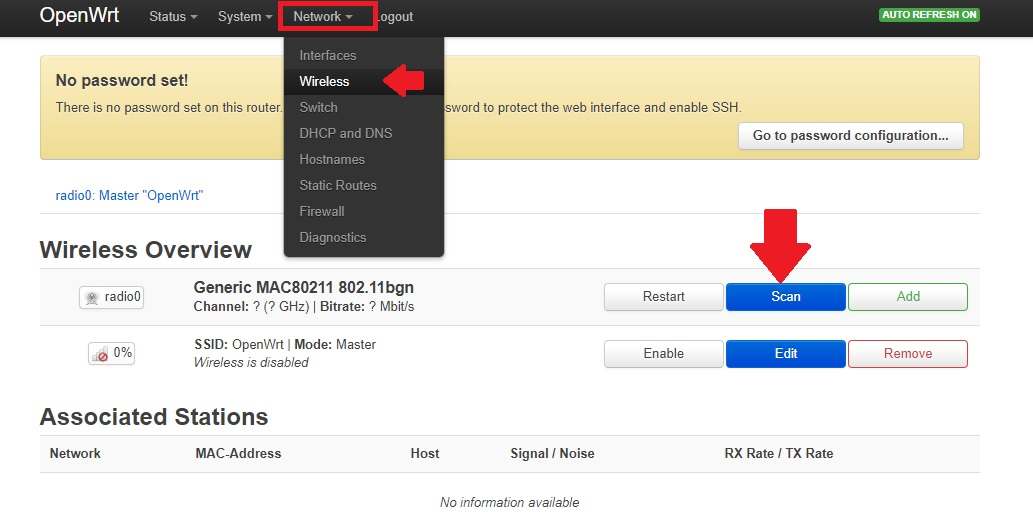 Wait to load all wifi names in the scan list.
See the SSID name of your host wiFi router on the list.
Press the Join network button to connect from OpenWRT.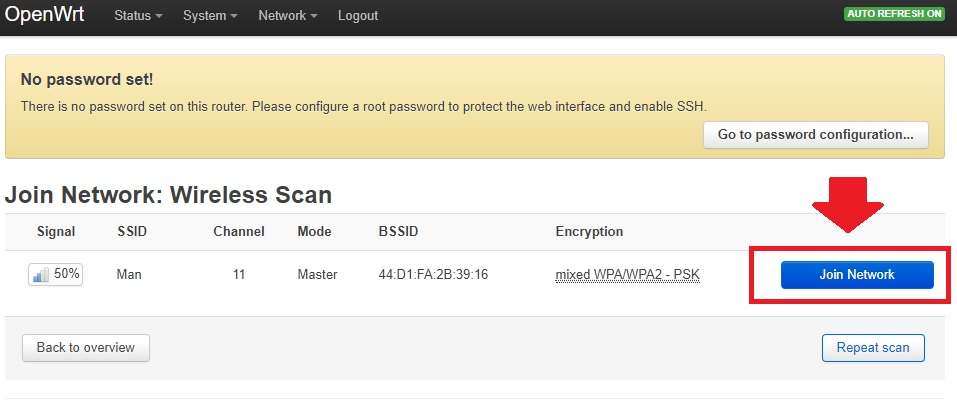 Keep ready your Main WiFi password to allow OpenWRT device connection.
WPA Passphrase: type your main wifi password.
Press the submit button to proceed next steps.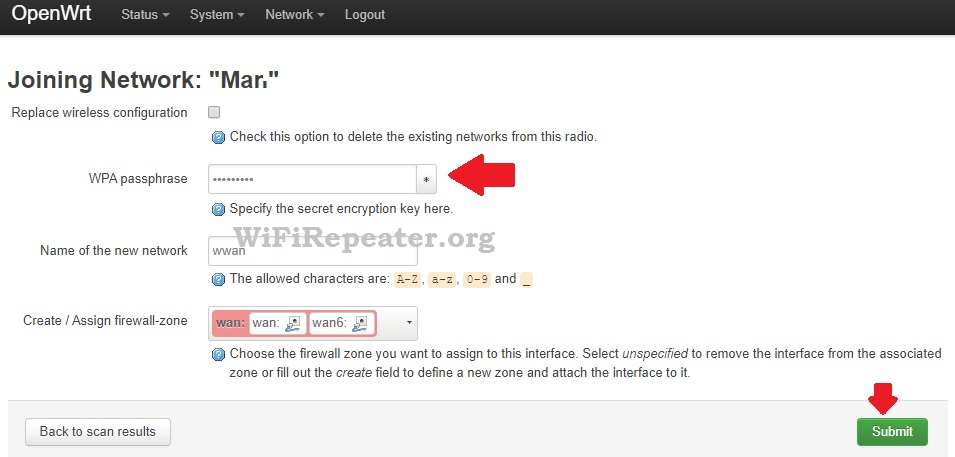 In the next steps device will auto select wireless mode to client and Mac Address of host router.
Press Save & Apply button to confirm settings and wait.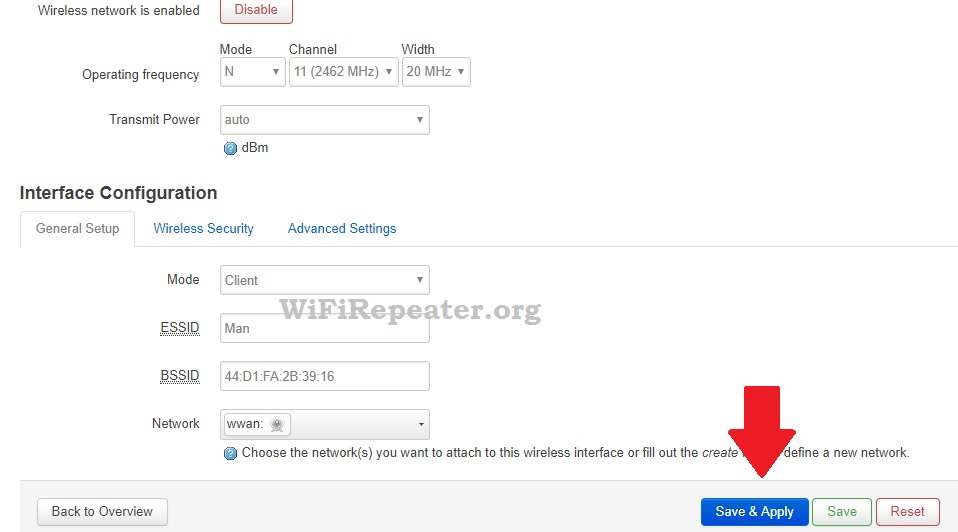 The router will take a few seconds to save settings and revert back to the wireless page.
In the wireless page, you can check WISP connected status signal quality with main Wi-fi router.
Make sure your WISP router getting at least 50% of the signal from the host router.
Setup WISP Repeater WiFI name and Password
Once the router connected to the host WiFi router using WISP mode now create the wifi name and password for repeater signals.
To add range extender wiFi name go to Network- Wireless
Find the Mode: Master in the interface list.
Press the Edit button to change the default WiFi SSID and set Key.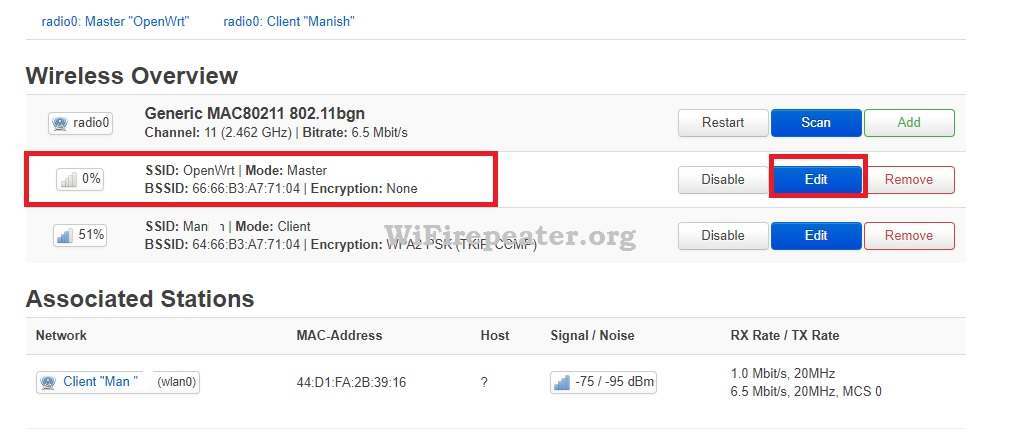 See the interface configuration settings on the page.
1: General setup:
ESSID: type the WiFi name for Repeater signals to use repeater existing wifi network.
2: Wireless Security: Press on the tab and set the WiFi security for the extended network name.
3: Press the Save and Apply button to confirm settings.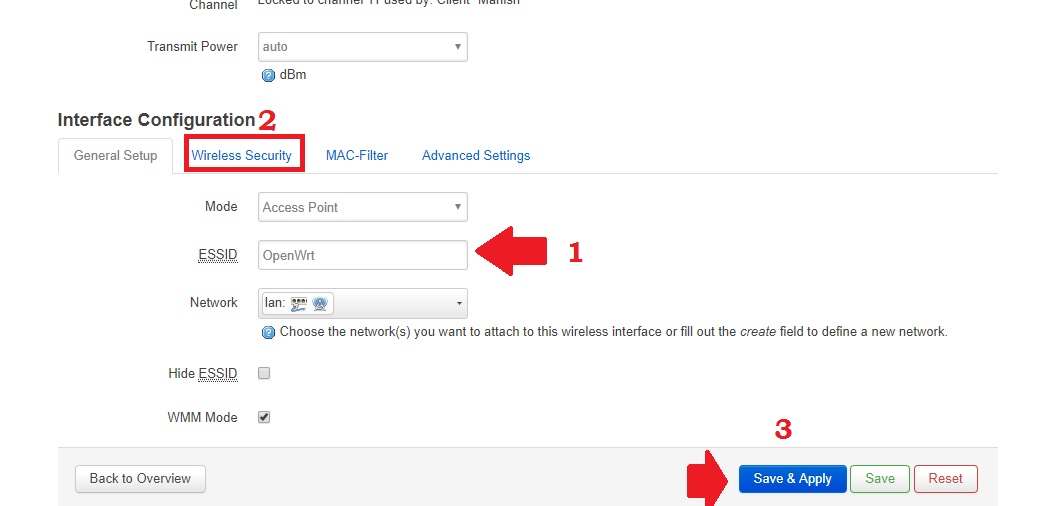 Once all settings save to go to Mobile WiFi and connect the Repeater name to confirm internetworking.
OpenWRT WISP Router Placement
The placement of the repeater device depends on the extended signal and wifi connectivity.
Always find a place where the WISP device can get at least a 50% WiFi signal of the main wireless router.
Follow the WiFi Repeater Placement guide to get proper signal and connectivity of the WiFi router.
Related Post