Tenda N300 Repeater Mode Configuration Step by Step
Tenda N301 300Mbps home wifi router for all popular internet providers. It is a low-cost wireless router with two Omni antenna with 4 physical Ethernet ports. 1Wan and 3 Lan port use to connect a wired device such as Desktop, network printer and NVR. This router supports multi-mode such as WISP, Router, Universal repeater and can configure as per requirements.
Tenda n301 wifi router can use as a range extender mode with any brand wifi access point to boost wifi signals. Tenda N301 Wireless N300 Easy Setup Router in Universal repeater and WISP mode to turn your router into a wifi signal booster. Universal repeater lets you connect wired PC and Network printer from LAN port without laying physical cable from the main internet router. Also, know universal repeater mode for Tenda O3 outdoor CPE.
 Tenda N301 Range extender setup Connection
To turn the Tenda N300 WiFi router into a universal repeater need to connect physically from LAN port.
Connect LAN cable to any port from 1 to 3 Number LAN port and direct plug to PC/Laptop LAN port as shown below image.
power on the router with a power adapter comes with a box.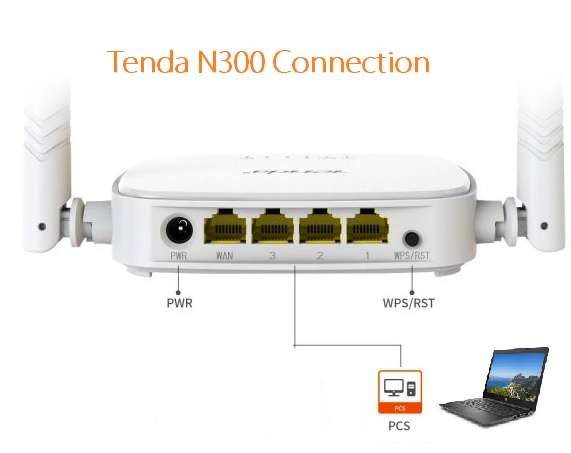 Configure PC LAN IP Address with Tenda Default IP Address series.
Tenda N300 WiFi Router Default IP Address – 192.168.0.1
use 192.168.0.10  in Laptop/PC Lan Port in static mode.
follow steps to setup LAN IP Configuration in Windows, Mac, and Linux PC.
Login Tenda WiFi Router to Setup Repeater Mode
Once you have connected the Tenda router to the Laptop and IP configuration done.
Now Open the Web Browser and access http://192.168.0.1  or 192.168.1.1 for ADSL.
You will get a setup wizard for router mode configuration.
Choose Dynamic IP and Press OK button to login into settings.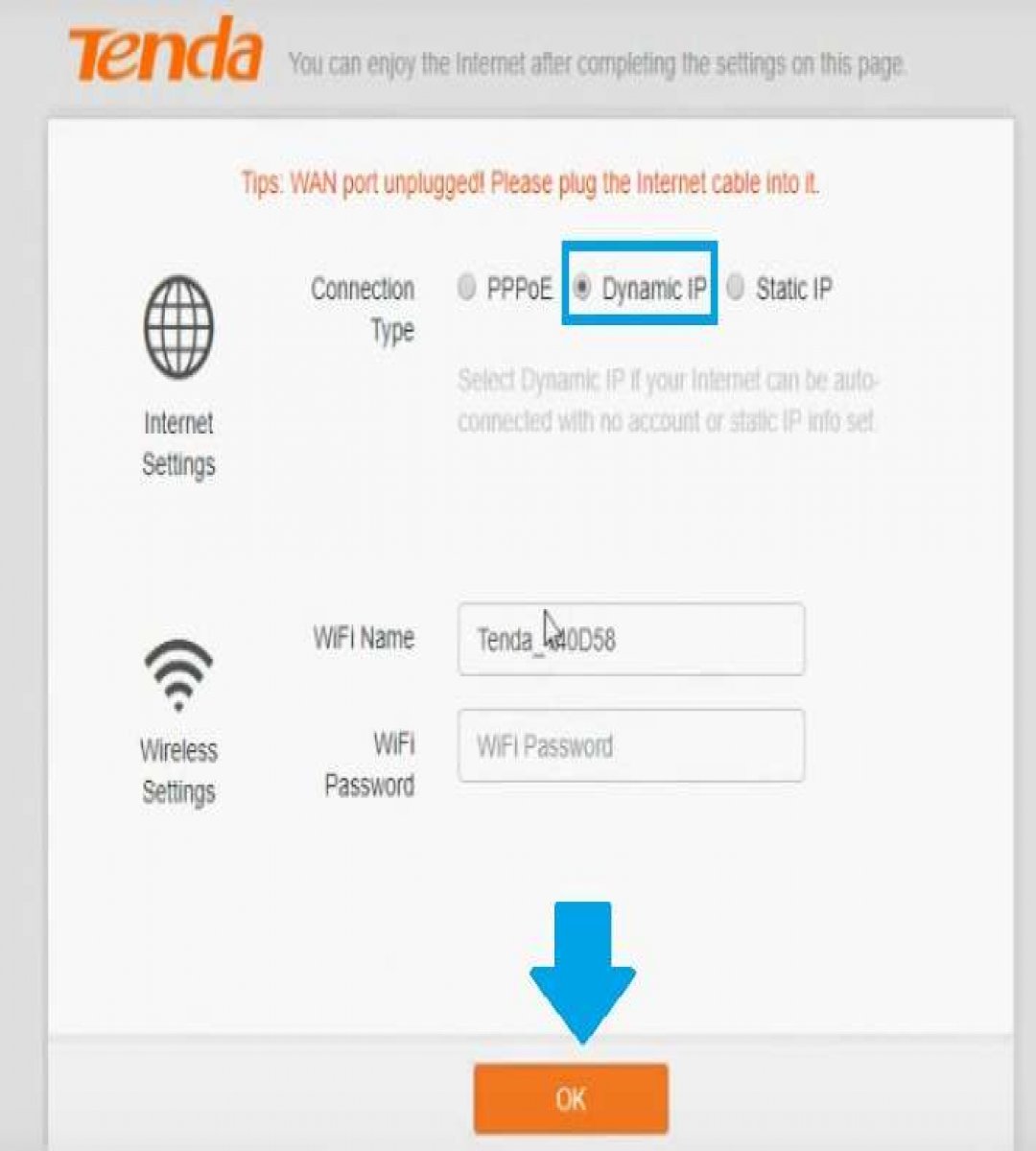 Repeater Operation mode setup
Now the first step is setup the operation mode from router to Universal Repeater.
Go to Wireless Repeating – Universal Repeater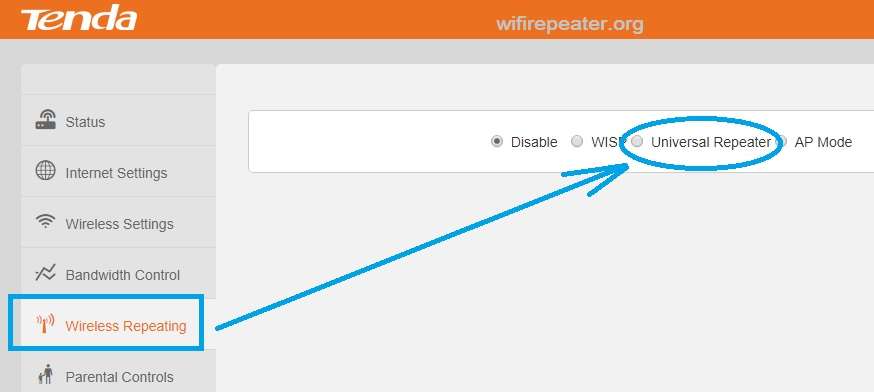 Once Universal repeater mode selected, the router will start the scan all running Access point nearby.
You will get a list of all running WiFi names near your repeater device.
Find your main WiFi name from the list as shown below and type your WiFi password to allow connection from Tenda repeater.
Press Ok button to save the setting.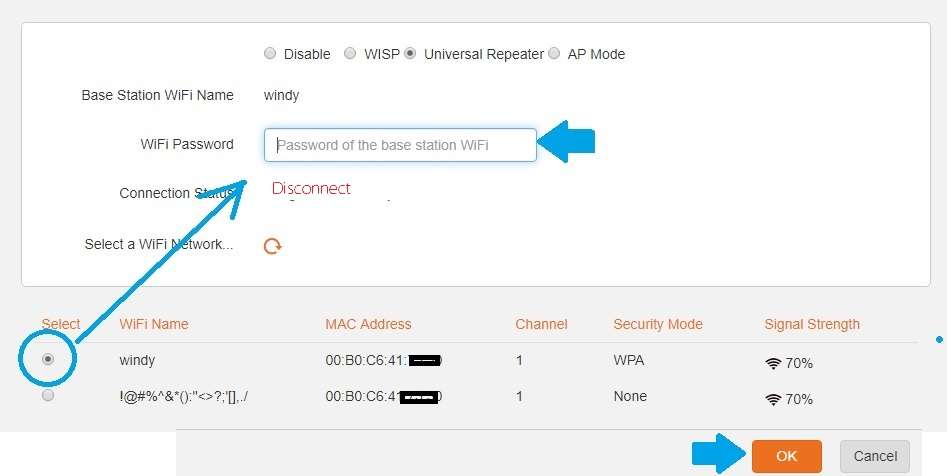 You will get a pop-up notification to confirm reboot device and after reboot, router will turn into universal repeater so only can access using "tendawifi.com"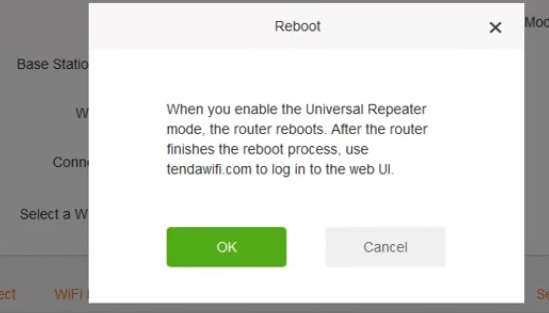 Press the OK button to confirm and wait for the device rebooting finish.
Note: While router rebooting change the Laptop LAN settings to DHCP mode.

Go to Network settings and change TCP/IP4 setting to obtain an IP address automatically.
Access Tenda Universal Repeater
After change settings now open web browser again and access "tendawifi.com" to open Tenda repeater settings.
Repeater Connection status.
See the connection status: Bridged successfully in Universal repeater Mode.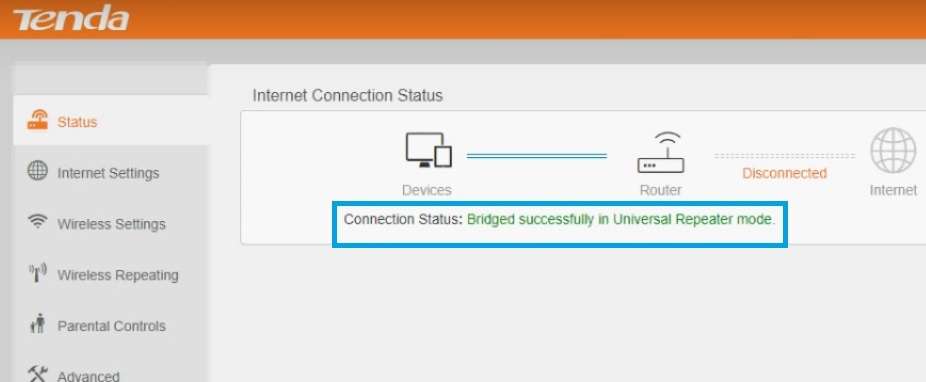 How to Fix WiFi Signal issue using Old WiFi Router
Setup Repeater SSID and Password
You can configure Repeater SSID and password different from main WiFi name and passwords.
Go to Wireless settings
WiFi ON/OFF – drag button toward the right to make it enable.
WiFi Name– Type repeater WiFi name in this box.
Security Mode: WPA2-PSK (recommended)
WiFi Password: type password for Tenda repeater device.

Press the OK button to save settings.
After router reboot now go to wifi connection and connect repeater SSID to confirm setup complete and repeater device start increase signal and wifi connectivity.
Tenda N301 Datasheet Download 
Related Post