Uppoon Wifi Extender Setup and Troubleshooting
Uppoon WiFi Extender AC1200 Dual-band supports 2.4Ghz and 5Ghz wireless band with a combined WiFi speed of 1200Mbps. Uppoon wifi extender is compatible mostly with all leading brands' wireless routers and access points. There are three methods to setup uppoon wifi extender to boost WiFi signal without laying a physical cable from the router. uppoon wifi extender setup instructions manual also included with Uppoon extender new box pack if you planning to buy new extender device. Uppoon WiFi repeater best way to fix the signal issues without laying a physical wired cable from the internet router.
Uppoon WiFi range extender device can connect with the single band as well as dual-band WIFI router, it depends on your host internet router. If your host internet router support dual-band then you can use Upppoon Repeater device 5Ghz or 2.4Ghz band. If you have an old Uppoon Wifi extender device but it is already configured with another router or you may change your host internet router and want to setup Uppoon range extender again then make uppoon wifi extender reset to restore into default mode and follow setup instructions as given below. You can use any way to configure Uppoon Repeater device either WPS method or setup from mobile as well as setup from computer or Laptop device.
Uppoon Wi-Fi Extender Connect using WPS button
WPS push button method is the fastest and smart way to setup a range extender device. WPS method does not require any login or WiFI password to allow connection from Repeater device. The WPS method only works for you if your host WiFi router supports the WPS option and it's enabled from settings. Just Unbox Uppoon signal booster and follow Setup steps. Make sure Both Wifi Antenna of Uppoon wifi extender directions toward the upside to getting the proper signal from the host router.
Default Router IP Address Username and Password All Brands
Unbox your Uppoon Range extender device and Plug it into the Power socket near the Host router.
Go to your host WiFi router and press the WPS button for 2 seconds.
Within 2 minutes Press WPS button for 1 second on Uppoon Extender.
After connection with the main wifi router Extender signal Led will start glowing.
Check your mobile wifi after 20-30 seconds you will see one more WiFI SSID name WIFI-Network_EXT (Your existing name with EXT will configure as Signal booster SSID name)
After configuration unplugs the Uppoon signal booster device and find a proper location where you facing a signal range problem but make sure the range extender should be feasible from the main wifi router to get the proper signal range.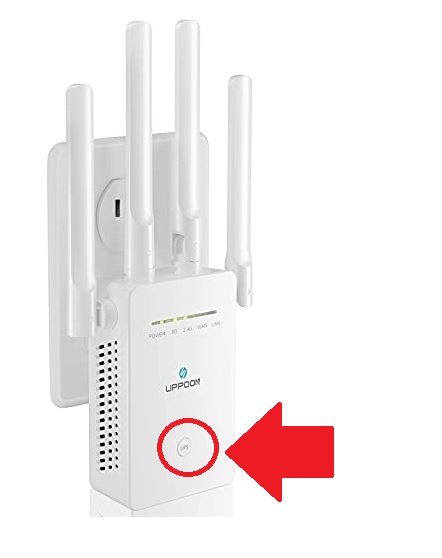 If your Uppoon Wifi Extender device not working with the WPS method and unbaled to configure then follow the next method using a mobile or Laptop device that required a wifi password.
Setup Uppoon Extender from Mobile or Laptop
Configure Uppoon Signal booster from mobile device need existing wifi network security key and connection with mobile. Although you can use a computer/Laptop using a wired LAN cable from Uppoon Ethernet port to login settings.
How to Find Your Router IP Address
Plugin Range extender device to a power socket near WiFi router you wish to connect from Repeater.
Go to the wifi option from mobile and connect to the "Uppoon_WiFI" SSID as shown for your Range extender model.
To use Wired connection, connect LAN cable from Repeater LAN port to computer LAN port.
Open a web browser and access http://192.168.11.1 default Uppoon extender IP address.
You will get a range extender login page asking for the password. Choose your Language and use the default password "admin" and press the login button to access settings.
As Uppoon Extender supports multi wireless mode, AP, Repeater, Router so to setup in range extender mode choose the repeater option.
Click Repeater option and wait a few seconds while repeater scanning for network and load all wifi names running nearby.
Select your WiFi name from the list and provide your existing wi-fi security key.
Extender name – You can change the Extender name differently from hostname or you can use the default name.
If your Uppoon supports dual-band you will get 2.4GHz and 5Ghz wifi SSID name for the extender and the wifi password will be the same as your existing wifi password.
After finishing setup unplugs the extender device and finds a proper place to install the range extender so it can get at least 50% signal from the host wifi router.
If you are trying to set up your old Uppoon extender device with a different wifi router and that is already configured with another router then you can make the Uppoon Wifi extender reset to default settings first.
Follow steps to factory reset Uppoon signal booster using reset button if you forget login password or range extender not working.
Uppoon Wifi extender Reset Instruction
You can use the Reset repeater device if you forget the login password, or the extender device is already configured with a different router and you wish to set up with a new one. If your Extender device not working or not performing well then factory reset is also a way to refresh it.
Connect Uppoon extender device to a power socket.
Find a small reset hole or button beside or near the Ethernet port.
Press and hold the reset button for 10 seconds and release.
Repeater device will automatically reboot during reset process and you can see default WIFI name showing once reboot finishes.
Follow the above steps to setup the repeater device again.