Myrouter.Local  Login Linksys Router
Linksys broadband wireless router or ADSL modems used for internet connection at the home. Linksys is a brand of a Cisco company. Myrouter.local is a login URL used to access Linksys WiFi router web interface for setup for internet connections. Although the router also preconfigured with the default gateway IP address for the first time setup so you can use any of the options either using URL or IP address. If you have a Linksys WRT54G legacy model or the Latest 11Ac Linksys E series WiFi router then you can log in to the router using myrouter.local login URL. You need to connect a wireless router either using wired or wireless to access the Linksys wifi router using default login settings.
Steps to Access Linksys Router using Myrouter.local
Router with multiple LAN ports can connect to any LAN port or use the default WIFI SSID name printed to router sticker. Follow steps to Linksys Router Setup using myrouters.local.
Use a standard LAN cable to connect the router from the computer/Laptop LAN port.
Use the WiFI name and password to connect using WIFI connections.
Connect Internet cable to WAN port.
Change computer LAN TCP/IPv4 and Change LAN settings to DHCP mode.
Power ON router with DC adapter comes with the unit.
How to access WiFi Router settings using WiFi and Wired?
Myrouter.local login Default Username and Password
You have two ways to log in to Linksys wifi router using Login IP and Login URL, but you need a login username and password for both the method for the authentication router.
Default Login IP Address– 192.168.l.l   Login URL- myrouter.local
Default Username – admin
Login Default password – admin
Access Router web interface with myrouter local
Open a web browser and access http //myrouter.local  in the URL bar and press the enter key. After a few seconds, you will get myrouter.local/sign in page asking for username and password. You can use http://192.168.1.1 in case myrouter.local not working due to any blocking in the PC.
Use default login credentials as printed to router stickers or use the above settings.
Once you are logged into the router control panel you can configure internet settings as per your internet type, Static IP, PPPoE, or Dynamic.  Ask your internet provider to get internet settings for the first-time setup your broadband wifi router.
Change Wireless SSID Name and Password
You can change the default WIFI SSID and Password once you accessed the router using myrouter.loca after authenticating login settings.
Wireless B Broadband Router BEFW1154
Go to Wireless- Basic Wireless Settings
Wireless- Enabled
Wireless Network Name (SSID) –  Linksys (change SSID as per your choice for your WIFI network)
Wireless Channel- use 1, 6, or 11 (2412, 2437, 2462) these are the non-overlapping frequency.
Wireless SSID Broadcast-  Enabled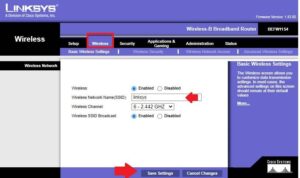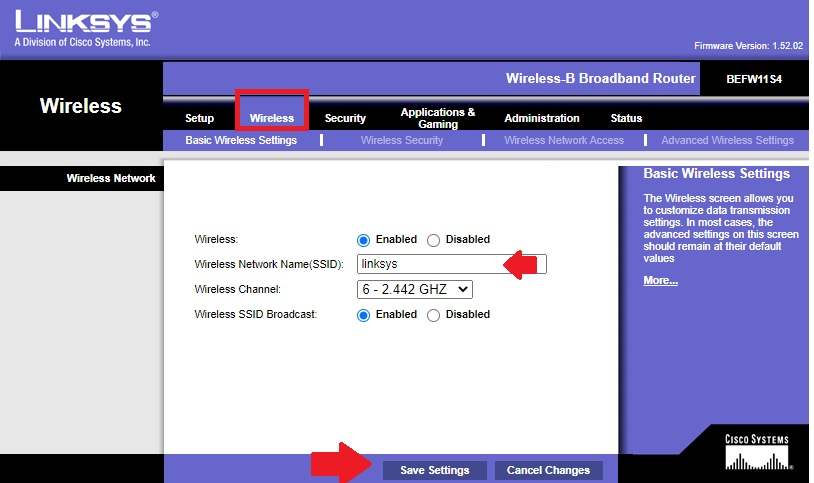 Press the Save Settings button and go to Wireless Security settings to change WIFI Key.
Change Wireless Security Key
Go to Wireless- wireless Security settings
Wireless Security- Enabled
Security Mode- WPA Pre-Shared Key
WPA Algorithms- TKIP
WPA Shared Key- Linksys-wifi password (create new wifi password)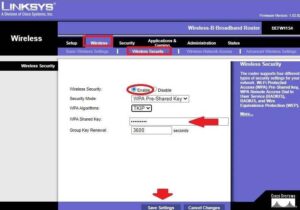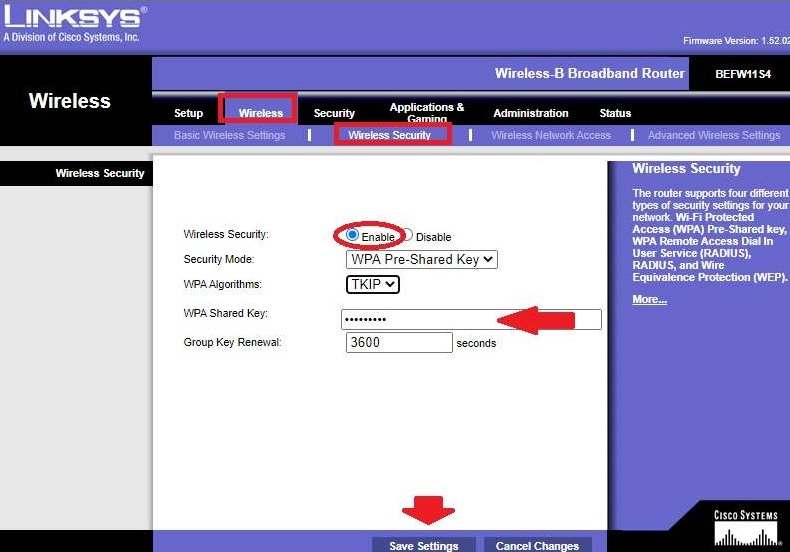 Press Save Settings to apply changes. All mobile, Laptop, Network printer and other wifi users will be disconnected for WIFI after changing SSID and password. Connect all users again with a new name and Password as updated.
After protecting the WIFI network next step is secure myroutr.local login password to prevent unauthorized access of the router.
Change Login Password for Linksys WiFI Router
It is always recommended to update the login password during first-time login and setup router to protect router settings.
Go to Administration – Management
Router Password – Create a new login password
Re-enter to confirm– type new password again to confirm.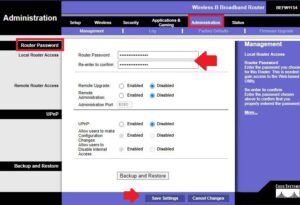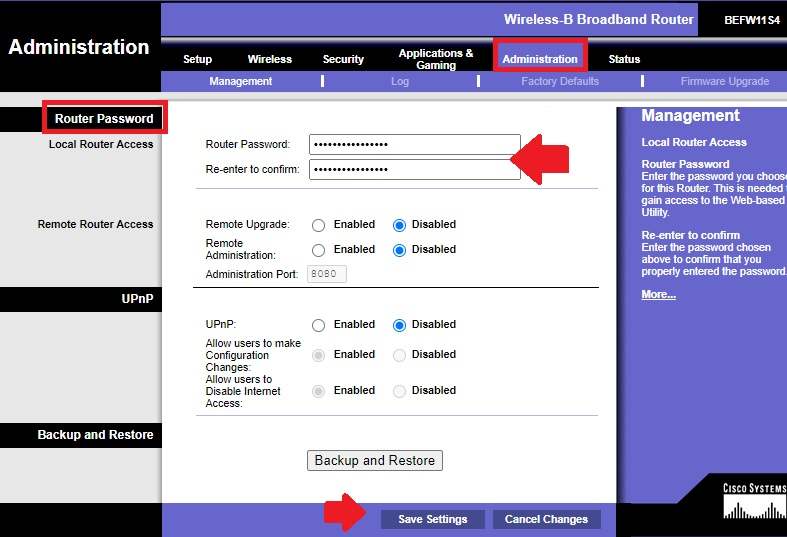 Remote Upgrade – Enabled   Disabled
If you want to upgrade your router remotely from the internet then Enable this option.
Remote Administration– If you want to enable router access remotely using the internet. Just using a port to enable router remote access.
Backup and Restore–  After all configuration back the configuration file to keep backup with you for future restore purposes in case you required a router reset due to any reason.
Save settings and start enjoying the internet using wifi as well as wired connections.
Troubleshooting of Login issue with myrouter.local
If you are unbaled to access my router.local URL or may taking to a long time to respond that seems to some network misconfiguration and other reasons.
Can't Access myrouter.local from the browser!
If you are getting an error while accessing Linksys myrouter local URL from the web browser and redirect to the error site cant be reached or the URL not working then follow the steps to fix the error.
Make sure your computer is connected to the router LAN port, not the WAN port.
Check if the Windows firewall is disabled in the control panel and Services.
Make sure computer LAN settings are in DHCP mode.
Check you are using the correct login URL- http://myroter.local instead of using the wrong URL "http//myrouter.local"
If still facing Login Issue with Linksys wireless router then you need to factory reset the router.
How to Factory Reset Linksys WiFi router?
Step to fix the login error of Myrouter.local while accessing from a web browser.
Locate a small reset button in the router beside LAN ports.
Use a needle to press and hold the reset button for 10-15 seconds.
The router will reboot starts and all LED lights will turn off and again turn off.
This process takes 3-4 Minutes so keep calm and wait for the process to end up.
Related Post