Quick setup guide to configure new Rock space WiFi extender using default URL Re.Rockspace.Local or WPS button without login settings.
Re.Rockspace.Local | Rock space WiFi Extender Setup
The Rockspace WiFi Range Extender comes with various models and speeds from the single band as well as dual-band with high speed. Probably range extender device extended your existing wifi network and increase wifi range in the area host the wifi network can't reach. Your existing wifi should support a dual-band to connect rock space wifi extender in a 5Ghz band that provides you super-boost network speed and range.
If you already purchased rockspace Range extender and looking for a simple user guide to setup rock space without any network glitches then this post will help you. There is two way to set up a new Rock space wifi repeater device, using the WPS button that does not require any login and the second login rock space web interface with re.rockspace.local or default login IP address. In both methods, you should be physically available near the local Rackspace signal booster to connect with your existing host wifi network. Follow the step-by-step guide to first set up a rock space wifi extender with any brand WiFi extender. The configuration method for rock space 750Mbps WiFi Range Extender (RSD0607), Rackspace 1200Mbps WiFi Range Extender (1200RPT), and any legacy model are the same.
Default Login Settings for Rockspace Extender
Before proceeding to the configuration of the extender device you must know the login credential for your rock space booster device to easily access settings and manage quickly.
You can also find the default Login IP address, username, and password printed to Rockspace Sticker as well as a quick user manual included with the box.
Default Login URL– re.rockspace.local  or  Login IP Address – 192.168.0.254
Default Username- NA
Rock space password– Need to create a new password during first-time login.
Once everything is ready with you to set up a range extender device now is the time to proceed next steps.
Setup RockSpcae WIFI Extender using the WPS button
Setup Rockspace using the WPS button method is a faster and easy way to configure any range extender. In the WPS button, there is no wifi password required and no need to login to extender settings it's just a plug and play method.
Steps to Connect Rockspace AC1200/AC750 using the WPS button
Plugin Rockspace Extender unit to a wall power socket near an existing wifi router
wait to turn led solid blue.
Locate a small WPS button in the existing wifi router and press the button
Go to the Range Extender device and press the WPS button within 2 minutes of pressing the Router WPS button.
Wait until the Repeater signal Led light turns on solid blue.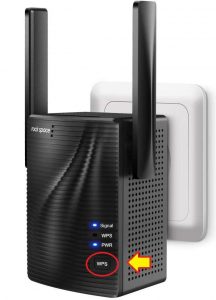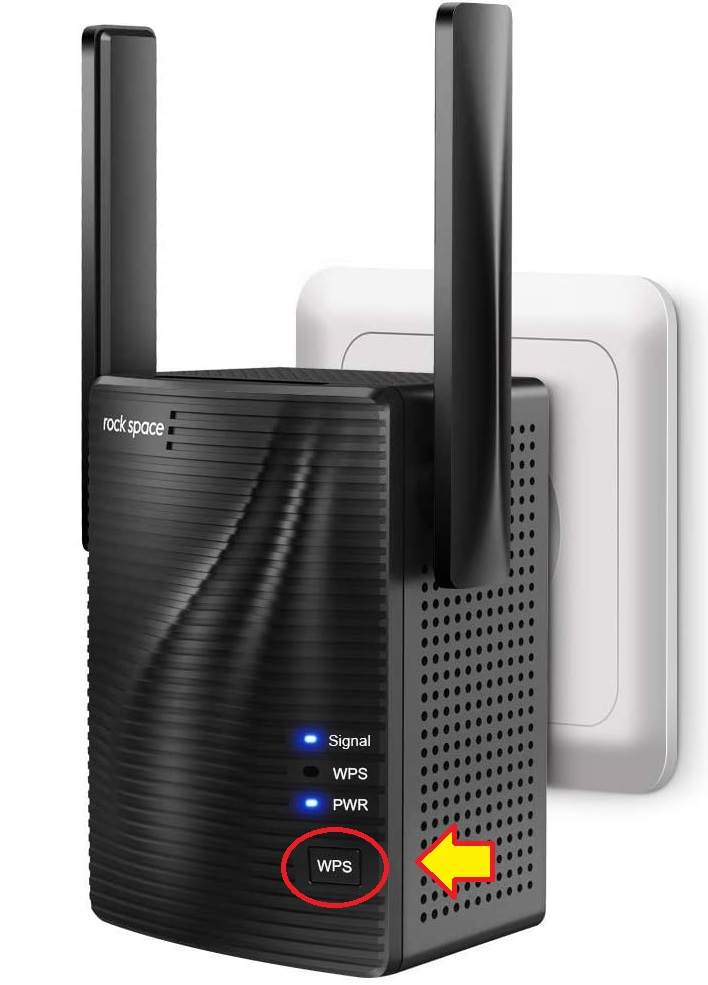 This is the WPS method to setup a rock space signal booster device with a non-rockspace access point or WiFi router.
Rock Space Wifi Extender Setup using the Web interface
In this method, you need to connect rock space booster device from a mobile or laptop device using the default wifi SSID or wired connection using the Ethernet port of the Extender device.
Connect Rockspace Wi-Fi extender to the Power Wall socket in the same room of your existing wifi router.
Open WiFI in mobile or laptop and scan for wifi network. After a few minutes, you will rock space default SSID "rockspace_ext".
Connect "rockspace_ext" SSID and wait to connect mobile/laptop wifi to the Extender device.
Open a Web browser and access http://re.rockspace.local or http://192.168.0.254 and wait to load login page.
You have to create a new login password for the range extender during the first time setup. Use a stronger login password and press the next button.
In the next step, you will get a list of all WiFI networks running nearby Rockspace extenders.
Choose your existing wifi network name from the list and provide the password for the Existing wifi network you want to extend.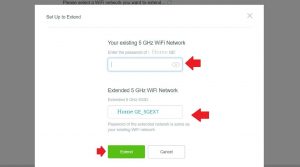 The extended WIFI network- You can change SSID for the Extended network here.
Wait for a few seconds and you will get an extended successfully page.
Now go to mobile and rescan for the wifi network.
You will get one more SSID with the name of "Rockspace_5GEXT or whatever new extended network you created during configuration. Use the same WiFI password for the extended network as the existing wifi password.
This is both the way to set up a range extender device to boost wifi signal and speed without changing network name or laying physical cable. Extending network performance and range extender speed also depend on the placement of the WiFi repeater devices. follow steps to proper placement of Range extender device.
Placement of Rockspace WiFi Range Extender
Placement on of the most important factor that boosts range extender connectivity and speed. Wrong placement can reduce high-range extender capacity and speed so always find the best location to mount the Extender unit.
Things to keep in mind while installing the new Range extender.
 Find a location for the extender device from the Existing host wifi signal that can get at least 50%.
Do not place the WiFI booster device in a covered area such as a cupboard, under the table, or inside the drawer.
Keep both external antennae of the extender device toward the upside.
Make sure there is no obstacle between the Range extender wifi router to get stable and stronger connectivity.
 How to Fix WiFi Signal issue using Old WiFi Router
Rackspace Range Extender Troubleshooting
Fix setup issue or the range extender can't connect to an existing wifi network or your extender is connected but has no internet, these are the common problem that comes while connecting a new extender device to the extended network. This troubleshooting part will help you to fix the rock space connection issue.
Can't login to Rock space Web interface
If using from a Mobile make sure the extender WIFI signal is connected to mobile wifi and Mobile data turn off.
If using a laptop/computer make sure LAN Settings are in DHCP mode (obtain an IP address automatically).
Make sure you are typing the URL in the proper format http://re.rockspace.local keep typing mistakes and avoid typing wrong format such as http //re.rockspace.local, http//re.rockspace.local or related errors.
If still facing login error just unplug the repeater from power connect again and reset the repeater to default mode.
How to Reset Rock Space Range Extender
Login IP address not working, forgetting login password, or the range extender connecting disconnecting problem can fix with reset and setup again.
Plug the extender device into the power socket and wait to turn the power led solid.
Press the RST button using a needle or paper clip for 8-10 seconds.
After that power LED will turn solid and the device will be restored to default mode.
Follow the above steps again to setup again.
Related Post