Galaway Wifi Extender Setup AC1200
Galaway G1208 AC1200 Dual Band WiFi router setup to extend wifi signal range without laying any physical cable. If you have Galaway WiFi extender N300 Single band or Acc1200 Dual-band, you required a setup guide to proper configuration fo your Repeater device with an existing wifi network. Galaway G1208 dual-band wifi router provider 1200Mbps combine wireless speed (2.4G 300Mbps+ 5GHz 900Mbps) that extends your network range without getting down internet speed and connectivity. Galaway G1208 WiFi Repeater Wireless Signal Booster device comes with 4 Extender Omni directional antenna that provides you signal range in 360 degrees.
There are three-way to setup Galaway range extender with and without a computer.
1. Setup Galaway repeater using WPS button
2. Galaway Configuration from Mobile
3. Setup From computer using WIFI or Wired connections.
Default Settings for Galaway Extender
While setting up a repeater device from mobile or PC you need default login credentials that are usually printed to repeater sticker as well as you can find in the Galway ac1200 manual that comes with box.
Galaway Model: G1208 (AC1200 Dual-band).
Default Login IP Address– 192.168.10.1 or Galaway Default Login URL – http://ap.setup
Default Login Username– admin or NA
Default Password- admin (lower case)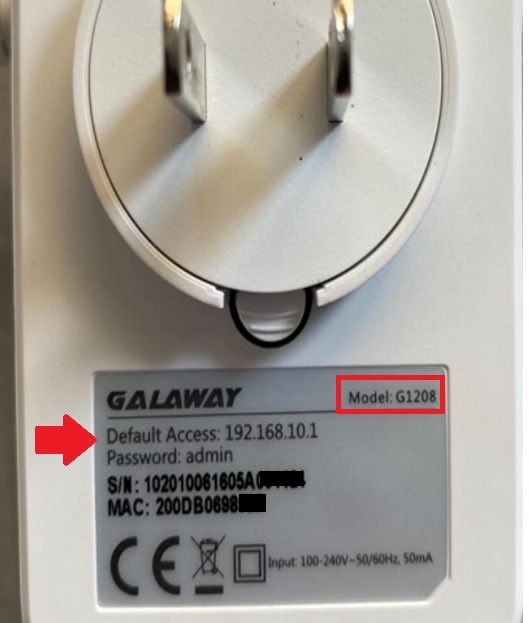 Change Repeater Mode
The first step is to change the Repeater mode using the selector button available beside the repeater device.
Move the button toward repeater mode and plug the Extender device into a power wall socket.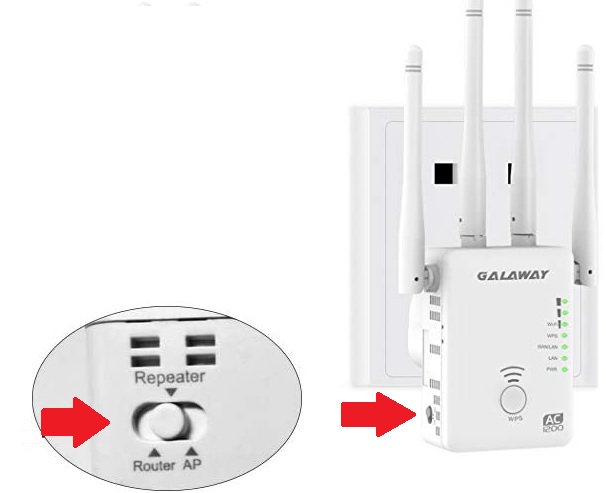 Method 1: Setup Galaway Using WPS button
Plugged in your wifi booster to the AC socket near to your existing wifi router so the repeater can get strong signal strength to complete the setup. WPB button configuration method does not require WiFi password for the existing wifi network as it connects through WPS PIN.
Steps to Setup using the WPS button
1- Locate the WPS button on your internet WiFi Router.
2- Press the WiFi router WPS button for 1-2 seconds and release
3- Go to Galaway Repeater and press the WPS button within 40 seconds and wait for 30 seconds until the extender device connecting to the wifi router.
4- The repeater LED light will turn off and on and after rebooting you can check Extender SSID should showing in WiFi.
5- Connect Extender SSID and check the internet should work.
This is the method to connect wifi repeater without a password and without connecting to wired or wireless from the computer/phone.
Method 2: Setup Galway WiFi Extender from Mobile
Configuration from mobile is a bit easy and faster method to connect Galaway wifi repeater to boost signal range.
• Go to Mobile WiFI settings and scan for Network.
• Connect "Galaway" Default SSID name from mobile.
• Open browser and access http://192.168.l0.1 or URL ap.setup and press OK.
• You will get the Galaway Login page asking for a password. User "admin" as the default password for the first-time login.
• Open Wizard and scan for WiFi Network.
• You will get a list of all running wifi names nearby. Choose your WiFI name from the list.
• Provide WiFI password for an Existing wifi network to allow connection from Extender device.
• In the Next step you will get the option to create an extender network SSID.
• Finish Wizard and wait until the repeater device rebooting.
• Go to Mobile and check for Extender SSID name and connect and confirm the internet should work.
How to Configure WiFi Blast Range Extender
Method 3: Setup WiFI Extender from PC
Connecting repeater to wifi router from PC needs to connect either wired or wireless using the default SSID and password.
• Galaway Signal booster device can setup as AP and Router mode so you get 1WAN and 1 LAN port in the device.
• Connect Wired from LAN port for physical connect from PC or Use default SSID name "Galaway" to connect from the WiFI network.
• Open Web browser such as Google Chrome, Firefox, Internet Explorer, and access http:/192.168.l0.l or use URL http://ap.setup to login extender.
• Use "admin" for default login password and access to the setup wizard.
• Start setup wizard and scan for the network. Within a few seconds, you will get all wifi names running nearby your extender.
• Select your Existing wifi name from the list and provide wifi key wifi existing wifi network.
• Press next and create Extender Name in the next steps.
• Finish the wizard and wait while settings saving and extender rebooting.
These are all methods you can use to set up and configure the Galaway range extender device to extend the range and boost WIFi speed and signal in the area not getting proper wifi coverage.
Galway Wireless Signal booster troubleshooting
If you are facing any issue while setup your repeater device you should read the troubleshooting Galaway wifi extender instructions.
The Galaway Wi-Fi range extender connects but no internet.
If your extender connects to mobile or laptop but the internet not working then make sure you have type the correct wifi password of the existing network during repeater setup.
Login IP address 192.168.1O.l Not Working
Site cant reach or unable to access the login page for repeater from the computer.
Make sure you have connected to a LAN port if using a wired connection.
If using wifi connection check if WIFI LAN IP settings are not configured in different IP address series.
 Check if Windows firewall or antivirus not blocking range extender login IP address to access.
How to Factory Default Galway WIFI extender?
If you facing any performance and speed issue or connecting disconnecting issue while using the repeater network then make the repeater to default mode and start fresh configurations.
Step to Factory Reset Galaway
 Plugged in Extender to the power socket.
 Locate a small reset button beside it. Use the needle to press the reset button.
 Press and hold the reset button for 5-6 Seconds, the repeater will blink all power led, and rebooting will start.
 Wait until the extender device rebooting and follow the steps again to set up the extender in default mode.
                Instant 50% Discount –   Buy Now