Setup TP-Link TL-WR840N Repeater mode to boost wifi signal in no coverage area using an old tp-link router.
TP-Link TL-WR840N Repeater mode configuration
Turn your TP Link TL-wr840n wifi router into a range extender using simple steps.
TP-link WR840 is a small home wifi router with 1 Wan and 4 LAN port in V6. It is a double external Omni antenna with 300Mbps wifi speed. TL-wr840n router can use Acess point, AP router as well as range extender mode as per requirement.
In this post, you can learn to setup a tp-link range extender in tp-link n300 wifi router using simple steps. Range extender mode on of the best way to boost wifi signal without range extender device and turn tp-link n300 wi-fi range extender mode in the same wifi router
Connection of  TL-WR840 N300 WiFi Router
To configure the TP-link router as repeater connect the physical with PC/laptop using a wired connection.
Power your TP-Link WiFI router with an adapter that comes with a box.
Connect Lan cable to PC/Laptop LAN from the LAN port of the router.
TP-Link WR840n Default Settings
TP-Link TL-WR840n Default IP Address: 192.168.0.1
Default username: admin
Default login password: admin
Configure Laptop /PC LAN IP address to the same series of TP-Link IP address.
EXP: configure 192.168.0.l0 in PC/Laptop Lan to access the tp-link router web interface.
Login TP-Link TL-WR840N WiFi Router
Once all initial configuration is done now proceed to login router using the web browser.
 Open Web browser and access http://192.168.o.1
Use admin/admin for login router first time.
Press Log in button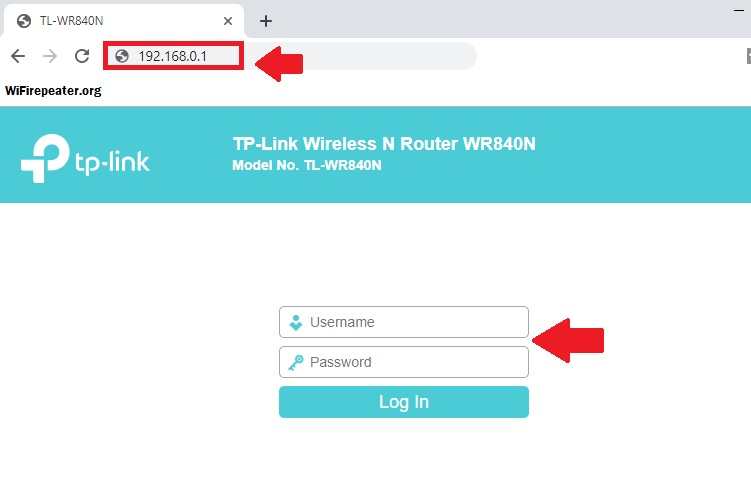 TL-WR841 LAN IP Change
Before setup, the TL-WR841n router into repeater mode changes the default IP address to avoid network conflict.
Most of the router comes with the same default IP Address or if you are using the main WiFi router also TP Link brand you must change the LAN IP address of the TL-WR840n wifi router.
To change the default LAN IP go to Network – LAN
Change the different IP Addresses and subnet masks as shown in the below image.
You can use the same series of host wifi router IP Addresses.
Exp: your main wifi router IP 192.168.1.1 use 192.168.1.100 in the repeater device.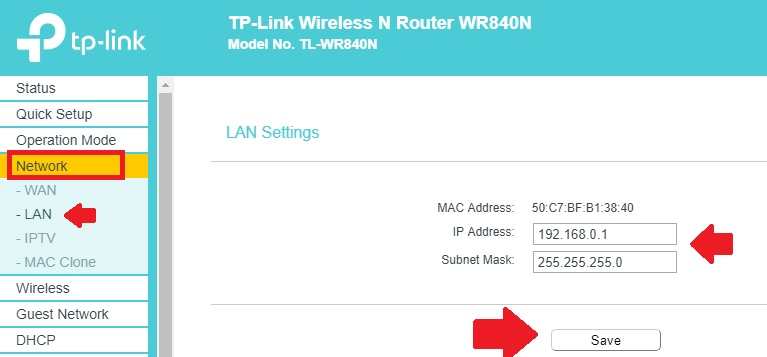 Press the Save button and re-login the device with a change in the IP address.
Setup Operation Mode to Range Extender in TP-Link
Now change wifi router mode to range extender mode to increase wifi signal in low coverage signal area.
Go to the Operation Mode option.
Select Range Extender mode and press the save button.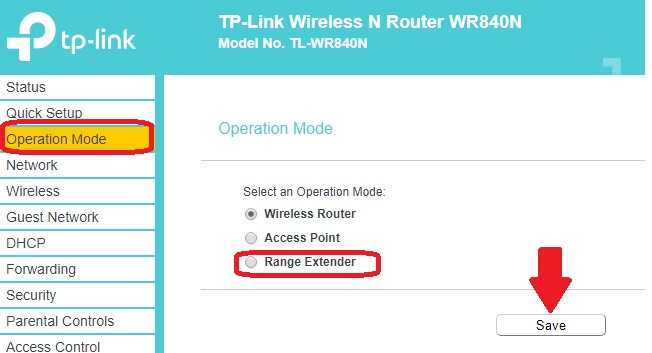 You will get a confirmation pop-up to turn wireless router mode into range extender mode.
Press the OK button to confirm and wait until device saving settings.
Connect Repeater to internet Router using WiFi
Now connect the range extender router to the main internet router wirelessly.
Go to Wireless- Connect to Network
Press the Scan button and wait to get the list for wifi routers running nearby.

Select your WiFi name from the list and press the Connect button

You will get back to the wireless page where all settings fill automatically.
Provide host AP wifi password to allow connection from the TP-link repeater device.
You should have your main internet modem wifi router password to join from the repeater device.
Password: type password and press save button.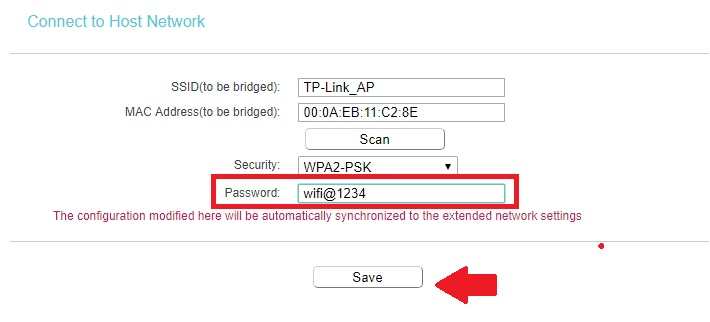 Wait to finish the saving of repeater settings.
You can confirm the range extender connection from the status page.
Setup Range Extender WiFi name and password
After repeater connection with wifi router now need to set up WiFi name for repeater wifi.
You can use the same name of host wifi name or can also use a different wifi name for repeater signals.
Go to Wireless – Extended Network
Extended Network Settings
Extended 2.4GHz SSID: type name for repeater (to use the same name as main wifi Press Copy host SSID)

Extended 2.4 GHz Security: WPA-PSK/WPA2-PSK
Extended 2.4GHz Password: type password for range extender wifi name.
Press the Save button to apply settings.
After setup up repeater mode in tp-link wifi router now placement is important to get the proper signal as well as wifi speed.
TP-Link TL-WR840N Range extender Mode Placement
If facing low signal issues even after using repeater mode in wifi router then you need to think about placement.
Find a centralized placement position to get at least a 45% signal from host AP and can provide an excellent signal in no signal area.
Do not cover the range extender wifi router inside the cupboard and under the table.
Place the repeater on top of the table or hang in the wall which can get a signal without being abstracted from the main internet Wifi router.
Related Post