How to Reset the Linksys extender if Not working?
how to reset Linksys extender if no internet or limited connectivity error or frequent disconnection of the internet. There are a lot of different reason that need to reset Linksys extender device to restore it factory settings which fix most of the problems.
Making Linksys wifi signal booster restores the device to its default mode and needs to set up again. There are two ways to reset Linksys re6400 as well as other Linksys wifi extender devices if it's not working properly and you want a factory reset. The first way to reset the Linksys repeater device is from the web interface after login from a mobile or computer.
The second way to reset the Extender device using the reset button if you forget your login password and are unable to access the settings. However, if your host router supports the WPS feature then you can connect the Linksys extender device without a login password and you don't need to factory default your Linksys device if it working fine and you just want to connect with wifi. Follow the complete article to know how to reset a Linksys extender re6300 and other Linksys range extender devices.
Reset A Linksys Extender From Settings?
Resetting Linksys wifi extender device from settings is a long process and also requires a login username and password to access the web interface. Default login username and password along with login URL or IP address printed to extender sticker.
How to Find Your Router IP Address
Plug Linksys WiFi booster / Range extender device into the power socket and power ON.
Search Linksys extender SSID name from mobile / laptop for wireless connection and connect it.
Use LAN cable from Range extender LAN port to Desktop/Laptop LAN port.
Open web browser and access http://192.168.1.1 and use "admin" as the default password to login settings.
After login go to the Administration option for the left side menu.
Under Administration got o "Factory Defaults" option.
Press the button "Restore Factory Defaults" and you will get a pop-up message "Warning! If you click OK, the device will reset to factory default and all previous settings will be erased."
Press OK to confirm to factory reset the Linksys extender and all settings will be restored to default mode.
Set up the Linksys range extender again using the WPS method or login method to boost the wifi signal again.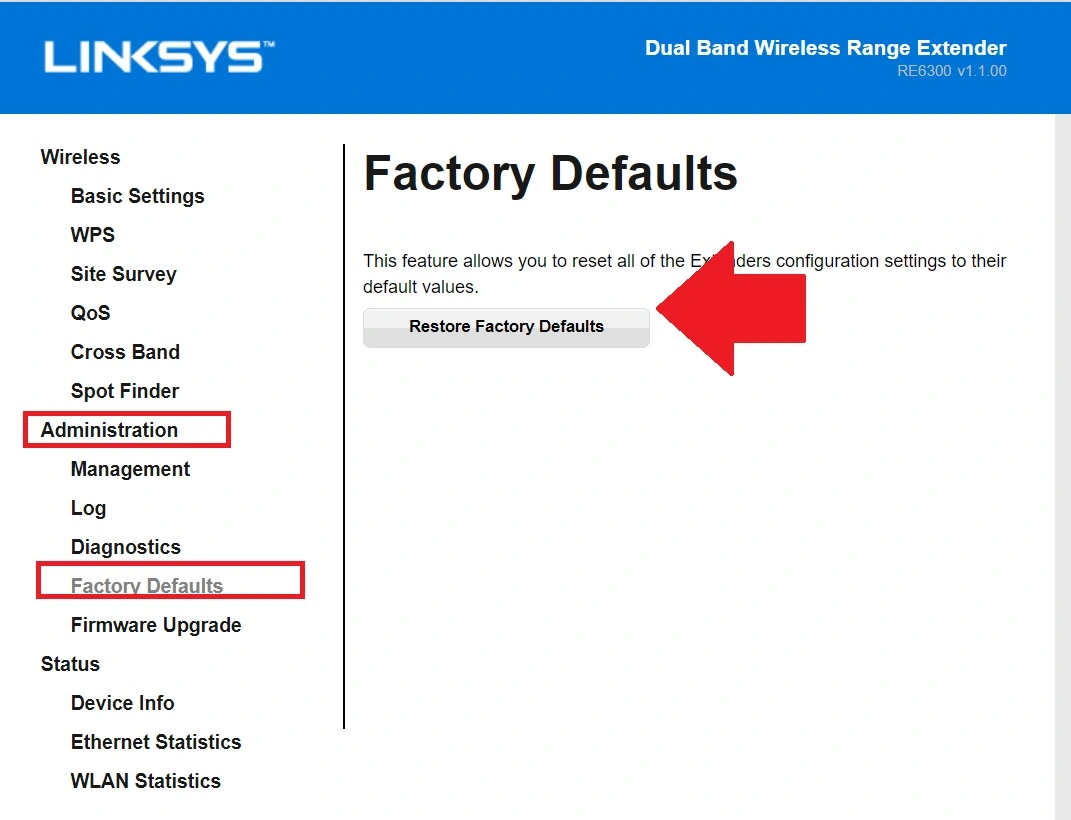 If you forget the login password of your Linksys wifi repeater device and looking for a simple guide to learn "how to reset Linksys re6700 wifi extender" or any other you can use the reset button method.  Follow the next method to hard reset Linksys Extender.
Linksys Extender Reset Using Reset Button
The method of resetting Linksys extender reset n600 or re4000w or any other range extender is the same. So you can follow the below steps to reset the signal booster device using the reset button if you forget your login password or can't access the settings.
Plugin Wireless extender device to power socket.
Locate a small reset pinhole beside the Ethernet or bottom side.
Use a needle or pin to insert inside hole and press and hold the reset button for 10 seconds.
The extender device LED will flash after the resetting process and will reboot.
After reboot all configurations will restore to default mode and you can access settings using the default login IP address or username password.
You can also use the WPS button to connect the Linksys RE6300 range extender with your host wifi network to boost wifi range.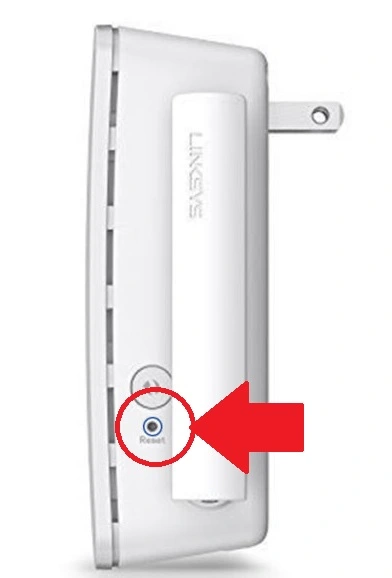 This Linksys Extender reset Manual will help you factory default Linksys RE6400, RE6300, and RE7000,as well as Linksys re7000 max-stream ac1900+ wifi range extender and other all range extenders from Linksys brands. Although the resetting method is the same for other brands as well you can try this method for any other range extender if you using it to boost the wifi signal range.
Related Post