How to Login BSNL ADSL modem?
BSNL is a broadband internet service that delivers internet over the phone line. BSNL (Bharat Sanchar Nigam Limited), MTNL both are government Telecom Company that provides internet and telephone service for the home. You need to login BSNL WiFi modem to change the WiFi SSID name and password to update regularly t protect the home internet. If you looking MTNL or BSNL ADSL modem login user guide to setup and change other configuration then you are in the right place now.
BSNL internet service uses ADSL technology that uses ADSL modem from third-party manufacture. BSNL and MTNL use various different brands DSL, ADSL, and VDSL modem for last-mile connectivity. Some popular DSL modem and brand names are Beetel ADSL modem, Binatone, Beetel VDSL modem, MTNL Wifi Modem, and many others. You can log in ADSL modem web interface using a wi-fi or wired connection with the router.
Login and setup BSNL ADSL WiFi modem from mobile or computer to change.
Steps to Login BSNL ADSL WiFi Modem
This user guide will help you to login ADSL modem either installed by BSNL Company or you bought from the market from a different brand such as D-Link DSL modem, Tenda ADSL modem, or any other.
The first step to login DSL modem is a connection with modem either Wifi or wired from an Ethernet port.
Connect LAN cable from an Ethernet port or use the WiFi name to connect from a Laptop or mobile device.
Turn on Modem using DC adapter comes with the Device.
Make sure your PC/Laptop Ethernet LAN Settings is in DHCP mode to auto get an IP address from Modem.
LAN IP Address Configuration in Windows and Mac PC
BSNL ADSL Model default Login Settings
If your ADSL modem is installed by BSNL/MTNL engineers then the default login credential is printed to the modem backside. Also, find the default login settings below.
BSNL Broadband Modem Login IP– 192.168.1.1
Default login username: admin
ADSL default password: admin or password
If you by third parties ADSL modems such as D-Link, BSNL Teracom modem then use 192.168.o.1  and broadband user id BSNL also printed to router box or user guide comes with the device.
Login BSNL Broadband Router to the Web browser
Open a web browser and access http://192.168.l.l IP address to the URL bar and press enter key.
After a few seconds, you will get a BSNL modem login page asking for a username and password to authenticate and access route settings.
Use default login credentials printed to the router or see the above steps.

After successful authentication, you will get a settings page where you can configure Wireless, LAN IP, Bandwidth management as well as block website under firewall options.
However, the security mater so change WIFi name and password from default SSID name for your ADSL wifi modem.
Change Wireless SSID name and Password
If you are using the default WiFi name and password then change it right now to protect your home internet.
Go to the interface Setup tab from the top menu.
Now Go to the Wireless option from the submenu under the top menu.
The activated option should be selected to enable the WiFi network in the ADSL modem.
Multiple SSIDs Settings-
SSID index- 1
SSID– BSNL_AP (its default wifi name, change this to new wifi name according to your choice)
Authentication Type– WPA-PSK/WPA2-PSK
Encryption type– TKIP-/AES
Pre-shared Key– 12345678 ( change this default password with a new strong wifi password)
Press Apply save button at the bottom to save settings.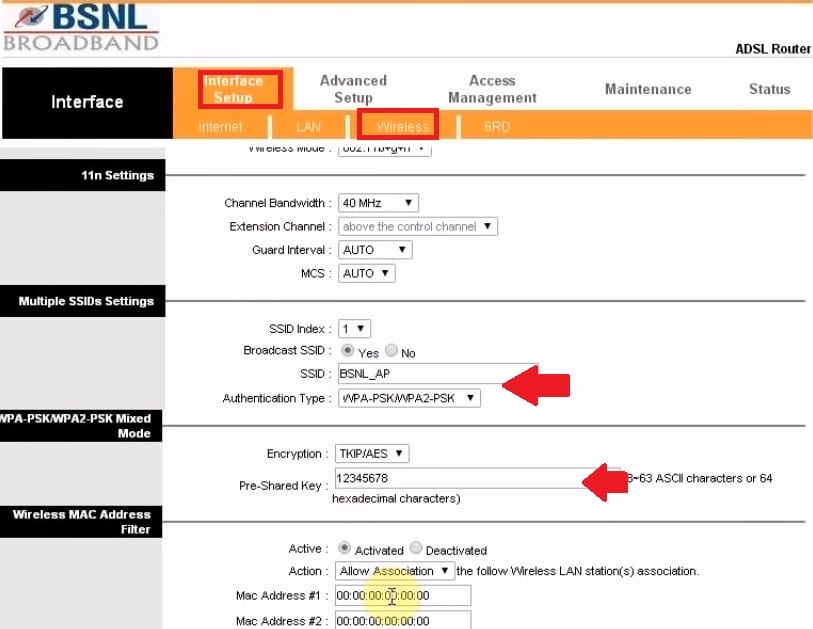 You can create multiple WiFi SSID names to enable virtual AP for guest access in your broadband ADSL modem.
---
BSNL ADSL modem login Troubleshooting
You may face login errors while accessing your DSL modem settings to web browsers due to several reasons. You can follow troubleshooting steps to fix bsnl ftth modem login issue.
BSNL ADSL modem Login IP Not Working!
Facing error while login BSNL default login IP address could be many reasons such as network configuration issue, or modem default login IP already changed.
Follow steps to Fix Login Issue.
Make sure you Modem Default Login IP Address printed to backside sticker you are using the same to access the web interface.
Laptop/Computer LAN IP address should be in DHCP mode or use the same series IP address of the default login series of BSNL modem.
EXP: Modem Login IP Address 192.168.1.l
Use 192.168.1.l0 in PC/Laptop LAN IP address.
If you are not sure what IP address is configured to your modem LAN then follow steps to know the IP address of the modem.
Open a Command prompt using the start menu or press Windows +R button together.
Type "cmd" in the Run window and press the OK button
Type "ipconfig" in the command prompt and press enter key.
Connection-specific DNS Suffix  . :
Link-local IPv6 Address . . . . . : fe00::24db:e83d:a3a8:df09%12
IPv4 Address. . . . . . . . . . . : 192.168.l.250
Subnet Mask . . . . . . . . . . . : 255.255.255.0
Default Gateway . . . . . . . . . : 192.168.1.1
The Default Gateway IP address will be your modem LAN IP address that use to access the web interface.
How to Factory reset BSNL ADSL Mode?
Note: Making a reset router will erase all configurations so only use the reset option if you have settings detail for the BSNL broadband line to set up again.
If you forget login username or password after being changed then you have the only way to recover login password is to make a factory reset modem.
Steps to factory reset BSNL ADSL Modem
Locate a small reset button beside the Ethernet port.
Press and hold the reset button for 10-15 seconds using a sharp needle
Release reset button when router led blinking and modem restarting.
Wait until the reboot process is done and try to access the default login credential is printed to the router.
If you can't login bsnl modem due to the wrong password issue and you are not sure what the last password you have changed than you can restore router settings using the factory reset button.
Related Post