Paleoer Wifi Extender Manual to connect Any WiFi Router
The Paleoer Range extender setup manual to boost your existing Wi-Fi network without adding more Wi-Fi routers. Paleoer Signal booster device is a smarter way to increase the Wireless range of any brand WiFi router without connecting any wired.
There are three ways to setup a Paleoer WiFi Extender using the WPS method, from Mobile as well as using a Desktop or Laptop. Connecting the Paleoer Range extender device using the WPS button is an easy and fast method that does not require any physical connection and login and wifi password of the existing wifi router.
If your host router does not support the WPS feature then you can log in to your Paleoer WiFi repeater device from a mobile or computer using a Wired or wifi connection. The login method is a bit long process and you require Paleoer login settings such as login IP address, username, and password as well as existing wifi password. Follow the steps to connect Paleoer WiFi Extender Manual to configure with any existing wifi router.
Setup Paleoer Wifi Extender Using the WPS button
The WPS button is a simple way to connect the extender device to your existing wifi router to increase signal range and fix wifi problems in dark areas without adding an additional Wi-Fi access point.
WPS push button is a physical method so the host Wi-Fi router and range extender should be physically accessed. Follow the steps to setup the Paleoer signal booster.
WiFi Repeater Vs Range Extender?
Unbox Paleoer WiFi Extender if first time setup.
Connect Paleoer Booster to the Power Socket near your Existing WIFI router.
Go to your Host internet router and press the WPS button for 2 Seconds.
Within 2 minutes go to the Paleoer Repeater device and Press the WPS button for 2 seconds.
Wait until the Extender device connects to your existing Wi-Fi network using the WPS button.
After a successful connection with the WiFI router, you will get a New SSID of HomeWIFI_Ext.
If your old wifi name is HomeWiFi then you will get an extender SSID name is "HomeWiFI_Ext.
WiFi Password for Extender network name same will be as existing wifi name.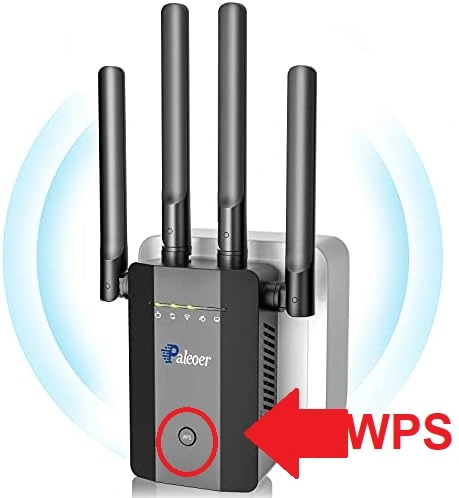 Paleoer Extender Placement
Once your extender device is configured properly unplug it and find a location where you facing the signal problem.
Make sure the Repeater device at least gets 50% signal from host wifi network.
Do not place it under the table and any location where feasibility is not proper from the Host wifi router.
If the WPS button not connecting your Paleoer 300M WiFi Repeater device to your existing WiFi network either your router WPS option is disabled or not supported Then you can use the next method using the Login Paleoer wifi router.
How to Setup Paleoer WiFi Repeater from Mobile or Desktop
Configuration WiFi repeater using login method you need the default login IP address, username, and password for your Paleoer device.
Check Paleoer repeater sticker to get the default login IP address and username, and password.
Paleoer Default Login IP address – 192.168.10.1
Username– NA
Default Password- admin
If your Paleoer Repeater is already configured and you want to connect it with a different wifi network then you need to factory reset the Paleoer wifi repeater first to restore to default mode.
Follow the steps to connect the WiFi repeater first time from a mobile or Laptop/Desktop.
Unbox your Range extender device and plug to power On.
To connect from Mobile/laptop use the default SSID showing "Paleoer_xxxx" to connect using wifi.
For Wired connection use a LAN cable from the Repeater LAN port (bottom side) to the Desktop/Laptop LAN port.
Open the Web browser and access http://192.168.10.1 and use the default login password "admin"
You will be redirected to a dashboard where you can find all modes such as Repeater, AP mode, and Router mode.
Choose "Repeater" mode and wait until the device is scanned for the Wi-Fi network.
You will get all wifi SSID network names running nearby.
Choose your Existing Wi-Fi SSID name from the list and click the connect button.
Provide your old wifi password to connect from the Repeater device.
If you wish to change the Extender SSID with a different name and not want to use the default name created by the repeater then you can change it in the "Extender SSID" option.
Press the Next button to finish the setup Wizard
The repeater will restart and take a few moments to connect with your old WIFI network.
Go to mobile/laptop and check if you get the new SSID of the Extender device as you created or the default SSID created by the Repeater device.
Now Unplug your repeater and find a place in the location where you facing signal or wifi speed issues.
If you trying to configure an already setup extender device and fail to connect with your Wi-Fi network then follow the steps to factory reset your extender device.
How to Reset the Paleoer WiFi Extender?
Making a factory reset Paleoer wifi extender using the reset button is a quick way to restore settings if you forget your password or face any problem while trying to setup an extender device.
Plug your extender device into the Power Socket and power ON it.
Find a small reset button Hole beside.
Use a needle or paper clip to reset the button.
Press and hold the reset button for 10 seconds and release it when the repeater device suddenly turns off and turns on again.
Paleoer will take a few minutes to restore settings into factory settings.
After resetting the default setting will work. Follow the above steps to setup your Paleoer again with a new Wi-Fi router using WPS or login method.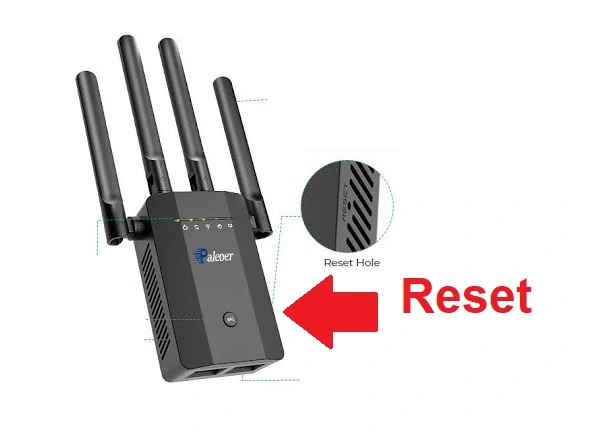 This is a simple Paleoer Wi-Fi extender manual to increase your existing Wi-Fi range without lying LAN cable from your host Wi-Fi router and adding an extra wifi router to each location. Paleoer N300 WiFi extender supports 300Mbps speed and can be used for multiple wireless modes such as Repeater, Access point as well and Router mode.
Related Post