BT WiFi Extender Setup to Boost Ranged
BT a wall input wireless signal booster that works with any brand wireless access point and router to extend the range in the dark area. BT wireless signal booster fully compatible with the different brand wireless Access point as well as routers. BT range extender available in signal band BT n300 and BT AC1200 dual-band wireless repeater to boost and increase signal speed. BT dual-band wireless extender 600 and other models setup method almost same, so if you have any BT extender model you can follow this user guide to configure BT.
BT wi-fi range extender can setup either using the WPS button method that does not require login web interface and second connect wireless or wired connection and setup using web interface settings wizard. If your Wireless router does not support the WPS button or disabled from settings then use with login method. Unbox BT range extender and follow steps to connect the extender device with your existing wifi router. If you have BT Home hub installed in your home and want to extend bt homehub range then follow the steps.
Setup BT Extender Using WPS button
WPS method faster way to setup any wireless repeater device without login into the extender settings page.
If your main wifi router WPS feature supported and the WPS Pin option enabled then the recommended method is WPS while setup repeater the first time. The latest router support WPS included BT Home Hub 3 or BT Home Hub 4 or any other brand's wireless router with the latest technology.
Plug BT extender unit to near your Home hub or wireless router connected to the internet.
Turn on the power button from the extender top.
Find WPS button on the router and press the WPS button.
Press the WPS button on the BT range extender for 1 second. (Within 2 minute of pressing router WPS button  )
Range extender WPS led light will stop flashing and extender device configured to your existing wifi network.
Move range extender Find to an optimum location to get the extended range to an area not getting signal and also getting good signal quality from an internet router.
Apart from WPS method if no WPS button on the router then you have another way to setup a BT wifi range extender is using the web interface.
Setup BT signal booster using Web Login
You need to connect wireless or wired connection with BT extender to perform configuration using web login method.  You need a default login IP address and password for the first-time setup BT booster device.
Find range extender device IP address and default WiFi SSID and password printed sticker backside on repeater unit or Quick user guide included with the device.
192.168.1.1  Admin Login Password
Plugin BT repeater to a power socket near wifi router.
Connect default extender SSID "BTWifiExtndr-XXX" using default password printed to sticker. Or use a wired LAN cable to connect from the Extender Ethernet port.
Open a web browser and access BT Extender default Login IP http://192.168.1.1 and use "admin" default password to log in the first time.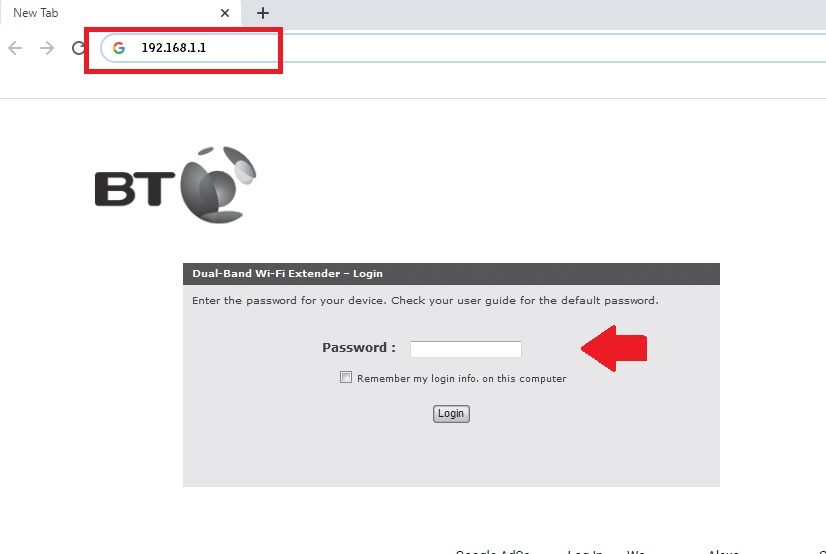 After login, you will get the setup wizard option to configure the extender device.
Press the Start button on the connection wizard option.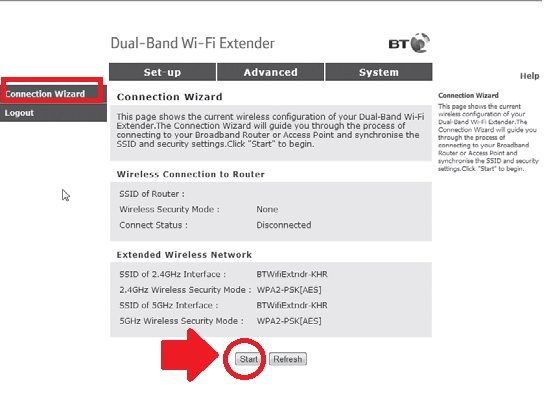 You will get all wifi running nearby select your router or BT home hub SSID from the list and provide the password for the existing wifi network SSID.
Next step you can change the default Extender SSID name with a different name or keep the default as auto-configured.
After a few seconds, your BT repeater device will connect to the existing wifi network and give you a new SSID name with the extended network name and increase signal range and speed.
Move your extender device to the best location where the repeater device can get Excellent or Very good signal strength from the existing router. You can check signaled notifications to find the best performing location for your repeater device.
If you are trying to setup an old range extender and not sure default login IP address or username password then make it factory reset first to start from fresh.
How to Factory Reset BT Wireless Range Extender
Making repeater unit to reset will disconnect from the existing wifi network and required to set up again to boost signal range. Only use the factory reset button to restore settings in case your extender device not connected with the router or getting a signal drop or disconnection issue.
Plugged range extender device to the power socket and power on the button from the top.
Locate the reset button at the device top and use a paper clip or needle to press.
Press the Reset button for 1 second and wait to restore extender settings to factory mode.
After a few minutes, you will get the default SSID name showing in wifi.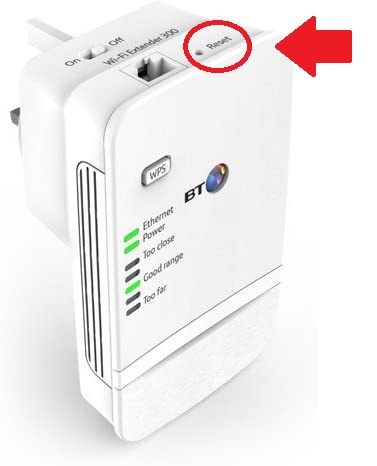 If you connected to extender SSID but the internet not working, make sure your wifi router connected to the internet or internet plan not expire.  Connect the main router directly using wifi or wired to confirm the internet working on the host router.
Related Post