RCN Compatible  Modems and Routers list – Ultimate Guide
RCN internet service is powered by Astound broadband and provides an internet plan from 10Mbps speed to up to 1000Mbps speed and each internet plan required compatible Modems to deliver internet as per the supported plan. RCN Approved modems available from many different third-party brands such as Arris, Netgear, Asus, Linksys, Motorola, and many others.
If you have RCN internet service and looking to upgrade your modem with an extra feature and are not sure which modems work with RCN internet then you are on the right place. This article will give you the list of best RCN compatible modems that work with RCN internet with 100% compatibility and also support all services that are supported by RCN modems.
There are many brands those are providing RCN supported modems and are approved for RCN internet without any compatibility problems. Price of RCN approved modems depend on the router model and supported features that are required based on your internet plan speeds. RCN approved modem router combo might be a slightly higher price than RCN-approved modem only so before buying any RCN compatible modem make sure your requirement is as per your current modem's features.
List of RCN Compatible Modems 2023
There are many brands such as Arris surfboard, Motorola, Linksys, Asus, and many others that are supported by RCN network DOCSIS 3.1 modem and fully compatible with RCN internet and voice services. Although you can own choose any modem as per feature and price that work with your RCN internet from the given below rcn approved modem list and check the price to different online shopping site as well as in local market price to ensure you not paying higher for the same.
| | | |
| --- | --- | --- |
| Brand and Model | Channel | Latest Online Price |
| NETGEAR CM1000 | 32×8 + 2×2 OFDM/A | BUY NOW |
| Motorola MG8702 | 32×8 + 2×2 OFDM/A | BUY NOW |
| NETGEAR AX6000 CAX80 WiFi 6 Router DOCSIS 3.1 Cable Modem | 32×8  DOCSIS 3.1 | BUY NOW |
| ARRIS SB8200 | 32×8 + 2×2 OFDM/A | BUY NOW |
| ASUS CM-32 | 32×8 | BUY NOW |
| Linksys  CM3024 | 24×8 | BUY NOW |
Follow the complete buying guide to get the best RCN compatible modem list for live streaming and fast internet experience.
1: DOCSIS® 3.1 Cable Modem (CM1000)
Netgear CM1000 DOCSIS 3.1 cable modem fully compatible with RCN internet and approved modems. Although you can confirm by getting reviews from users who are using CM1000 modems already with RCN internet. CM1000 modem supports up to 1Gbps speed with a Gigabit Ethernet port.
Netgear CM1000 cable modem does not support WiFI so you required a separate WIFI router to turn your internet to WIFI. CM1000 only supports modem so if you have already a WIFI router using another modem you can use same.
CM1000 Docsis modem support 32 downstream & 8 upstream QAM channels and  2 OFDM downstream & 2 OFDMA upstream channels. Before buying confirm RCN official website for ensuring it 100% compatible with all services you subscribed from RCN's internet service.
2: Motorola MG8702 Docsis Modem
Motorola MG8702 DOCSIS 3.1 Cable Modem yet another modem that works with RCN internet as well as many other leading internet and voice service providers that you can choose for your internet. Motorola MG8702 modem and router combo so you does not require any wifi router separately with Motorola modem.
Motorola MG8702 modem router combo supports a 4Gigabit Ethernet port along with an AC3200 dual-band WIFI router up to 3200Mbps wifi speed for live streaming, online gaming and conference without facing any buffering issue. There are many security features you get with Motorola MG8702 WIFI cable modems such as content filtering, a Mac access list, a firewall, and parental control schedule that keep your internet protected and data safe from unauthorized access. Motorola MG8702 modem approx. discounted price is $224.98 and might be slightly different on each online and market price.
3: NETGEAR AX6000 CAX80 WiFi 6 Router DOCSIS 3.1 Cable Modem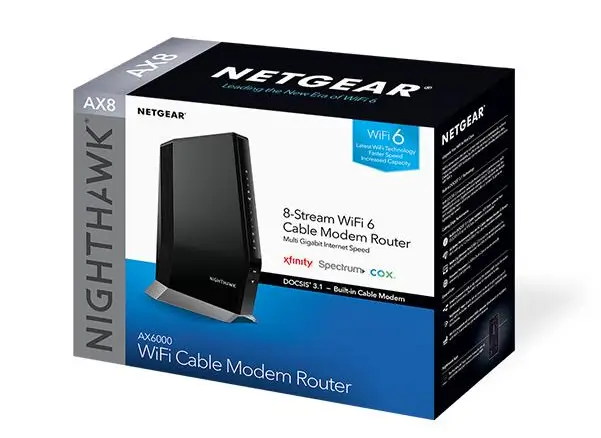 Netgear AX6000 Docsis 3.1 Cable modem plus WIFI router combo that is compatible with RCN internet and many other internet service providers. It is a WIFI 6 router with dual-band WIFI and 4 Gigabit ports for connecting Wired devices to get Gigabit speed for online gaming, live streaming, and other internet entertainment that required high-speed stable connectivity.
Netgear AX6000 modem also supports VPN service, Easy sharing using the USB port to turn the local driver into network storage, Guest network to avoid sharing own WIFI password and limit the internet access time for the Guest user. Supported Nighthawk App that makes it simple and easy to set up and manage from your mobile phone only. WIFI speed support up to 6Gbps Wireless speed is more than enough to enjoy UHD and full HD live streaming without any buffering issue.
4: ARRIS SB8200 Docsis 3.1 Modem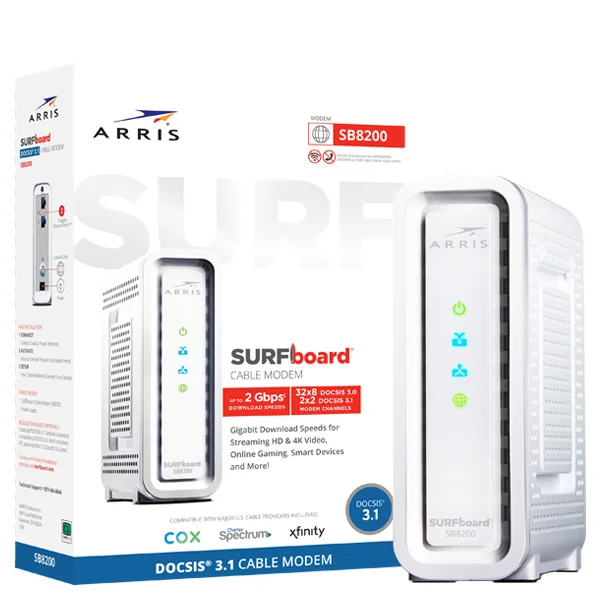 SB8200 SURFboard® DOCSIS® 3.1 Cable Modem without WiFi feature compatible mostly with all leading internet providers. Arris SB8200 supports 2 Gigabit Ethernet port cable modem without WIFI and digital voice service capability. If you are using Digital voice service then this modem is not useful for you.
You required a separate wifi router along with this cable modem to turn your wired internet into a WIFI internet. Arris SB8200 Compatible of RCN internet if you looking modem without WiFI and voice servce.
Although there are many other Model numbers from Arris modem that are compatible with the RCN network to get a complete list of compatible modems for the RCN internet just visit the Arris official website.
5: ASUS CM-32 Cable Modem
Asus CM-32 AC2600 inbuilt dual-band Wifi up to 2600 Mbps WIFI speed router and modem combo compatible with RCN internet services. It is Docsis 3.1 32X8 channel support with all advanced security feature such as guest Wi-Fi network, Parental control, content filtering and other feature that helps you to make smooth networks.
Asus CM32 WIFI cable modem support 4  gigabit 10/100/1000 Ethernet port 1 WAN port and Coaxial port for the cable modem. CM-32 AC2600 is an rcn compatible modem router combo with a high-speed wireless dual band. It supports 1 USB port to use the flash drive as network storage or use network printed directly to rotuer. It supports 1.3Gbps speed which is best for live streaming and online gaming as well as non-stop movie and entertainment.
6: Linksys CM3024
Linksys CM3024 DOCSIS 3.1 24×8 channel cable modem is yet another best choice for RCN networks.
CM3024 DOCSIS mom a non-WIFI support cable modem and if you want use wifi you required a wireless router separately that is connected to this cable modem and then you can get wifi internet.
Linksys CM3024 cable modem support 1 Gigabit ethernet port and 1 coaxial cable connected to connect your internet cable and reset button and  12v DC power supported.
Final Words
Apart from the above list there are a few model numbers that are rcn internet-compatible modems and a part from above lsit there are also hundreds of model numbers available for RCN internet with different features. You can visit the official brand website to get all compatible approved RCN modems for each brand with different features.
Disclaimer: All ther reviews and list sort listed based on different website user review, before buying any modem please confirm comptible from official website and service provider support centers.
Related Post