10.1.10.1 Comcast Business login
10.1.10.1 is the default gateway IP address used in the Xfinity Comcast modem, Cisco cable modem as well as SMC routers. Comcast business router is an internet gateway used to manage internet connection. Comcast Business wireless gateway let you provide security features and protection for your network with many useful features that help you to manage your network from the center point.  You probably required to login to your router to manage and setup an internet connection so this user manual will help you to login 10.1.10.1 admin login with the default username and password.
10.1 10.1 login Steps
You need to connect Comcast router ether using wired or wifi connection so get ready to follow further steps. If you have Cisco, SMC, Netgear, and any other brand router with default 10.1.10.1 Login default gateway then you can follow steps to set up the same.
Connect your Comcast Gateway to Wired Ethernet connection from PC LAN or use WiFi network to connect from a laptop or PC. Default Wi-Fi SSID and password printed to gateway sticker.
Change computer LAN IP settings into DHCP mode or use a static IP address from network IP 10.1.10.0/24. Exp – use 10.1.10.10 in PC for manual IP configurations.
How to access WiFi Router settings using WiFi and Wired?
Comcast Default Router Login Settings
The next step is default login credentials to access the router admin page. Although Comcast login password and IP address details printed to router sticker and quick user guide come with business gateway box.
Default login gateway IP– 10.1.10.1
Default username -cusadmin
Comcast default password– highspeed or CantTouchThis
Xfinity Comcast business login to web Browser
Open the web browser and access http//10.1.10.1 to the URL bar. After a few seconds, you will get a business router login page.
Use default login username and password (cusadmin/highspeed) as printed to the router label.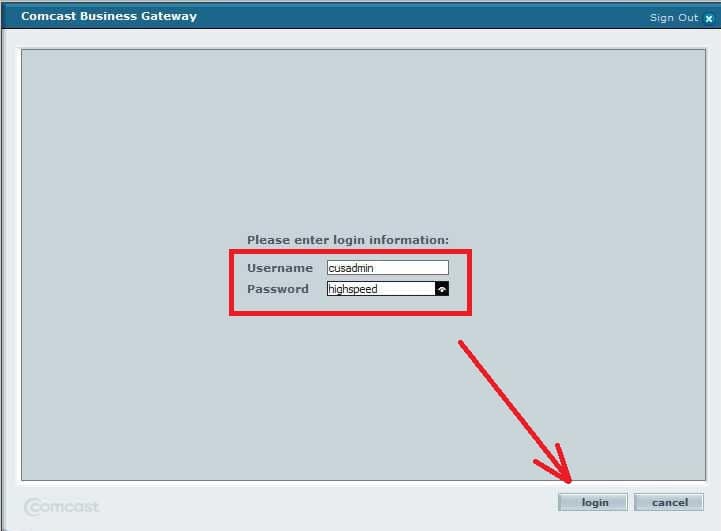 After successful authentication, you will land to the gateway status page where you get access to all configurations.
Change Default WiFI SSID and Password
Business wireless gateway configured with default wireless name and password that need to change on first time setup.
Gateway- Connection- WiFi
Network                        Frequency Band                 
Home_2.4G                     2.4 GHz WIF                             EDIT
Home_5G                            5 GHz                                     EDIT
Edit 2.4Ghz band
Wireless Network- Enable
Network Name for 2.4 GHz (SSID)- Home-DV44-2.4 (change this default SSID as per your choice)
Mode- 802.11 g/n
Security Mode– WPAWPA2 (TKIP/AES) (Recommended)
Channel Selection – Automatic
Network Password– COMCAST WiFi password (set a complex mix combination wifi password for your Comcast router)
Show network Password – To confirm password unhide dot in the WiFi password.
Press the Save settings button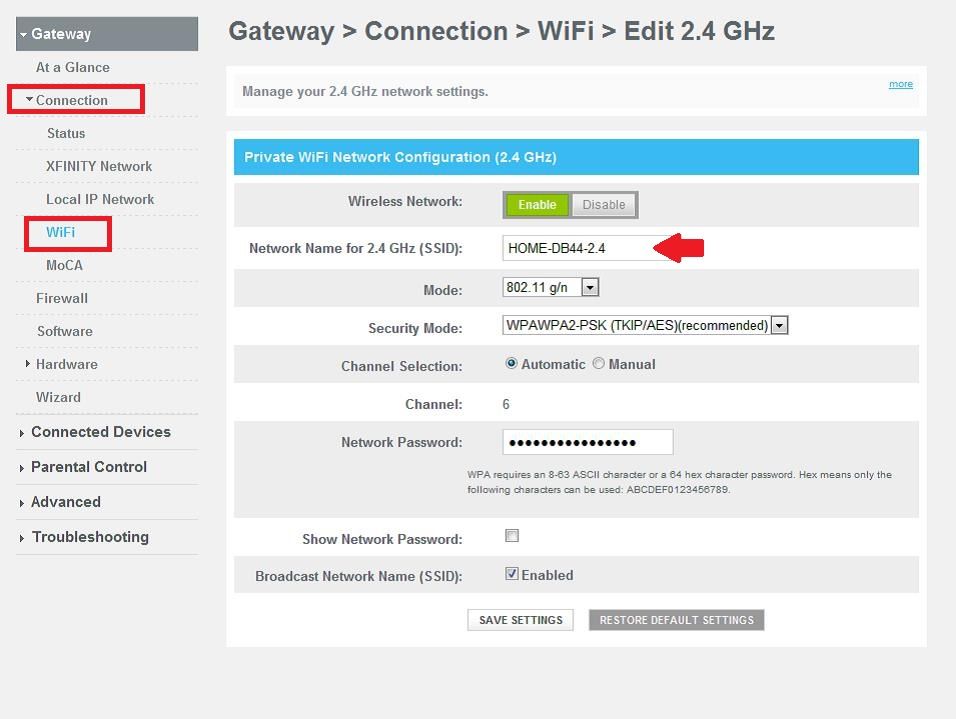 After updating the Wireless Network name and password you will be disconnected to the Comcast wifi network so you need to connect again with a new wifi name and password.
Edit 5Ghz band and change the WiFi network and security key for the 5Ghz band to secure both wifi bands.
Once the wireless configuration is done, the next important step is to change Comcast business router login web interface password.
Change Login Password Business Gateway
Login Username and password the way to enter into your wifi network and it's easily available over the internet so highly recommended to update you wireless passwords before connecting to the internet.
Change Web interface password for Comcast business gateway.
Once you log into to control panel.
Click the "change password" option in right side top as shown below image.
You will be redirected to Troubleshooting- Change password options.
Current Password– cusadmin (or use if you changed default already)
New Password– set new Comcast password
Confirm Password– Type a new password again to avoid wrong password error or password mismatch error.
You can ensue by click Show Typed password is correct what you want to use.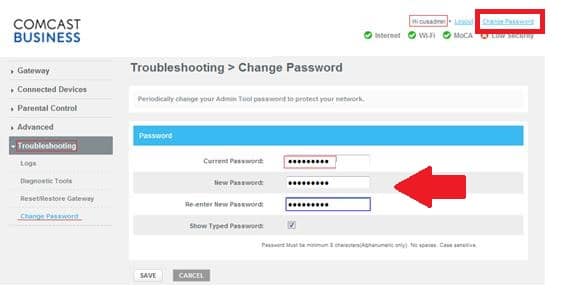 Press the save button and login gateway with a new password.
Comcast business gateway Troubleshooting
Troubleshooting is an important part to fix the login issue and any other problems during the router setup.
10.1.10.1 isn't working or Refused connection
10.1.10.1 can't access and failed to access the gateway login page a common error can come in Xfinity, Cisco, SMC, and any other network device.
Steps to Fix Comcast Business gateway Login error
Make sure your PC/laptop properly connected to gateway either using wifi or wireless.
PC/Laptop WiFI or LAN IP address settings should be in DHCP or static IP 1.10.2 or any other from 10.o.1.10 same series.
The login address should in the correct form as followed below.
http://10.1.10.1  is correct
http //10.1.10.1  or  http//10.1.10.1 or http//:10.1.10.1  or 10.0.01 is invalid address.
Related Post