Login 192.168.188.253
192.168.188.253 private C class IP address used by many leading network manufacture as the default gateway IP address. Router and WiFi access point with default LAN IP 192.168.188 .253 used by many OEMs with multiple devices. The default gateway IP address 192.168 .188.253 most commonly used by Yuncore, NC-link Blake-UK, Airpro, Levelone, and many other companies. If you own any of the brand devices than you can use this user guide to login device. some of the devices also use 192.168.188.1 from the same manufacturer so if 192.168.188.253 not working you can try 188.1
Default Username and Password for 192.168.188.253.
To access the router and access points need default login credentials for the login IP address.
Find the default login user name and password.
Default login IP address – 192.168.188.253
Username– admin or NA
Password– admin
Steps To Login 192.168.188 .253
Access AP or router using default IP address need to physical or wi-fi connections from PC/Laptop.
How to access WiFi Router settings using WiFi and Wired?
Power on the unit with an adapter comes with the device.
Go to Computer LAN or Wireless Ethernet TCP/IP settings and use 192.168.188.2 in Static IP mode.
Connect Wired LAN cable from LAN port to PC or use Default WiFi SSID and password to connect using the wifi network.
Blake-UK Default SSID– PRoWifi 2.4G
Default Wi-Fi password- 4wG7cZXd
Or Default SSID- wireless 2.4G
Default WiFI password- 66666666
Levelone default WIfi SSID– Levelone 2.4G
Level1 password- 66666666
Once you are connected to your AP Device now follow the steps to access the settings to the browser.
Open a Web browser and access http://192.168.188.253 or 192.168.188.1 and wait for a few seconds to load the login page.
Use default login password as per your router model and also printed to backside sticker and Quick user guide.
Press the login button to access settings.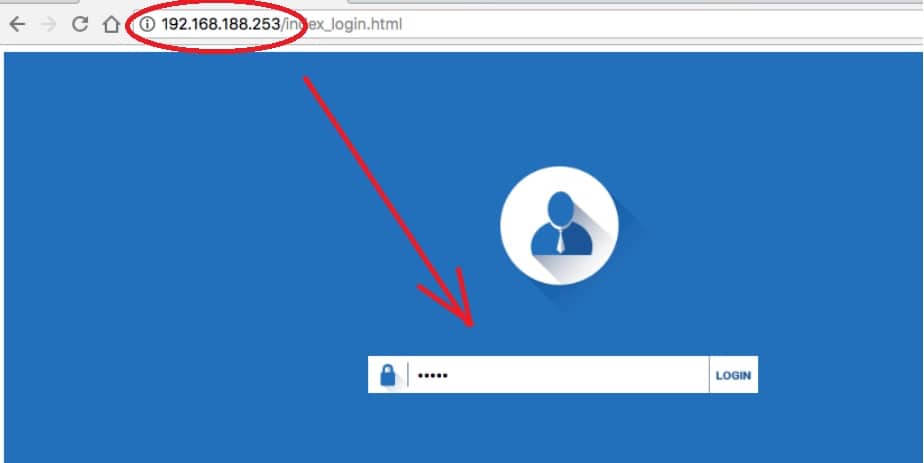 After logging in to the control panel you will land to the dashboard where you can find the network map, CPU usage, Wireless settings, LAN settings, and Location information.
Change WiFi SSID and Password
Changing the Default WIFI SSID name important to secure wifi networks from unauthorized persons.
To change the WiFI Network name click the wireless (2.4G) option to open wifi settings.
SSID– Wireless 2.4G (change this name with a new wi-fi name for your wifi networks.
Bandwidth– 20 (if internet speed 50+mbps use 40MHZ)
Channel– 2412(channel 1)
Encryption– WAP2PSK_TKIPAES
Key– 66666666 (chang wifi password)
Press the Apply button to save settings.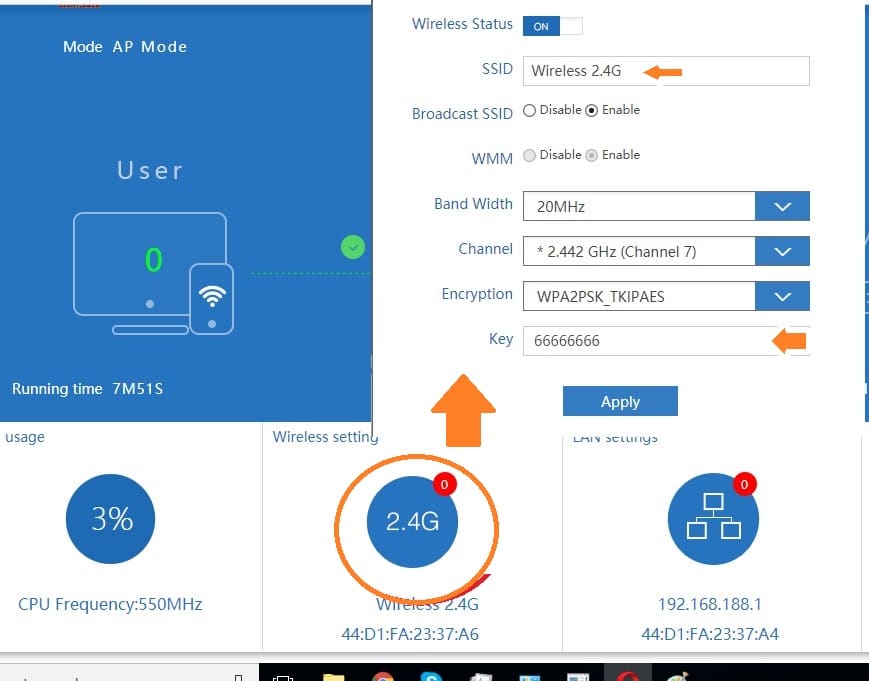 Change LAN IP address
Press the Ethernet option showing the IP address and Mac address.
Choose Static IP- 192.168.1888.1 (change the IP address)
Apply settings.
Factory Reset Access Point if 192.168.188.253 not working
If you are unable to access the login IP address printed to the router sticker you may factory reset the device to restore to default mode.
Remove the device cap and locate a small reset button.
Power ON AP and press the reset button for 15 seconds and release the button at 16 seconds.
The device will be unplugged from the network and the led light blink twice.
Wait until device reboots and after a few seconds check the default login IP address.
 This Login Manual support below brands' model numbers.
Yuncore CPE830, DX3200, Dual-band A771, and other models, Level one WAB-6010  N300 Outdoor PoE Wireless Access Point, LevelOne WAP8121 AC720 dual-band ceiling mount, Level1 AC12000, and Inwall Access Point, NC-Link NC-AP2110, NC-AP212, NC-AC21AP, NC-AP221,
Related Post