iBall Baton Login with Admin Password-192.168.1.1
IBall baton 150 Mbps and Iball Baton N300 popular home wifi router used by the Internet service provider at the client end. I ball Wireless router support multi wireless modes such as AP router, Access point, repeater, and client mode. You required iBall baton router login to change router wireless mode and other configuration purposes. If you looking iBall router login guide that helps you to access router settings from web browsers then you are in the right place now. If you have iBall Dual Band WIFI router or iball baton 150m wireless-n adsl2+ or Any other model you can use this user manual to login to the iBall router web interface.
However, you should change iball baton wifi password regularly to protect your wifi network so you need to access wireless settings using iball IP Address. You need to connect I ball baton router either wifi or wired connection to open router login IP to the web browser.
Steps to Login into iBall Baton Router
The first step to login I Ball settings is the connection with the computer using wired or wireless connectivity.
Use RJ 45 LAN cable to connect from iBall LAN port to PC/Desktop LAN Port.
Or connect using WIFI network from Laptop or Mobile device.
Power on Router using DC adapter comes with the device.
Internet cable should be connected to the WAN port in Router and Telephone line connect to DSL port for ADSL Router.
PC/Laptop LAN IP settings should be in DHCP mode.
Default iBall Login Credential
Default login settings for iBall baton also printed to router sticker with Mac address and serial number information. However, find iBall login details below.
Default iBall baton login IP address – 192.168.1.1
Iball router login username and password– admin/admin
Login iBall Web Interface
Open web browser and access login IP http://192.168.l.l to the URL bar and press enter key.
After a few seconds, iBall router login page loads asking for a username and password to authenticate.
Use username and password as printed to router sticker and if you change iBall password use the same to login.
If you are looking to setup iBall router for internet configuration then you need to access network settings and go to WAN settings and provide internet settings PPPoE or Static IP address as per your internet type.
If your router already configured then you should follow the steps to change WiFi Settings.
Change iBall WiFi SSID Network Name
Always change iBall Default WIFi name and password to ensure your internet protection from unauthorized access.
Go to Wireless – Wireless Settings
SSID: change iBall default wifi name with the new WiFi SSID network name.
SSID2:iBall-Baton_2 (if you want to create multiple WiFi names inside a single router enable SSID2, SSID3.
Region– Choose your country.
Channel– Auto Or us 1,6,11 to avoid frequency overlapping issues that makes wifi slow or disconnection issues.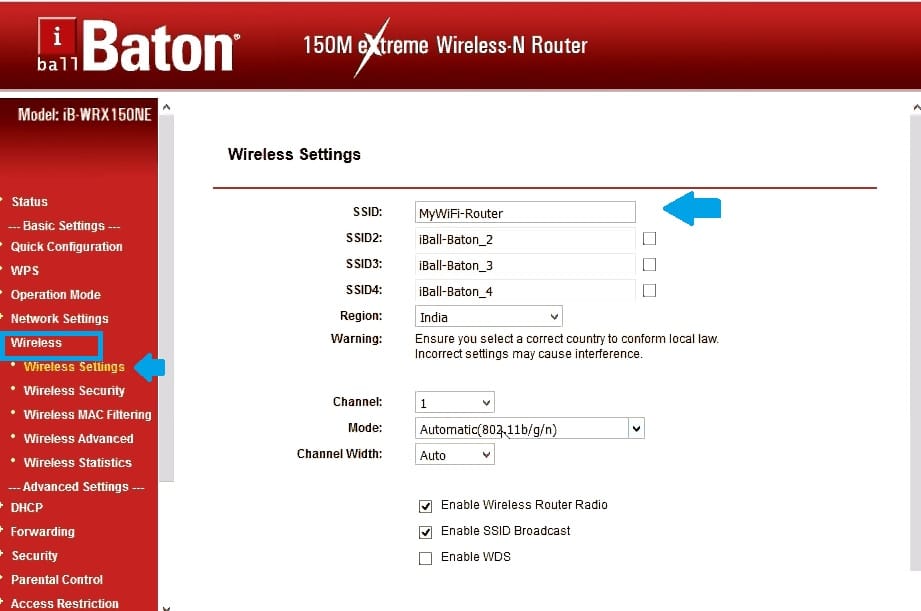 Press the Save settings button from the bottom and go to the wireless security option to change iball baton wifi password change.
Change Default WiFi Password or Setup New
Go to Wireless- Wireless Security option
Choose security type- WPA-PSK/WPA2-PSK
Version – WPA2-PSK
Encryption- AES
PSK Password: create a password for your iBall WiFi.
Press the Save button and wait until the router reboots.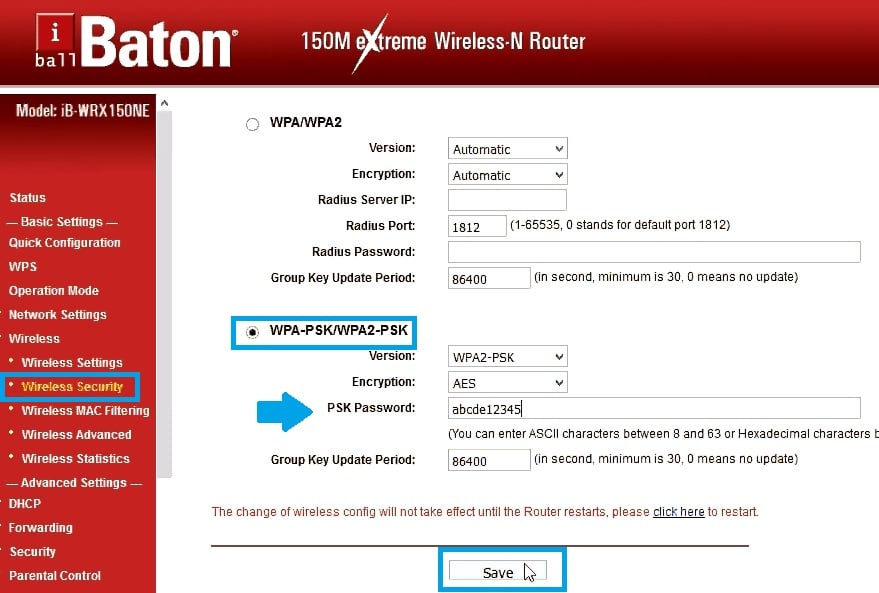 If you have enabled multiple SSID names in your iball then select SSID2 and SSID3 to set the password.
The next important step is to change the login password to protect router access using default login settings.
Change iBall Baton Login Password
This print shot is iBall Baton 150M extreme Wireless-N router to create this user manual but you can follow these steps to change i-Ball any model password.
Go to Maintenance- Password
Old User Name: admin
Old password: admin
New user name: create a new username
New Password: set a new login password using alfa numeric to pick a strong password.
Confirm New password: Type a new password again to confirm.
Press the Save button to apply changes and log in to the router with a new username and password again.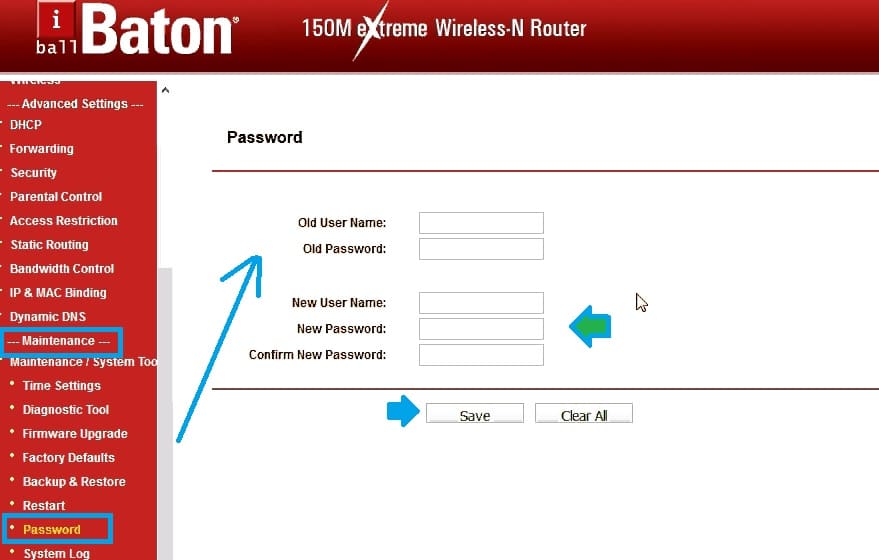 iBall Router Troubleshooting
If you are getting an error while login into iBall wifi router then follows troubleshooting steps to fix the login issue.
Iball Router Login IP Address Not Working
Default login IP address 192.168 ll taking to a long time to load iBall baton login page can be due to network configuration error or login IP address not belong to i Ball router LAN settings.
Follow steps to fix an issue with 192.168 l l iBall baton 300m login or any other iBall router models.
Make sure the default login IP address you are accessing is also printed to default settings in the router sticker.
Confirm the default login IP address for the lBall router already not changed with different series.
Computer/Laptop LAN IP Settings should be in DHCP mode to get an IP address from the Iball baton.
Make sure you are typing login IP correct form http://192.168.1.1
If you are still facing a login issue with iBall router or you may forget the login password after changed then make the router factory reset.
Factory Reset iBall Baton Router
IBall modem and wireless router having a small reset button to factory reset wifi router when forgetting login password or router not working.
Note: A factory reset will erase all the configuration saved in the router so make sure you have router settings detail to configure again after making the router default.
Steps to Reset router in default mode
Locate a small reset button beside Ethernet ports.
Press and hold the reset button for 10-15 seconds using any needle or pin.
Router led will blink and reboot the router and try again 192.168.o.1.1 iBall baton login using the above steps.
Related Post