Login Trendnet Router default username password
Trendnet TEW-731BR N300 wireless router login with default credential to change default WiFI SSID and Password. TEW-731 300Mbps single band WiFi router with dual Omni antenna for home use. If you have Trendnet wireless router and want to access the router web interface to set up and update settings then follow step by step. Everyone probably needs to update the Wireless password and name to keep wifi internet secured from an unknown person so you required to access router settings from computers or mobile devices. This article helps you to login Trendnet router settings from web browsers to setup and configure.
Trendnet router login settings needs to connect either using a physical wired connection or wifi connection with default SSID name and password.
Steps to login TEW 731-Br 300mbps WIFi router
follow steps to establish a connection with your router to proceed Trendnet router login from browser or mobile device.
Connect your Trendnet router using LAN cable from Ethernet port or WiFi networks.
Internet cable should be connected to the WAN port for the first time setup.
Change PC/LAN network settings to DHCP mode.
Power ON Router with DC adapter comes with a box for first-time configuration.
How to access WiFi Router settings using WiFi and Wired?
Trendnet Default Login credential
Setting up the first time for broadband internet you need default settings that printed to the router sticker and the Quick user manual comes with box.
Default Trend net router IP – 192.168.10.l
Default username– admin
Trendnet default password– admin
Trendnet tew-812dru Dual-band WiFi Router Login settings
User Name: admin
Password: (xxxxxxxx)
Access Router web interface to the browser
Open a web browser and access http://192.168.10.l and wait for the load router login page.
After a few seconds, you will get a login window asking for username and password.
Login to the TEW-731BR
Provide a default username and password for the first time.
Select our language from the list if you want to change the language.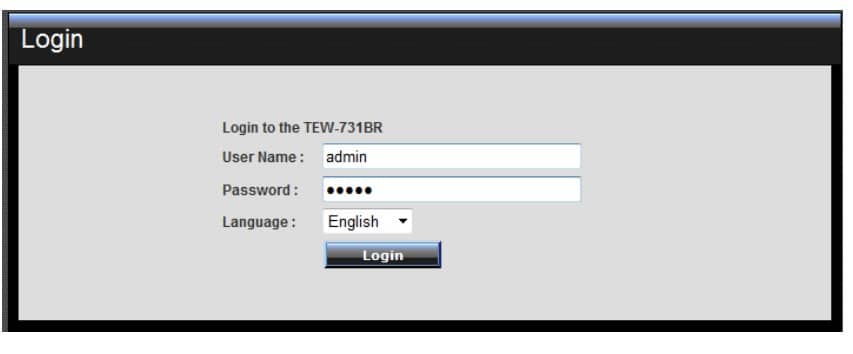 Press the login button and you will access router settings after successful authentications. Post login now follows the Trendnet router setup steps recommended to the first-time login.
If you want to configure WAN internet settings for first-time installation then use the Trendnet setup wizard for setup wireless router step by step In an easy method.
Change WiFI SSID Network name and Password
Trendnet routers preconfigured with default wifi SSID name and password so change the wifi network and password before connecting to networks.
Wireless-Wireless Basics
Wireless Network – Enable SSID Broadcast (keep checkbox)
Name (SSID)- TRENDnet731_XXXX (change this SSIDs to new wifi name for your network)
Mode– b/g/n
Channel– Auto
Bandwidth– 20/40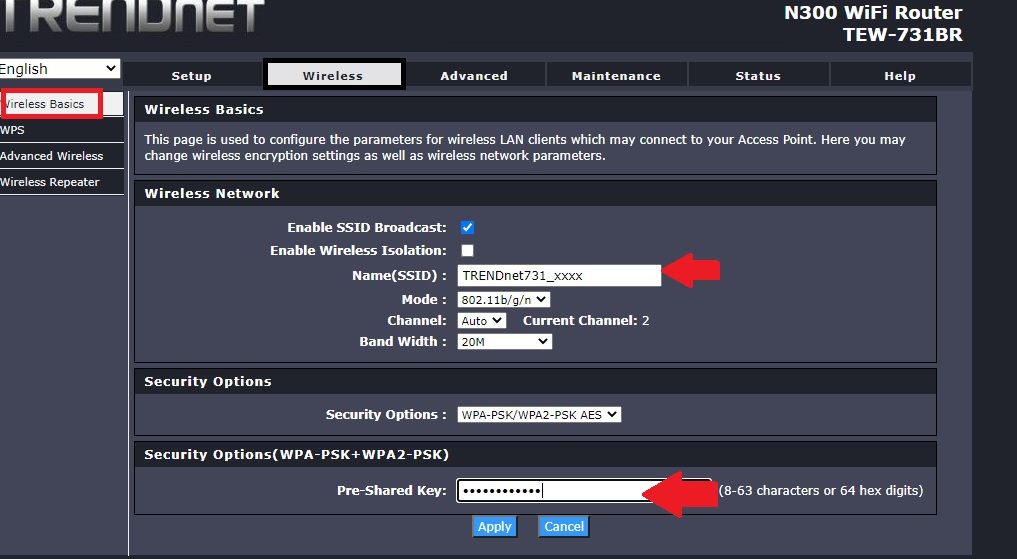 Security Option- WPA-WPA2-PSK-AES
Pre-Shared Key- Set a New WIFI security key with a mixed combination.
Avoid using the name, Phone number, address, date of birth that can easily guess.
Press the Apply button to confirm settings. If you connected to Wi FI, you will disconnect and need to connect new SSID with the new password again to further routers configurations.
The next important security configuration is to update the default trend net login password.
Change Login Password
Change default web interface password first time with a new stronger password.
Maintenance- Admin
User Account table-
Select the user from the list to modify the password.
Configuration
Username- admin
Old Password: admin (default)
New Password- Set a new login password.
Confirm Password- Confirm new password to avoid mistakes.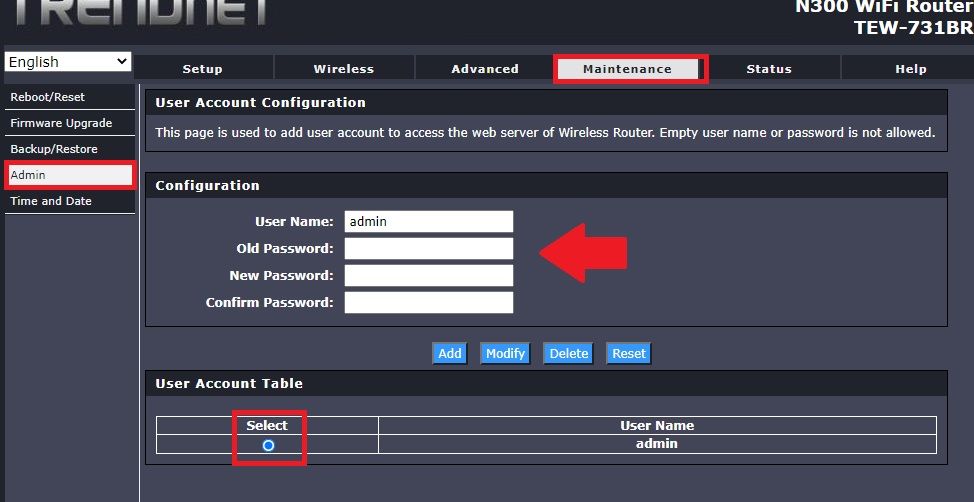 Press the Modify button to save settings.
Logout router and login with the new password again.
Trendnet Wireless router Login Troubleshooting's
If you are facing any error and issue while access the router IP address from the browser then follows the below steps to fix the login issue.
Trendnet Wireless router login IP Not working
Make sure you are using the correct login IP address printed to the router sticker.
Also, confirm if the router default LAN IP address not changed during the first time setup.
Computer/Laptop LAN network settings should be DHCP more or use 192.168.l0.1 1 in static mode.
See the typing error in typing http// 192.168.l0.1 or 192168101 will get an error so make sure you are using http://192.168.10.1.
How to Find Your Router IP Address
Login Username and password not working
If you access the router login page but get error invalid username and password error then follow the steps to fix the wrong password issue.
The default login username password for the N300 router is "admin". If you are not sure about your router model please refer to the sticker back side unit.
See if the caps lock button is off or the keyboard key working properly. You can type username and password in notepad to ensure correct.
If still password not working you may factory reset Trendnet router using the reset button to restore in default mode.
Locate the reset button beside Ethernet ports. Press the reset button and hold for 10-15 seconds until router led lights blink and rebooting start. This process takes 2-3 minutes so keep wait and try again default settings to access the router.
Related Post