Simple user manual for Asus N300 WiFi Repeater Mode Setup to boost wifi range and speed in the area no coverage and weak signal range.
Asus N300 WiFi Repeater Mode Setup
Set up Asus router N300 as Range extender mode with any Wifi router using simple steps. Asus N300 is a double Omni antenna 300Mbps wifi router for home and small office size area. It is a wireless device that supports AP router, Access Point, Repeater and WISP mode as well. Selecting different wireless mode to depend on the requirement you want to work as. This N300 Wifi router will help you to boost Wifi signal using repeater mode without buying a range extender device. In this post, you will get simple steps to set up range extender mode in Asus N300 to increase wireless signal at home.
To configure as repeater mode in Asus router need a physical connection from LAN port to open web interface. If you looking for a repeater mode configuration using a WiFi connection then we will recommend connecting a wired connection for fast configuration.
Connection to Setup Asus Repeater mode
Connect the Asus router LAN port to your PC or Laptop LAN port.
The Asus N300 Default IP address is  http://192.168.l.1.
Setup 192.168.1.10 in Desktop/Laptop LAN port IP Configuration.
After Connection and PC, IP configuration open web browser and access Asus default IP Address.
Use Asus N300 Default username: admin and Password: admin to enter in the router.
If you are setting up Asus router the first time you will get the option to choose manual setup or wizards.
Select Manual settings.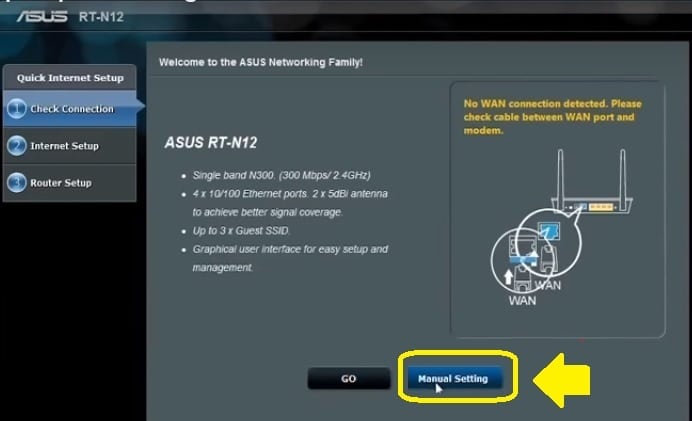 The next step will ask to setup a new password to secure the Asus router.
Set the new login password for your Asus N300 router and click the next button for the repeater mode setup.
Setup as Repeater Mode in Asus N300
The net step is to select the Wireless Repeater mode in the Asus N300 router.
Choose Repeater mode and click the Next button to scan the Host Wi-Fi router to connect from the repeater.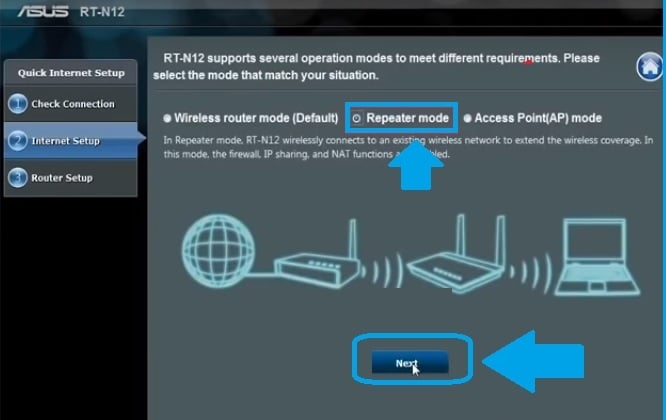 In the next steps, you will get a list of all running wifi networks nearby.
You need to find your main WiFi name from the list and connect it from the repeater device.
You should have a host wifi password to allow connection from Asus Repeater.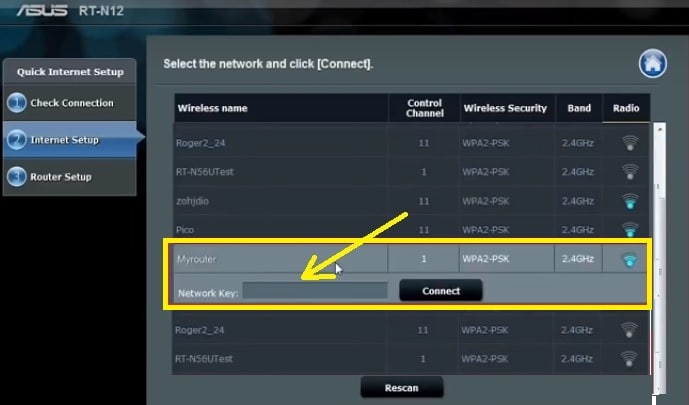 Select your WiFi name and type password. If you did not get our WiFi name make sure your main modem/ router is power on and press the rescan button to site survey again.
Click the Connect button to confirm the connection.
Setup Repeater Extender Network Name and Password
The next steps will be to configure an extended network name and password or keep using the same name as the main wifi name and password.
Network Name (SSID): Extender network name
Network KEY: set password for Repeater network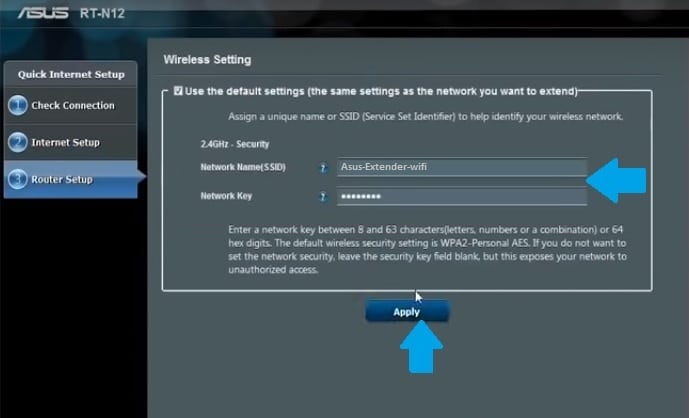 Click the Apply button to save settings.
The router will start rebooting and take 30-40 seconds to save the configuration and set up repeater mode in Asus N300.
Wait until the router is re-access again.
Confirm Repeater connection Status
How to confirm is repeater connected to the main WiFi router or extending the Existing network or not.
Login router again and see the connection status.
Completed Network Configuration Summary.
Access Point status: successfully established the wireless connection.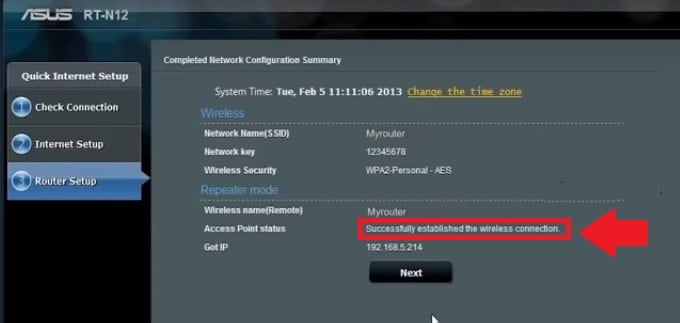 This repeater mode configuration manual also supports to setup of Asus rt-ac68u repeater mode as well as Asus rt-ac66u repeater mode and other Asus router models.
To get proper signal connectivity you need a proper placement of the range extender device.
To find the best range extender placement read this article.
Placing the proper location will double the performance of your repeater device and will work better in any size of the house.
Keep in mind the below points while placing the repeater device.
Do not put it inside the cupboard
Do not cover the device using any box or under the table
Keep both antenna straight toward the upside.
Related Post