How to Setup Mercusys AC12G Router as Repeater mode?
Before setting up Mercusys router as repeater mode know the router software and hardware specification. AC12G dual-band router is 1200Mbps wireless speed with all gigabit Ethernet ports. Mercusys AC1200 support 300Mbps in 2.4G and 900Mbps in 5G band. Mercusys AC1200 router having 1 Gigabit WAN port and 3 Gigabit LAN port to connect wired computers and other network devices. this router can be configured as a router and range extender mode to boost Wifi signal.
Mercusys ac12 router comes with a 4Fixed external Omni antenna to give Wifi range in every area. In router mode its supports all leading internet providers such as the ACT, Spectranet, Excitel, Hathway and other operators.
Best WiFi Router for Long Range
However, in this post, you will get simple steps to use Mercusys AC1200 as a range extender mode with non-mercusys access point. Follow the steps to setup AC12G as repeater mode.
Login Mercusys AC12G router
To login mercusys router need to connect from a computer or laptop using the wired or wireless connection. While setting up Mercusys as repeater mode recommended to connect using a wired connection instead of wireless.
Connect the computer to a router LAN port using LAN cable.
Power On router using a power adapter comes with the router.
Mercusys Default IP Address is 192.168.1 .1
Mercusys Default username: NA and password need to create on the first time setup.
Open a Web browser and type http://192.168.1.1 IP address to the URL bar and hit enter.
If you are setup Mercusys ac12g first time create the login password and skip for Network setup options.
After login router follows steps to configure as range extender mode.
Set up Mercusys Router as Repeater mode
In Mercsys router range extender or repeater mode not available but WDS bridging mode work as repeater mode. If you are looking to setup mercsys mw305r range extender then follow this manual for also.
As AC1200 is dual-band so 2.4Ghz will set up as a repeater and 5G work as Ap mode.
Go to 2.4GHz wireless- WDS bridging
Press the Next button to proceed configuration repeater mode.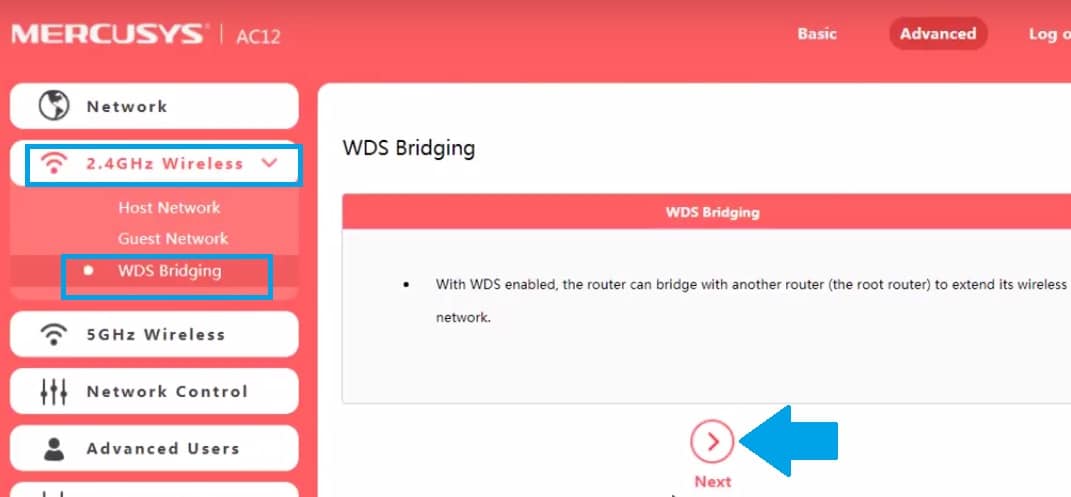 In the next steps, the router will scan wifi networks running nearby.
Select your main Wi-Fi name from the list and type the password of the main wifi router.
Please enter the password:  type password of host wifi network and press the Next button.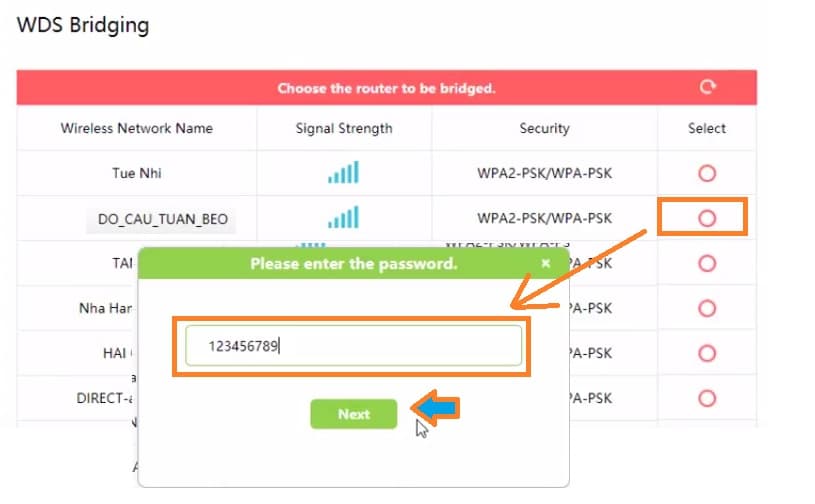 Setup Extender Network name and password
Type name for repeater SSID and password for repeater wifi and press the Next button.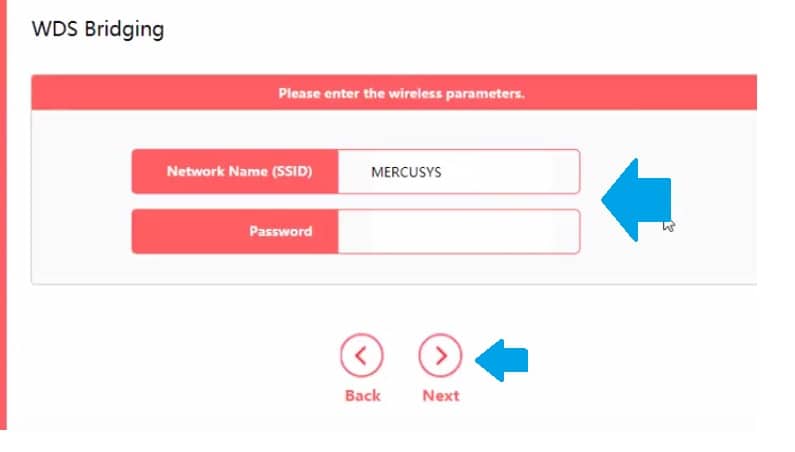 Change the Mercusys Repeater IP Address
As you know most of the router comes with the same default IP address so it is recommended to change repeater IP Address to the same series of the main network running.
If your main router IP Address 192.168.l.l  than use 192.168.l.252 or any other from the same series except 192.168.1.1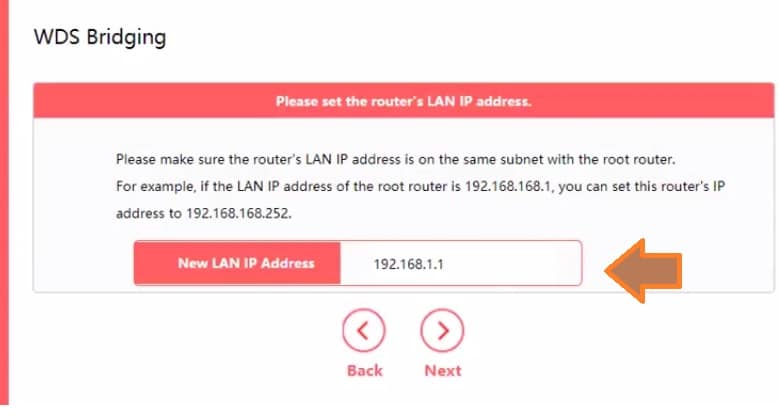 Press the next button to finish the repeater setup.
Confirm all configuration showing in the final steps and press the finish button if everything looks good.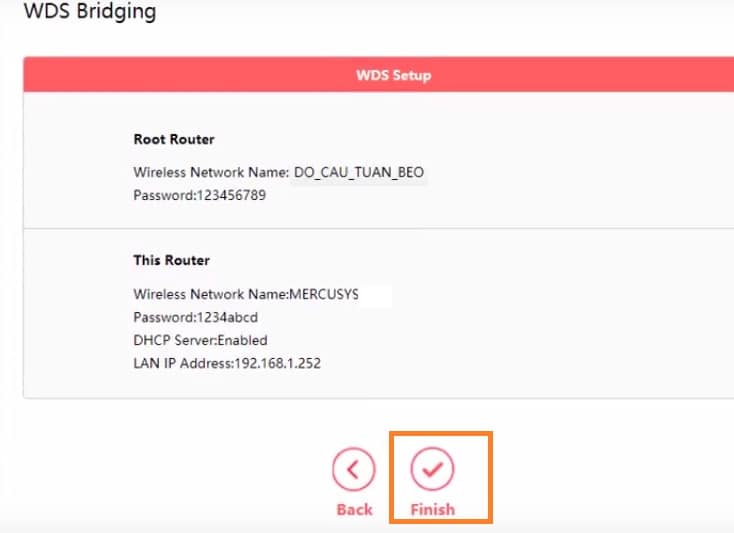 The router will reboot and access again with new IP address changed.
After Mercuys login with a new IP address check the repeater status connected to confirm.
Repeater connected Status
Go to 2.4GHz Wireless- WDS bridging
Connected– if status showing connected means repeater successfully configured.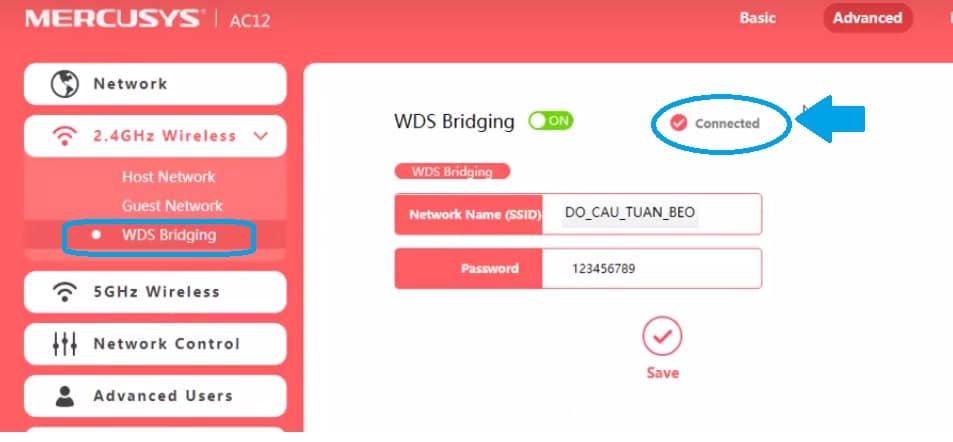 Go to mobile or laptop and connect Mercusys repeater signal name and check the internet should work. The improving range extender performance also depends on the placement of the repeater.
Repeater Placement to increase wifi signal
Wireless range extender performance also depends on the placement of the router to get proper connectivity. There are some points to keep in mind while place a range extender device.
Do not put in covered areas such as cupboards under the table.
Do not close the external antenna of the device and keep them standing mode.
Choose a centralized point from the main router and range extender both can get at least 50% signals.
To know more about best placement read the article to choose best range extender placement.
Related Post