How to Factory Reset Honeywell Thermostat?
Honeywell is a popular and trusted brand for home products and is used worldwide. You might use Honeywell smart Wifi, a Water Leak detector, or smart home security. Honeywell thermostat or any other that you probably face issues with sometimes and you need to fix it without calling or visiting the Honeywell support center.
If you facing a problem with your Honeywell  Thermostat and looking for a simple hard reset guide to make Honeywell thermostat reset to fix a problem that you facing with your Honeywell thermostat. Probably your Honeywell thermostat getting issues such as issues with the thermostat's programming, issues while connecting to your furnace or air conditioning unit as well as Inconsistent or inaccurate temperature readings those can fix by resetting the thermostat unit with a few steps.
This article will help you to provide simple reset steps to factory reset old Honeywell thermostats as well as the latest Honeywell thermostat from different models.
Factory Reset Guide for Honeywell Thermostat given models.
There are many different Honeywell thermostat models available so you can confirm the below model if you have any then this reset guide will help you to make the Honeywell home thermostat reset as well as the Honeywell thermostat wifi reset.
Honeywell Thermostat T5 and T5+ (T5 Plus)
Honeywell Thermostat RCHT8610WF, RCHT8612WF,
Honeywell Thermostat  TH6320WF2, TH6220WF2
Honeywell Thermostat T9  RCHT9510WF, RCHT9610WF
Honeywell l Thermostat T10 THX321WF)
If you have any of the above thermostat model numbers and facing any problems while connecting or inaccurate temperature or any other issue. Follow the steps below to factory default Honeywell  Thermostat.
How to factory Restore Honeywell  Thermostat T10 THX321WF
Although most of Honeywell  Thermostat reset steps are the same so you can just follow the below steps.
Steps to Perform Factory default T10 Thermostat
Press the Menu icon option on Thermostat
Scroll and go to Thermostat information
Record or right down "Date code"
After recording "Date code" press the back arrow and go to "Installer Options"
You will ask to Enter the "date code" on the prompted window. Type the date code or Reset code to proceed further.
Then Select "Reset"
And then select factory reset and wait until the thermostat resettings.
Change WIFI network or Make Honeywell  Thermostat WIFI reset
If you wish to forget your existing wifi network on your thermostat or looking to thermostat wifi reset to change new wifi network then follow the steps. Follow Honeywell device reset instructions to reset WI-FI.
Go to the Menu icon and scroll until the WiFi option comes.
Scroll down and select WIFI options.
Press Change Network options.
You will get a new wifi name select the wifi name you wish to change and provide the WIFI security key and press OK.
Thermostat WIFI will change and you can easily change your wifi network within a few seconds.
How to Factory Default T5, T5+, and T6 Thermostats?
These steps will help you to factory reset the Honeywell thermostat RCHT8610WF, RCHT8612WF, TH6320WF2, and TH6220WF2.
Press Menu Icon.
Start pressing the arrow until the "reset" option comes.
After selecting "Reset" you will see "Factory"
Press the Select button when seeing the "factory" option.
You will prompt to confirm "Are you sure" Press Yes and you will see resetting showing on the screen.
Wait a few moments until the thermostat resets and after setup it up again.
 Elgato remote control plugin Missing Fix and Setup
How to factory Restore Honeywell  Smart Lyric Round (TH8732WFH)?
Honeywell  Lyric round thermostat factory reset steps are almost the same as making any other thermostat.
You will see Down and up arrows on the round Honeywell thermostat so follow the steps below to perform a full factory reset.
Press the "down" arrow to scroll through the menu options.
Select the "Factory Reset" option and press an OK button between both Arrow.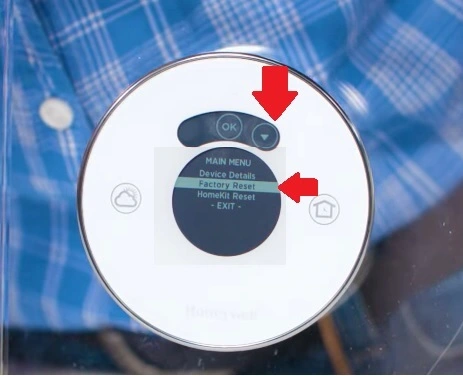 Press the OK button after selecting the Factory reset option.
" Are you sure you want to Reset? You have to set me up again."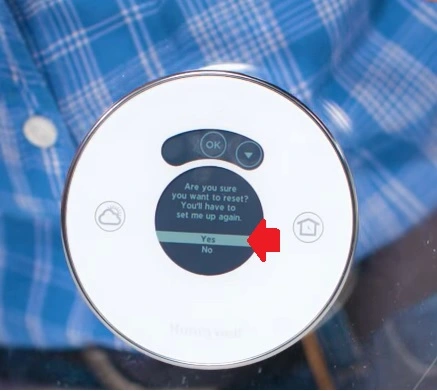 Press the "Yes" button to confirm the factory reset Thermostat to restore default settings and setup it up again using the menu options.
How to factory restore Honeywell  WiFi Smart Thermostat?
If you have a Honeywell  WIFI smart thermostat and are not able to make it factory reset then follow the below steps. As the WIFI smart thermostat is a touch screen so it's much faster to perform a reset.
Go to the Menu option from the top last corner.
Press the down arrow and scroller down.
Press the "Preference" option and scroll using the down arrow again.
You will see the option "restore Factory reset"
Press the option and you will see "Restore all settings to factory defaults"
Touch the "Yes" button to confirm and your thermostat will be reset to default mode.
Set up your thermostat again and start using it again.
Final words
Hope this article will help you with the Honeywell home pro series thermostat reset as well as the smart Thermostat and touch screen thermostat without struggling a lot. You can also use the Honeywell Factory default schedule to perform a reset at the selected time. You can also fix the Honeywell thermostat blank screen reset performing with the above steps. After making the restore to default you can use Honeywell thermostat default password to configure your thermostat again.
Related Post