Joowin Wifi Extender Setup without Login
Joowin Singal booster or Joowin Wifi extender device both are the same and the best way to fix the signal problems in your home and office without laying physical wire in every area. Jowin 300Mbps N300 Range extender and Joowin JW-WR768AC dual band Repeater configuration steps are the same. Setting up Joowin Outdoor WiFi repeater as well as the indoor Signal booster is quite simple and easy steps. Joowin WiFi signal booster supports the WPS button so you can setup the Joowin extender without login and within a few seconds tasks. Joowin Wireless repeater support multi wireless mode such as Wireless router, Access Point, and signal booster mode. You can use Joowin repeater in any mood but it's basically designed to boosting wireless signals in dead wifi areas.
There are two ways to setup a Joowin Range extender device with a login method and without the login method. Without login method use with WPS button if your host router supports the WPS  feature. Configure Joowin WiFi repeater using WPS button does not require old wifi password and it's a quick way to connect repeater device to existing WiFi network. Setup Joowin WiFi extender using Web interface required to connect device either wired or wireless method. Follow steps to connect Joowin Wifi range extender to existing WiFi network to extend wireless signal without cable.
Configure Joowin Signal booster using WPS button
WPS push button method fastest way to connect repeater device with the existing network without required wifi password. If your host wireless internet latest 11ac dual-band or legacy with WPS support then Joowin Range extender device can connect without login to settings just push WPS button.
How to turn wired IP Camera into Wireless camera
Unbox Joowin Wifi Repeater device and plug to a power socket near host wifi router.
Locate a small WPS button on the Booster device and Wireless router as well.
Go joowin repeater and press the WPS button for 2 seconds and within 2 minutes press the WPS button in the Internet wireless router.
Joowin Extender device wireless led will be solid after success full connection with existing WiFi router.
After a few seconds of connection, scan for extender SSID. You will get a new SSID with Joowin2g_ext like that.
Connect extender SSID network name and use same wifi password as existing old wifi password to connect extender network.
This method takes a few moments to finish the setup. Once the extender SSID working with the internet just unplug Joowin extender device and find an appropriate centralized location near the wifi dead zone.
Range extender device should get at least 45% signal from host Wireless router to increase signal and internet speed in no coverage area.
If your host router does not support the WPS feature then follow the second way to connect Joowin Wi-fi range extender using login method from the web interface.
Connect Joowin Wireless Repeater from Web interface
The login method bit lengthy and longer than the WPS method. Although you can use mobile, laptop, or computer to setup Joowin range extender from settings. Follow steps to configure Joowin wifi Signal booster from a mobile device without wired connections.
Unbox Joowin Extender device and connect to Power socket near main wireless Internet modem or router.
If want to use the wired cable to set up Joowin from a computer or laptop just plug the LAN cable into Joowin Ethernet port and connect Pc LAN port.
Setup Joowin repeater from mobile, just go to mobile wireless settings. Scan for wifi SSID.
Connect Joowin_xxx_2G or Joowin_xxx_5G  from mobile. In single band, Joowin extender device only 2.4GHz SSID name will show.
Open a mobile browser and access Joowin default IP address http://192.168.10.1 and wait to load joowin login page.
Use Joowin Wireless repeater default password "admin" and choose language as per your country and press the login button to start the setup wizard.
An extender will start scanning for wireless networks running nearby.
Find your existing wifi SSID from the list and select to connect. If did not get your WiFi Network name in the list just press the re-scan button again.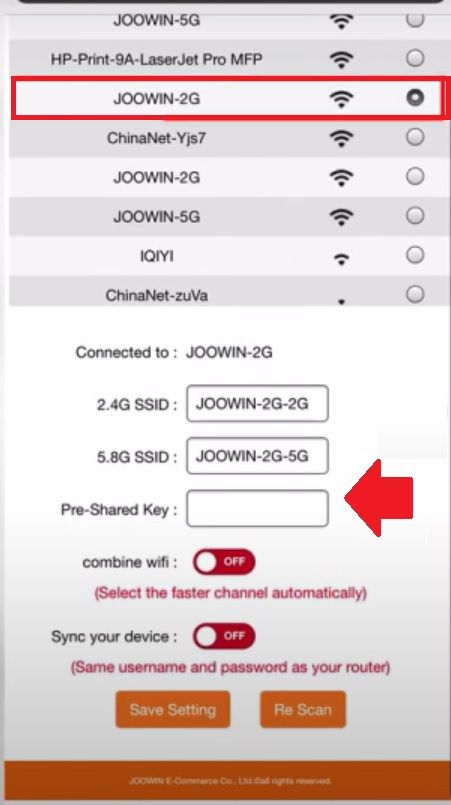 Connect to: Joowin-2G (This will show your old WiFi network name which you want to connect from Joowin Booster)
2.4G SSID:  Joowin-2G-2G ( This will extender SSID name. You can change this name as per your choice if you wish to use a different name for signal booster SSID)
5.8G SSID: 5G SSID name for extended network. ( Joowin N300 300Mbps wireless repeater will show only 2G SSID). Only Joowin Ac750, Joowin Ac1200 setup will show the 5G SSID option.
Pre Shared Key- type Old WiFI security key to allow connection from Joowin. (extender wifi password will be same as old WiFi password)
Combined WiFi – default off (this option will manage the Wireless channel automatically.)
Sync your device– off (if you want to use login username password same as old Wireless router just ON this button and your extender device login will be same as a main wireless router).
Save settings- Press the save settings button to finish configuration and wait a few minutes until the extender device connecting to the existing wireless network.
Go to mobile or laptop wireless settings and scan for the new SSID name Joowin extender. Connect and check the internet should work.
Joowin Signal booster Placement-
Unplug the repeater device and relocate to the area you facing the wireless signal problem. Find a centralized location where feasibility from the host router is clear and can receive at least 40% signal. Don't install an extender under the box or table that will reduce repeater performance.
Joowin Range extender first Question and Answer
Facing problem with wifi extender while setup first time using WPS or from web interface just follow Q&A to troubleshoot.
What is Mode use for Signal booster in Joowin device?
Use Wireless Repeater mode to extended existing wifi signal to increase range and internet speed in dark areas where no signal or low signal issue.
What is Joowin default login IP address and password?
http://192.168.10.1 default Login IP address and default password "admin" for first-time configuration.
Joowin Extender not connecting using the WPS button.
Make sure the WPS option is enabled on the host router and extender near the host router to get at least 50% signal.
How to Reset Joowin WiFi extender?
joowin wifi extender reset using the reset button as well as from web interface. Press the reset button for 10-15 seconds to make the Joowin factory default.
How to login Joowin Range extender if the password forget?
If Joowin login password not working for your device just use the reset button factory reset Joowin and use the default login password "admin"  to setup again.
What is Wireless mode supported by Joowin Range extender device?
Joowin wireless repeater device supports Router, Access point, Range extender mode.
is Joowin WiFi Repeater compatible with every access point?
Yes, Joowin Extender device is compatible with almost 99% of wireless access points.
Final Words
Joowin Signal booster or Wireless repeater best way to increase wireless signal range in your home without laying a physical cable from the internet router to every room. Just set up Joowin Repeater device and turn your wifi dean zone into a high-range wireless hotspot area.
Related Post