Airtel Xstream ZTE F670L Modem Login
Airtel Xstream fiber broadband internet provides you internet as well as voice telephone service using fiber cable networks. Airtel fiber used different brands of powered Modems such as Nokia, ZTE, Huawei, and others. In a recent article, we have published Airtel Xstream Nokia fiber modem login and setup for users who have installed Nokia modem with Airtel fiber broadband connection. This article helps you to Login Airtel Xstream ZTE F670L Fiber Modem and change your default Wireless SSID and password.
Airtel ZTE Modem is preconfigured with the Airtel installation team and it's pre-configured with the default WiFI name and password that are printed to the router sticker or you also get SSID and wifi password on text message after completion of internet connection installation. However, you can use the Airtel Thanks app to change your WIFI SSID and network name without login in to Airtel Xstream Fiber modem settings. You can follow this guide for airtel XStream premium login as well as normal users with or without voice service.
You need to connect Airtel ZTE FTTH Modem using WIFI or wired connect from any LAN port to Desktop or laptop to access settings from web browsers.
Aritel Xstream ZTE Fiber Modem Settings
Default credential required to access router for the first time from a web browser. Default IP address, username, and password printed to router sticker. You can find Airtel Xstream default password and username as given below.
Airtel ZTE F670L Fiber Modem Login IP address– 192.168.1.1
The default username and password Airtel ZTE Fiber Mode- admin/admin
If you have updated the default login password after first-time login then you need to use the same password to access your router settings.
Steps to Login ZTE Airtel Xstream Fiber Modem
Once you have gotten login details for your router now next step is the connection with the router to access settings from the web interface. Use WIFI SSID and password to connect using Wireless or use LAN cable from Airtel modem to PC/Laptop LAN port for wired connection. Follow the steps below.
192.168.1.1 How to login 4G hotspot router?
Change ZTE Airtel Modem WiFi SSID and Password
Although my Airtel app also has the option to update your Airtel router WiFi password and name without accessing router settings separately. If you have access ZTE modem web interface as given in above steps now follow the steps to update the WIFI name for the 2.4GHz and 5.8Ghz wireless band to secure your wifi internet.
Go to Local Network – WLAN
WLAN Basic
WLAN ON/OFF- you can enable and disable 2.4Ghz or 5Ghz wireless if you don't want to use both wifi bands. But you can keep it enabled to work on a single band and dual-band both devices.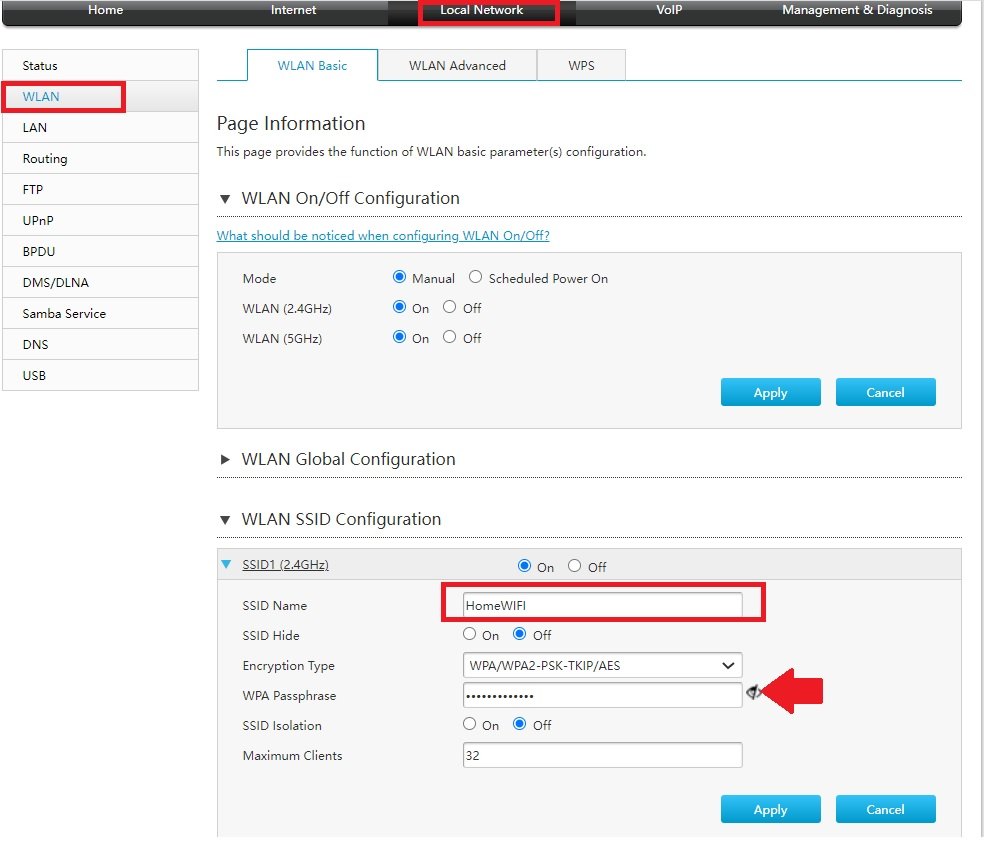 WLAN SSID Configuration – Click on the Arrow button to expand settings.
SSID Name- Change WIFI name for 2.4Ghz.
Encryption Type- WPA/WPA2-PSK-TKIP/AES
WAP Passphrase– change the WIFI password for the 2.4Ghz wifi network.
Maximum clients- 32 (you can change max client number as per your mobile and other wifi devices to restrict accessing more users.)
Apply Settings and you will see after a few minutes WiFI network name will be changing.
Click on the 5.8Ghz wireless band to change the 5.8G SSID and password as followed in the above steps.
After changing Wireless settings now you have to update the Airtel Xstream admin login password to secure router web interface access.
Change Airtel Xstream ZTE Modem Login password
After Login Airtel Xstream ZTE F670L Fiber Modem first important step is update default WIFI settings.The default login username and password for the Airtel Fiber modem is "admin" and also printed to the router sticker and easily available on the internet. Using a default admin login password will make your network access weak and any user connected to your WIFI network can log in to your airtel modem so it should be changed during the first time setup.
Go to Management & Diagnosis tab from the top menu.
Management & Diagnosis- Account Management
Admin Account Management
Username- admin (Admin username can not be changed. However you can create a new user)
Old Password- admin (default is admin if you have changed the admin password already use the same to update the new password)
New Password- Create a new password
Confirmed Password- Confirm new password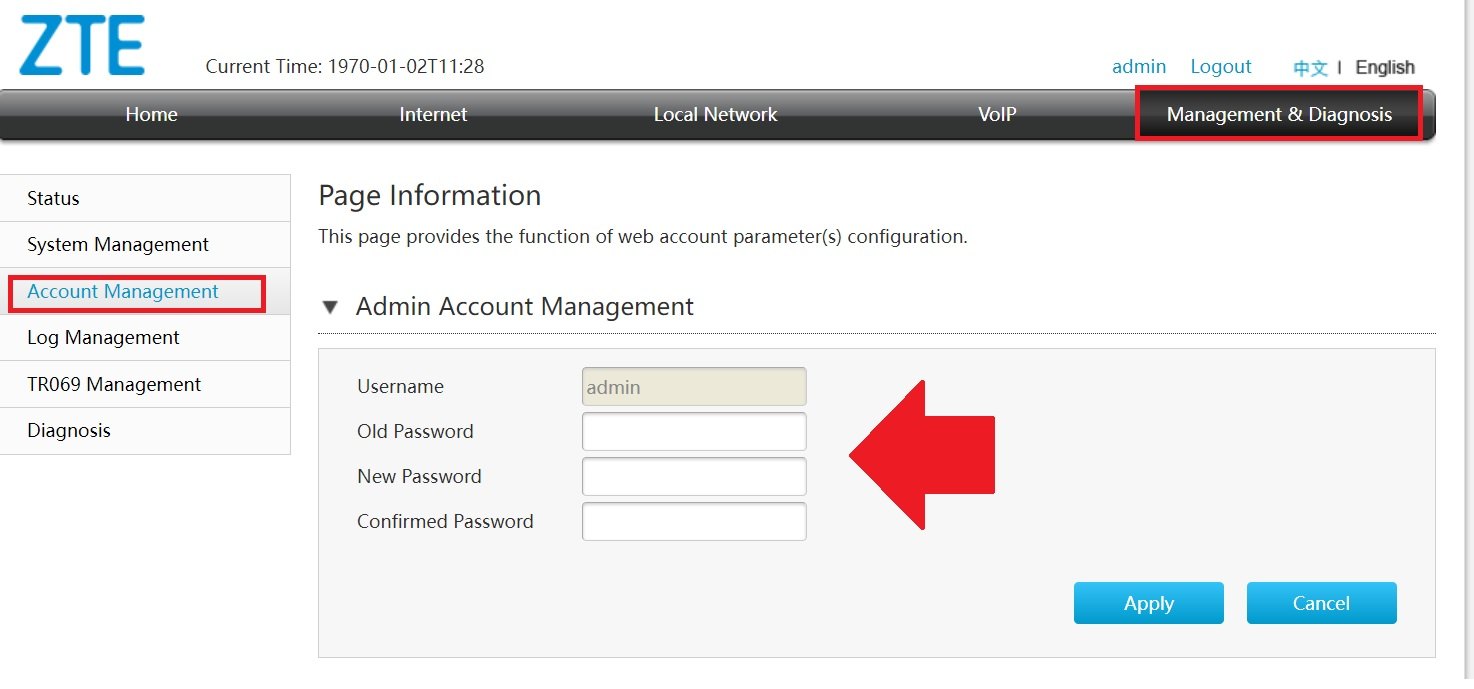 Tips- Use a stronger password combination with alfa numeric and special characters. Avoid using personal information such as mobile number, name, address, and date of birth for the WiFI security key that is easy to guess. Always use a password that is easy to remember and hard to guess.
Press Apply button to save settings. You will get a new WIFI SSID name and use a new password to connect.
If you are facing a problem while trying to login Airtel Xstream ZTE F670L Fiber Modem IP address  192.168.1.1 not working or taking a long time to respond then you have to check you are connected to Wifi or use the wired cable from the LAN port to access the router web interface. However, if you forget the Airtel Xstream login password and are unable to access you can factory reset the modem or contact the Airtel support team to fix your login problem.
Related Post