Simple user manual for Nokia G2425G-A Modem Login and change wireless password and name to protect wifi access from unknown users.
Login Nokia G2425G Airtel Xstream Router
Nokia G2425 Fiber modem used by Airtel Xstream broadband internet connection to deliver internet speed more than 200 Mbps. Airtel Xstream Fiber Nokia G2425G-A Gpon ONT Gigabit Dual Band Wifi Router connects with a fiber network cable to get a high-speed internet plan. It supports 4 LAN ports,1 DSL port,1 fiber PON port, and dual-band wireless. If you are using an Airtel Xstream broadband connection and Nokia ONT modem installed at connection and looking to login settings that this user guide going to help you. You must change the default login password, wireless name, and password for your Airtel XStream router to secure an internet connection.
As the Nokia G2425 fiber modem supports both wireless and wired interfaces so you can connect either using wifi or wired to the login settings page. You need default login IP address, username, and password for first-time login ONT modem that is printed to modem backside sticker. Follow the steps to access the Nokia G2425 ONT web interface.
Steps to Login Airtel Xstream Fiber modem
The first step is to get the default login settings for your Airtel broadband modem that printed to sticker and you can also get it from the support site. However, find the default login settings for the Nokia G2425G-A modem below.
Nokia G2425G-A Login IP address– 192.168.1.1
Default username– admin
Default Login Password– admin
Physical or Wireless connection with Modem
Connect LAN cable from Ethernet port (Yellow) to use a wired connection for PC/Laptop.
Use default WiFi SSID name and password printed to router sticker to connect Laptop or mobile device.
Go to PC/ Laptop LAN IP settings and make sure TCP/IPv4 is in DHCP mode to get IP from Nokia ONT.
How to access WiFi Router settings using WiFi and Wired?
Login Nokia Fiber GPON ONT web interface
After physical connection and network configuration now open a web browser and access http://192.168.1.1 and wait to load the ONT login page.
GPON Home Gateway
Username- admin
Password – admin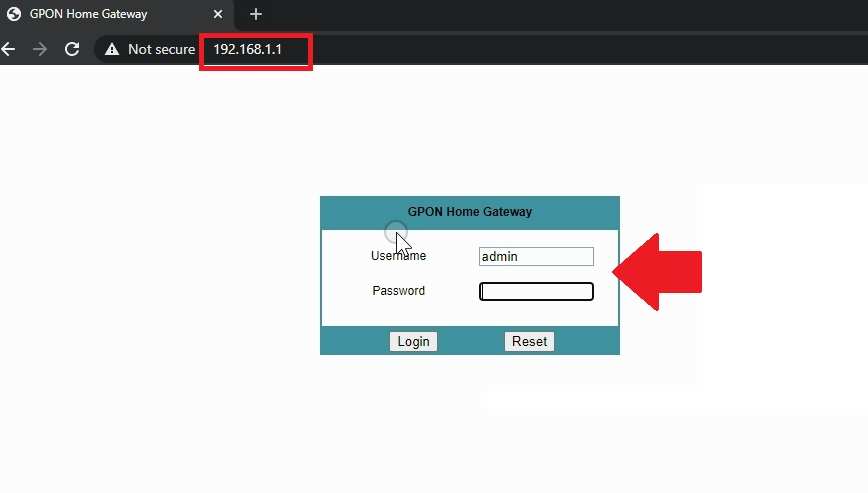 BUY NOW
Press the Login button to access the router settings page. Once you logged into modem settings then first update the default wireless settings.
Change Wireless SSID name and password
Nokia G2425G-A Fiber GPON ONU device preconfigured with Airtel XStream WIFI name and password that also printed to router manual and sticker included with the box.
G2425 Modem supports a 2.4GHz and 5GHz wireless band so you have to change both WiFI names one by one.
Go to Network– 2.4GHz and 5Ghz one by one.
SSID Select – SSID5
SSID name– WiFI-5Ghz  (use WIFI name as per your choice for 2G and 5G both bands)
Encryptions Mode- WPA2+WPA
WPA Key- WiFI password for 5Ghz.
Note: use a stronger Wireless password that hard to guess and easy to remember. Never user personal information such as Mobile, address, date of birth.
Save settings and connect again with wifi using the new wifi name and password if you disconnected from wifi.
Next, go to Network- 2.4G and change the WiFi SSID name and password as followed 5Ghz configurations.
After wireless configuration, the next important step is to change the default login password for Nokia Fiber GPON ONT modem used in the Airtel broadband internet connection.
Change Login Password
Always change the login password to protect router settings access from users who are using wifi or wired connection from your modem.
Change Nokia GPON Home gateway Login password.
Go to Maintenance – Password
Original password- admin (if you already change default password use same as original password)
New Password- create a new login password here
Re-enter Password- Provide password again to confirm.
Prompt message– you can use a prompt message to get the hint to remember the login password.
Save settings and log in again with the new password.
Do not write login password on modem/router sticker so no one can access your modem until you authorize it.
If you facing any issue while login airtel modem or the default IP address not working for your modem you can contact to the authorized support center. If you are a tech person you can reset Nokia fiber ONT using the reset button and configure it again from fresh.
Related Post