How to Login Fiber ONT Device (Optical Network Terminal)?
What is an ONT device?
ONT (optical network terminal used to terminate fiber internet cable connected to OLT device installed at Internet provider base station used to distribute internet connection with multiple users using fiber cable.
After wireless network now everyone upgrading network to fiber network due to speed limitation over WiFi network. Day by day internet speed increase per user and Wireless limitation due to area interference and other feasibility challenges now fiber network capture all networks for internet and local networks. Most of internet providers upgrade network to fiber networks that run on fiber OLT and ONT devices.
OLT (Optical Line Terminal) device used to distribute internet connection with multiple users and terminate to ONT or ONY device used and client end. ONT device wired and wireless both that need to login to change configuration and wifi network name. This user guide shows simple steps to login fiber ONT device from a web browser to change settings and other configurations. There are many OLT manufactures such as Huawei OLT, Syrotech OLT, Netlink OLT, VSOL, Richerlink, and many other those are used with different brands ONT device. Most of OLT device supported with all brands GPON OLT device. IF you have any of the brands ONT installed at your home with an internet connection you can follow the below steps to login to your ONT device.
Steps to Login ONU/ONT Device
ONU (optical network unit) and ONT (optical network terminal) both are the same so don't get confused with ONT and ONU name. To login ONT unit you need to connect either wired or wireless connection if ONT supports WiFi networks.
Most of the ISP used a single LAN port ONT device at the client end to cost-cutting for FTTH network but now the latest ONT device also supported multiple LAN ports, WiFi networks as well as RJ11 port for VOIP services.
Fiber cable coming from internet providers should be connected to fiber PON port usually blue color.
Connect LAN Port to desktop/laptop using LAN cable for the access web interface.
Power on ONU fiber device with DC adapter comes with the unit.
PC /Laptop Static IP should be in same series of ONT default IP series.
Default Login Settings for Fiber ONT
Most of the OEM ONT unit software are same so login IP address also the same for default  but for Huawei HG8247H single port and multiport WiFi ONT device login settings are different.
You can also get default login settings for your ONT device printed to sticker available on the unit.
Fiber ONT Default Login IP- 192.168.1.1
Default username- admin
ONT Login default Password – admin or password
For Huawei Echolife HG8247H GPON ONT default Login credential
Login IP Address- 192.168.100.1
Username and password –
Administrator:
User name: telecomadmin
Password: admintelecom
 Common user:
User name: root
Password: admin
Login ONT Web interface to the Web browser
Open web browser and use http://192.168.l.l for Login Netlink, optilink, sysrotech,VSOL, and other no brand china ONT login  and use http://192.168.100.l for Huaweie HG8240/HG8245/HG8247.
Use login username and password as printed to your ONU label and select Language and press Login button.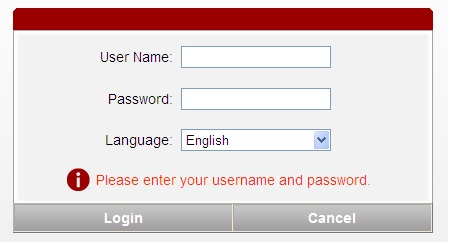 After successful login into ONT router device you if your ONT support wifi network you can change Network SSID name and password.
Change WiFi SSID Name and Password
If your fiber ONT uint supports WiFi network then it must be wifi antenna and wifi settings in the web interface.
Go to Wi-Fi- WiFi basic Configuration
SSID0- Chinanet-huawei (change this default SSID name to different name as per your choice)
Associated Device number- 32 (you can reduce the number of users can connect your wifi network)
Security Configuration- WPA2-PSK
Encryption mode- TKIP& AES
WPA-Presharedkey- chinahuwei (create new strong wifi password for your ONT device)
Press Apply button save settings.
After configuration save check WIFi name should update and if you connected to default name your mobile and laptop will disconnect so need to connect again with new WiFi settings.
Fiber Network Troubleshooting
Login IP Address not working
If you are unable to access ONT login IP address to a web browser or it may take a longer time to respond then follow the steps to fix fiber OLT and ONT login issue.
Make sure you are using login IP address printed to the unit sticker.
Laptop/Desktop LAN network IP configuration should in Static IP address using the same series of ONT device login IP.
EXP- Fiber ONU login IP Address 192.168.2.1 then use 192.168.2.2 to a manual static IP address in PC/Laptop IP.
If you still facing login error or login username or password not working for you then factory reset ont device.
How to Factory Reset Fiber ONT?
Making factory reset to Huawei echolife EPON ONT or any other brand ONT device the same.
Locate a small reset button available on the ONT unit backside or beside.
Press the reset button for 10-15 seconds and HOLD until fiber ONU device LED blink and rebooting start.
It takes 2-3 minutes to finish the resetting process to restore ont device to factory mode configuration.
Now check default login settings and follow steps again to login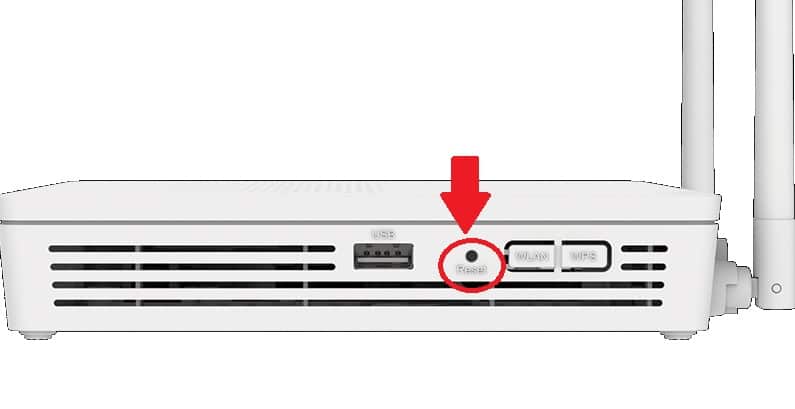 The process of factory reset ONU device for any brands is the same so you can make reset your device in the case facing login issue or forget login password after the change.
Related Post