How to Setup COMFAST WiFi Extender
Setup comfast N300 WiFi extender or set up Comfast Wifi Extender 1200 Mbps both are same and configuration steps also similar. Comfast N300 (CF-WR301S) support only 300Mbps WiFi speed and Comfast Ac1200 support dual-band up to 1200Mbps wireless speed combined both bands (2.4G+5GHz). Range extender also called with the name of Comfast Long-range signal booster that means boost existing wifi network range and provide a better signal coverage without laying physically wired.  How to setup Comfast Range extender device without PC and with PC both ways possible.
You can setup a Comfast Range extender using the WPS button method that does not require login device settings so no need for any computer or mobile to configurations. The second way is to configure Comfast Signal booster using the Login method. The login method bit long and needs some network and configuration steps. This article will provide you two ways to set up Comfast WiFi range extender to boost signal range and speed without changing the WiFi name and password. Unbox Comfast WiFI repeater device and follow steps to connect with existing WiFi network.
Setup Comfast WiFi Repeater using WPS button
WPS method is one of the best and faster ways to configure a Wireless signal booster or repeater device. The best thing is you don't require any wireless password to connect with the old router just an old wifi router should be WPS enabled to connect the booster device using the WPS button.
Netgear AC1200 WiFi Range Extender Setup
Unbox Comfast Repeater Device and plugged to Power socket near Host WiFi router.
Press the WPS button on exiting the host router and within 2 minutes press the WPS button on Comfast Extender.
Wait for a few minutes until the signal LED solid green that indicates the WPS connection is successful.
For Extender Signal WiFi password will same as the old WiFi password.
Unplug comfast repeater device and plug to a centralized location where it can get at least 50% signal from host router and can increase range on no coverage area.
This is a quick way to configure the Comfast signal booster device without login and no mobile or computer device is required. If the WPS button not working for your range extender or the old WiFi router might not support the WPS button then follow the next method that needs to login settings.
Configure Comfast WiFi Extender Using Web Interface
Settings up comfast WiFi adapter or Extender device using web interface need to access the web interface using default login IP address username password. Comfast Default login IP address and other credentials printed to repeater sticker or box.
Unbox Extender device plug to a power socket near host router.
Comfast Extender having a LAN port, use LAN cable to connect from computer/Laptop using wired.
You can also use the default Range extender SSID to connect using WiFi.
Go to computer/Laptop LAN settings use Static 192.168.10.254 or use DHCP to get IP from extender device.
Open a web browser and access http://192.168.10.1 to the URL bar and wait to load login page.
Use default comfast username "admin" and Default Password also "admin" to login repeater settings. Comfast CF-WR750AC Dual band Range extender.
You will land on the repeater dashboard where you can find all settings options.
Click Repeater option to change repeater mode to connect reapter device with host networks.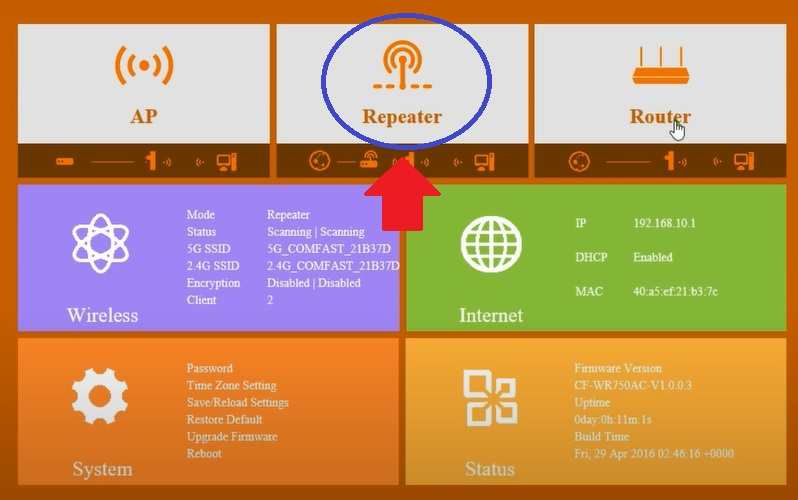 Comfast Range extender device will take a few seconds to scan the network and load all networks running nearby.
Find your host WiFi network from the list and provider password to allow connection from repeater device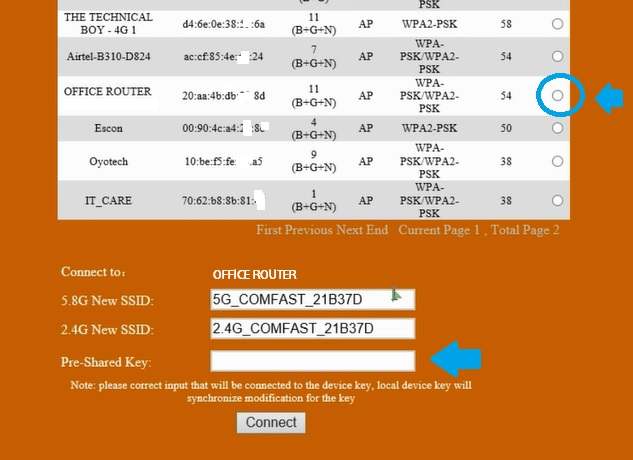 Connect to – host network selected from a list you want to connect from range extender.
5.8G New SSID– create New SSID for Extended network for 5Ghz network.
2.4G New SSID- create a new Extended SSID name for the 2.4GHz network.
Pre-Shared key- Provide old exiting host wifi network password to allow connection from Comfast repeater.
Press Connect button to start the connection extender device to the host network.
Repeater device will reboot and take a few minutes to connect with extender device.
Range extender Light will be solid green after a successful connection with the router. Relocate range extender device to a centralized where you can fix a single issue and also repeater device can get proper signal strength to repeat strength properly.
Related Post