WAsus Wifi Extender Setup to Boost Range
Asus RP-12N Wireless-N300 Range Extender to increase wireless range in the area your main internet wifi network can't reach. Asus RP-12N 300Mbps signal band wifi extender that supports only 2.4 GHz band and can connect with any brand's wireless access point in 2.4GHz network. Asus WiFi Extender can setup using the WPS button and from the web interface using the login method. You can use Asus RP-12N wifi extender for Asus router as well as other brands can connect without any compatibility issue. Using Asus Access point or any other Access point can perfectly work with Asus range extender Ac1200 or N300 both models.
This article will provide you simple steps to setup Asus WiFI Extender either using the WPS method or from a web interface that required login device settings. Using the login method you need to connect the extender device using a wired connection or WiFi connection to access repeater settings. Unbox Asus RP-12N N300 range extender or any other Asus range extender and follow steps to connect with your existing network to boost signal range and internet speed.
Setup Asus WiFi Extender Using WPS button
WPB button configuration is one press setup method and a quick way to connect Asus WiFI repeater to the Access point without login and connecting any physical or wireless connection.
To set up an Asus extender using the WPS button, your WiFI router should support the WPS button method. You can check there is a small WPS button available in the wireless router besides the Ethernet port to ensure your router supports the WPS feature.
Steps to Connect Asus Repeater with WPS button
Plug range extender device power socket near WiFI router.
Press the WPS button on the Router and within 2 minutes press the Asus RP-12N WPS button.
Asus Extender WIFI LED will flash for about 2 minutes and then turns solid green.
After a few minutes, your extender will connect to your existing wifi network and will show a new WIFI SSID for the extended network.
Find an optimized centralized location for the repeater device so the repeater can get a very good signal from the router and can increase the range to the dark area.
The next method is the login method to connect Asus wifi repeater if your router not supports the WPS feature or getting failed while trying to connect with WPS. You need a login credential to connect Asus range extender from the web interface login.
Setup Asus Signal Booster using Web Interface
Check default Login IP address, URL, or username and password information for extender sticker or quick user manual included with box.
Default Login URL- http://repeater.asus.com
Default username – admin
Default password –admin
Although Asus RP-12N n300 wireless repeater does not require login username password while setup first time but while you want to access system settings you may need to authenticate using username and password to access administrator settings.
Login Asus WiFi extender
Plugin Asus RP n12 repeater device to the power socket and connect a Wired LAN cable from Ethernet port for physical connection.
Or
Use default WIFI SSID name to connect from mobile or laptop without using wire.
Open Web browser and access http://repeater.asus.com or http://192.168.1.1 to access the repeater login page.
For first-time login you will get a repeater site survey page where scanning of wifi SSID will auto-start and take a few seconds to get all wifi names running nearby as shown below image.
Choose your host wifi SSID name from the list and provide a WiFI password for the main wifi network to connect from the extender device.
Click network provide Security key and press connect button.
In the next step you will get an option to create a new wifi name for an extended network or use the default Extended network name.
Setup your Extended Network
Uncheck box "use default settings" if you want to use a different name for an extended network as per your choice.
Network Name (SSID)- Asus WIFI Extended
Security Key- Extended Password (create a password for extender network.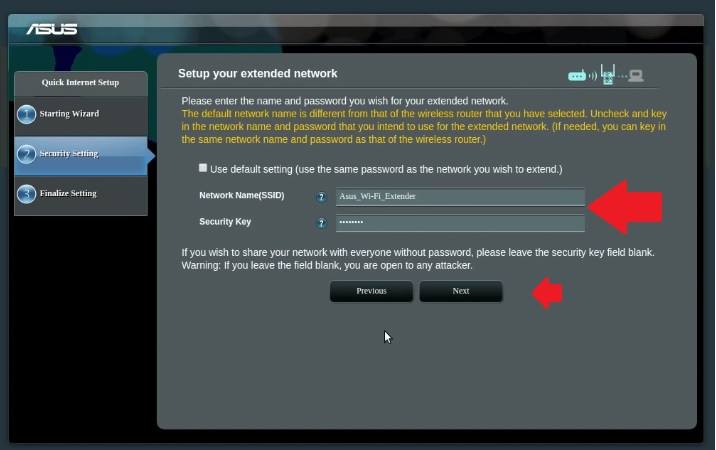 Press the Next button to save settings and wait until the extender device saves settings and rebooting.
This process will take 2-3 minutes to complete setup with a wifi router. After reboot complete, you can check the new wifi name showing in mobile and laptop showing full signal and the internet should work faster than before.
After successful connection with the router from extender place Asus expander device to a perfect location that extender can get 50% single from WiFi router and can boost range to no coverage or weak signal locations.
Related Post