Comfast WiFi Router as Repeater Mode
Comfast Wireless Router can configure as AP mode, Router mode, Repeater mode to extended wifi range. Facing signal coverage issue with host wireless router then you can use your comfastwifi router as repeater mode to boost existing wifi range without changing wifi name and password. You can use Comfast wireless router as repeater mode with any brand WiFi access point or broadband wireless router as well as WiFi cable modems. Apart from Comfast range extender comfast cf wr302s if you have Comfast single-band or dual-band wireless router that spare with you then you can utilize comfast wireless router as a signal range extender without buying new wifi extender device.
You can set up Comfast router as repeater mode either using a wireless connection or wired connection from a computer, laptop or mobile device. While configuring the Comfast router as repeater mode you required the WiFi name and password of the host WiFi router you want to extend the range. Get ready with a WiFi security key and login details for your router and follow steps to configure Comfast as a range extender.
Default Login Settings for Comfast Router
Before proceeding to repeater configuration you must know the login IP address, username, and password details you configured for your Comfast router during the first-time setup.
Comfast some router models required to create login password during first time login so if you already setup login password use same to login your Comfast router.
Comfast WiFI default Login IP – 192.168.10.l or Comfast Login URL– cflogin.cn
Default login username – admin
Default password– admin
Note: use Comfast login password you configured during first-time login.
Setup Comfast Router as Range Extender Mode
Now you need a connection with Comfast router either wired or wireless to access web interface to configure repeater mode.
For Wired connection use RJ45 LAN cable from Comfast LAN port to PC LAN port.
For WiFi connection use default SSID to connect first time or use your Wifi name and password if already configured.
Go to Computer LAN settings and use Static IP 192.168.10.2 or use DHCP mode to get IP from the router itself.
Turn ON Router and follow the next steps to access Comfast router settings to the web browser.
How to access WiFi Router settings using WiFi and Wired?
Login and Setup Repeater Mode
Open a web browser and access http://192.168.10.1 or cflogin.cn router login URL to access settings.
You will get a Comfast login page asking for a login password or for the first time asking to create a new login password.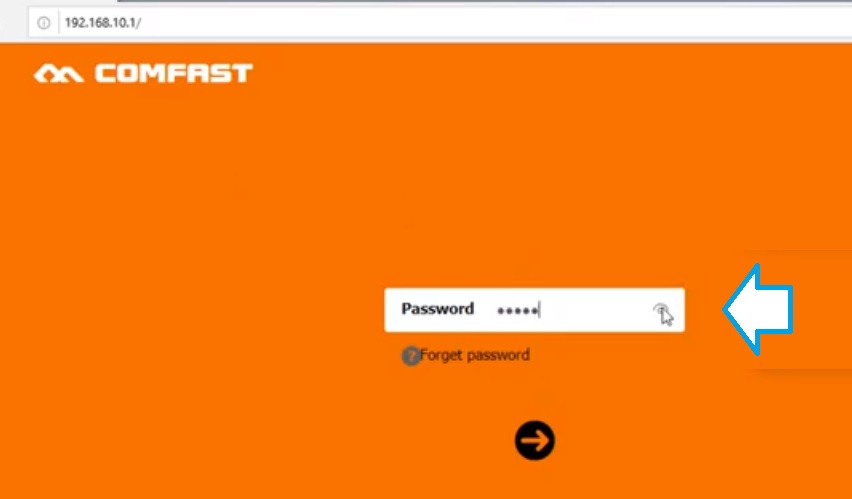 Provide the password and press the Arrow button to access router settings.
Once you logged into Comfast settings now follow further steps to change wireless mode and join the host wifi network from the repeater device.
Go to Advanced Settings- Wireless Settings
Wireless- Repeater
After click the Repeater option router will start scanning for the WiFI network running nearby.
Select your Host WIFI name from the list and you will get a pop-up window asking for the WiFI password of the existing WiFI network.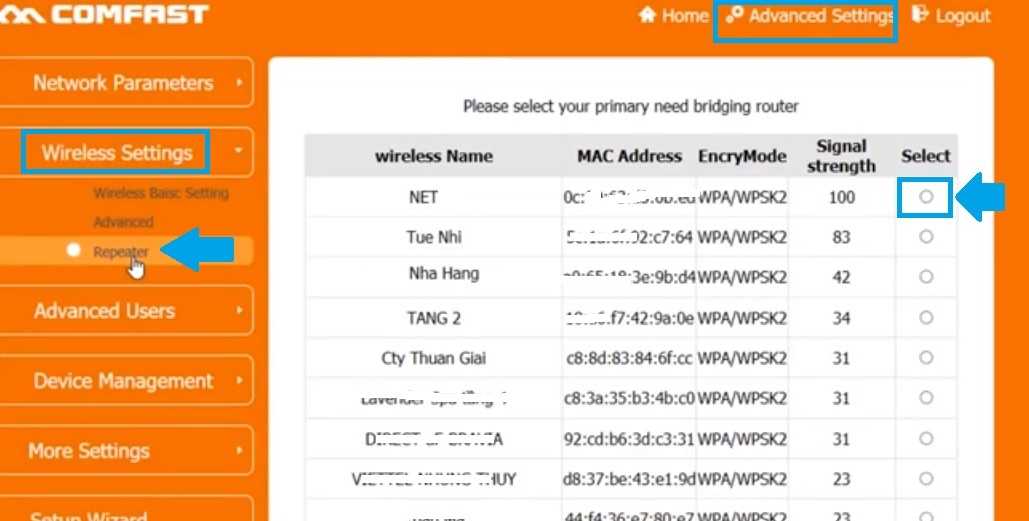 Connect to: Net (Host WIFI network name you wish to the extended range)
Pre-shared Key- Provide WiFI password of existing wifi network.
This Device SSID– Repeater SSID (you can use same as main WiFi or different name)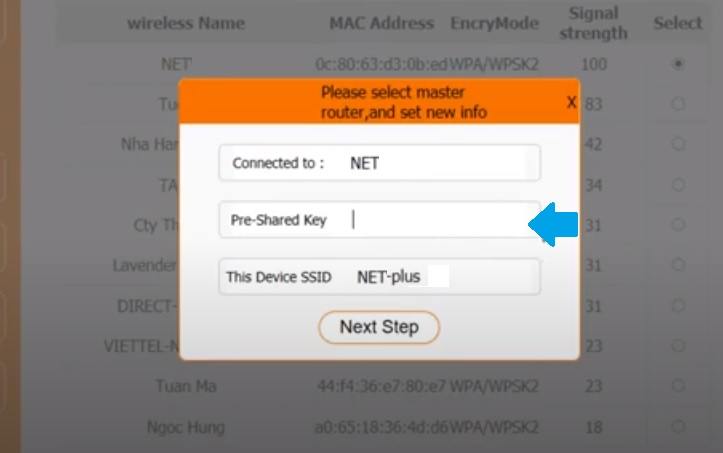 Press Next steps to save settings. The router will reboot and after a few minutes, you will get a new WiFi name and extended network name.
If your repeater not connected to the main host router then make sure the WiFi password correct or any spelling mistake. You can repeater setup wizard again to configure repeater mode with a new password again.
If you are unable to login Comfast router or login IP address not working or taking too long time to respond then you may factory reset using the reset button.
Can't Login Comcast WiFi Router
Comcast login IP not working or site cant be reached error can be due to changed default login IP address to any different IP address. You can follow the below steps to factory reset to restore into default mode.
How to Reset Comcast Wireless Router
Locate a small reset button beside the Ethernet port or near the power DC socket.
Press and hold the reset button for 10-15 seconds and release when the power LED turn off or turn on Automatically
The router will automatically reboot and take a few movements to restore into default mode.
After restoring into default mode you can follow the above steps again to configure Comfast as a repeater.
Related Post