How to Change Telstra wifi password
Telstra is an Australian-based telecommunication company that provides internet and voice service for homes, SMEs, and Enterprises. Login Telstra Gateway and Cable modem need to change wireless default WiFI name and password or to keep wifi secure it's important to change wifi key from time to time. This article helps you with Telstra Router Login and change your Wireless name and password with simple steps.
Telstra internet service used different manufactured power cable modems such as Netgear, Frontier Telstra Gateway, and Cable modems without adapters so the default login IP address might be different for each modem.
Default login credentials for Telstra router and cable modem printed to device sticker usually bottom side or beside that depending on modem type. If you have a Telstra NBN internet subscriber for home or work or you might using Telstra for business then it is necessary to change your wireless default name and password to secure your data and internet.
You can use a wired or wifi connection to log in to the Telstra router from a computer, Laptop or a mobile device that depends on the modem support wireless and only wired. Follow the steps for Telstra router login and set up first time using default login settings.
Telstra Default Login Username and Passwords
Default login settings for Telstra are available on the device sticker. The default login for nbn™/ADSL/Velocity/Cable is different from the Telstra Frontier gateway so try to get login details printed to your Telstra device.
The default IP address for Telstra nbn™/ADSL/Velocity/Cable (with Adapter) modems – 10.0.0.138
Or Login by URL–  http://telstra.gateway/
Telstra Gateway Frontier®/Telstra Smart Modem – 192.168.0.1  or Login URL-  http://mygateway/
Telstra Modem without Adapter- 192.166.0.1  or  Login URL- http://telstra.gateway/
Default username- admin
Default password – Telstra
Note: find the default username and password printed on a sticker or for Telstra smart modem wifi password will be the same as the login password that is available bottom of the modem.
Log in and set up Telstra Wireless Router or Cable modem
Once you have noted login credentials for your Telstra modem now follow the steps to connect using wired or wireless from a desktop or laptop device.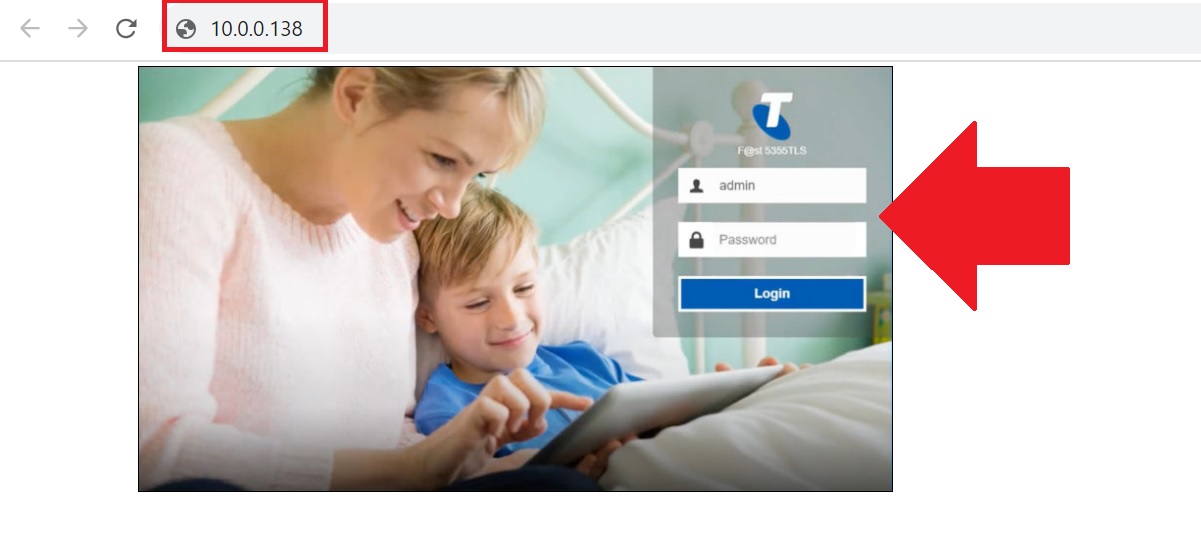 Change Wireless SSID network name and Password
Although internet WAN settings are preconfigured by the Telstra team if you are already subscribed internet connection but wireless SSID and password should change from time to time to protect your wifi internet.
Go to the "WiFi" option from the top menu
WiFi- Basic settings
WiFi name SSID – change Telstra's default Wireless name here as per your choice of new wifi name.
Wireless Security Key- WPA/WPA2_PSK_AES
Wireless Key- set the wifi password here or if using the default wifi name delete it and create the new wireless key for your network.
Save settings and connect your wifi devices with the new WIFI name and password again.
Change Telstra Admin login password
After the Wireless key also change the router's default login password that is printed on the device sticker.
Once you logged into router settings now you can change the admin username and password to secure router access.
Go to System or
Advanced- Administration settings.
Set password
Old Password– provide the default login password or password you used for login.
New password– create a new password here
Confirm password– Confirm new password here
Apply settings and keep safe your Telstra admin login password after an update. If you want to change any settings again you will need this login password to access the web interface.
These are simple steps to access and login to the Telstra router from the web browser to change the default wireless settings and protect your home internet and data from unauthorized access.
If you forget your login password and are unable to access settings from the web browser then you should use the reset button to factory reset the Telstra router to restore in default mode.
While making a router reset make sure you have configuration detail or config backup so you can restore it after resetting the modem to work again with your internet connection. You can also get help from the official Telstra support team or raise a complaint for an Engineer visit.
Related post