Simple configuration guide for an internet provider to use UBNT Lite Beam Station Mode to connect with ubnt and different brand wireless base stations.
UBNT Lite Beam Station Mode configuration for ISP
The fasted way to provide internet connection is Wireless connectivity. Most of wireless provider internet connection using base station and the client device and it takes less time and installation for new internet connection. Ubiquiti UBNT lite beam is a popular demanding CPE device for internet connection distribution installed at the client home. CPE device gets internet from base stations wirelessly and provides internet plans to user's homes.
Lite Beam M5 and Lite beam M2 both are CPE device and band differences. The setup lite beam CPE device manual is the same for 2.4G and 5GHz bands. Login and setup lite beam to connect non-ubnt brand access points. If you are a startup internet provider and looking to the simple user guide for lite beam configuration than this post will help you to access and configure lite beam M5 in station mode.
Lite Beam CPE Connection
Ubiquity Lite beam CPE comes with a 25 Volt PoE adapter to power on the device.
Connect PoE Adapter PoE Port to lite beam device Poe port and PoE Adapter LAN port computer /Laptop LAN port for the access settings page.
Lite beam Default Login Details
Lite beam Default Login IP address is 192.168.1.20  used to access settings the first time.
The default username and password for lite beam first-time login is "admin"
 Desktop/Laptop LAN IP address configuration
The desktop Lan network should be in the same IP network of the lite beam device.
Use static IP address 192.168.1.l0 in PC/Laptop to make access web interface.
Login UBNT Lite beam from PC
After initial configuration and setup now open web browser and access lite beam default login IP address.
Access http://192.168.l.20 in the URL bar and press enter key.
Username– ubnt
Password– ubnt
Country– select your country from the list.
Language– choose your preferred language to set up beam lite.
Term of use- I have read and agree to the TERM of USE EULA and Privacy policy. Select the box and press the login button.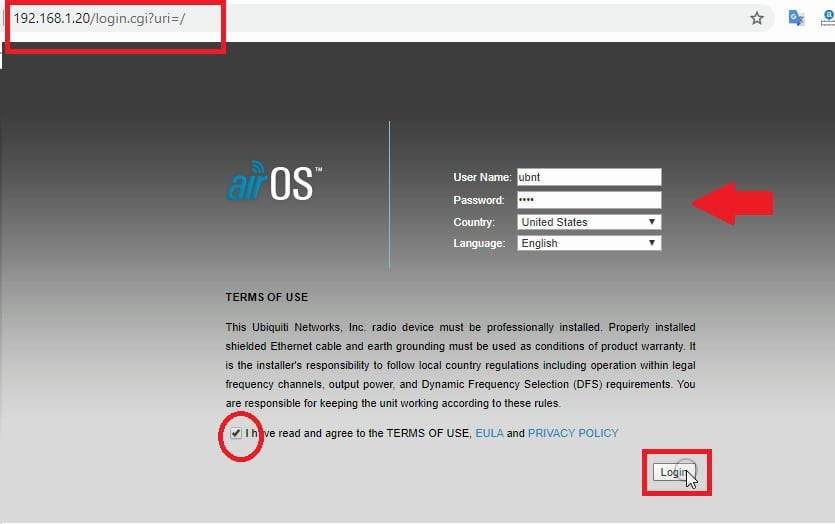 After login changes the lite beam Default login password to secure unauthorized access.
Connect Lite beam M5 to Access Point
To set up client mode in lite beam m5 change the wireless mode to the station from Wireless settings.
Go to the Wireless tab from the top menu.
Wireless Mode: Station
Select– press the select button to scan base station SSID name.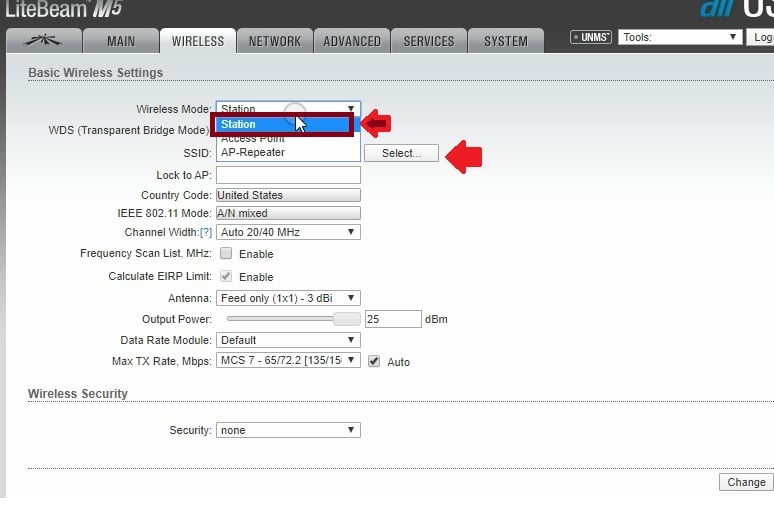 Wait for a few seconds until scanning for WiFi network running nearby.
Find your Base station SSID name from the list and select.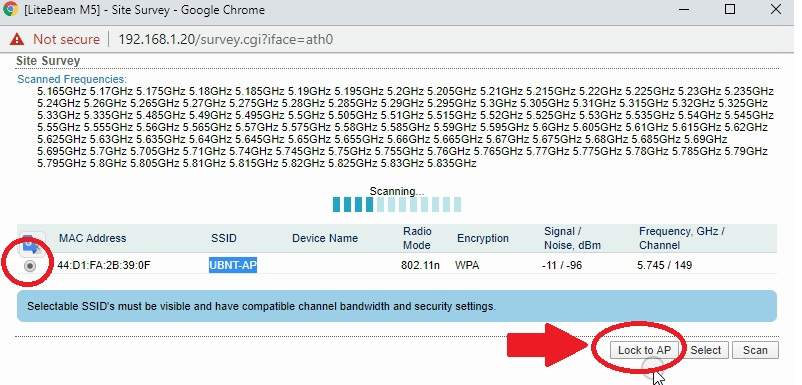 Press the lock to AP button to connect the same AP from lite beam CPE.
Provide Access Point Wi-Fi password to allow connection from lite beam client device to connect wirelessly.
Wireless Security
Security- WPA-AES
WPA-authentication– PSK
WPA preshared key– type AP password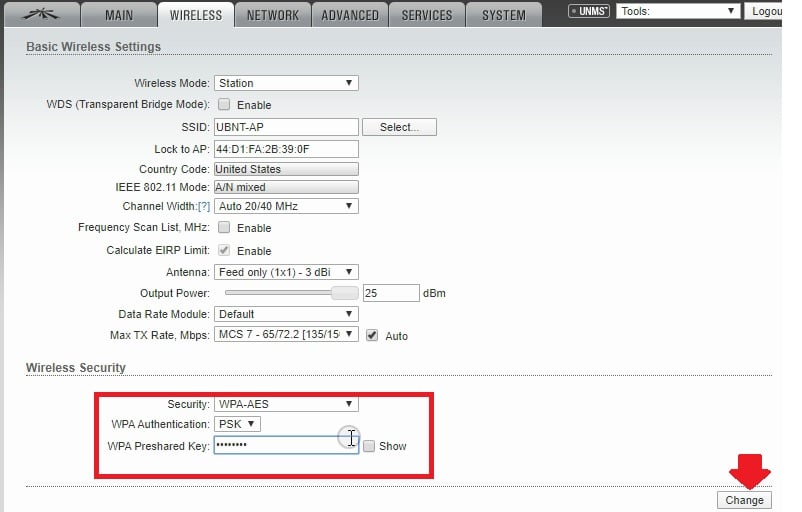 Press the Change button and confirm the Apply button on the notification popup at the top.
Wait to reboot the lite beam device until save is changed and the device rebooting.
After reboot log in again CPE device and go to the main page to confirm the connection status with the base station.
Check Signal strength in color and connection signal quality.
Noise ratio and CCQ quality.
Tx and Rx connection speed with the Access point.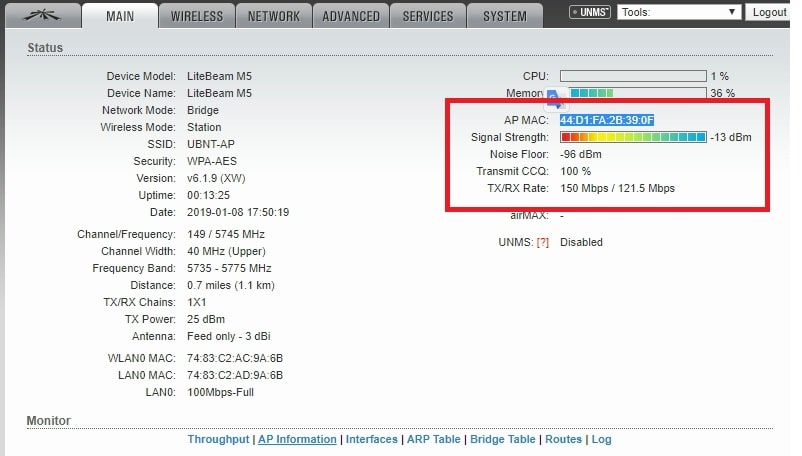 Once the CPE device configures with the base station don't forget to change the default login IP address for CPE device to avoid network glitches and conflicts.
Change Lite beam default IP Address
Go to the Network tab
IP Address: 192.168.1.20 (change this IP address)
Subnet mast– change subnet as per IP series.
Press the Change button and Apply from pop-up notifications.
The device will reboot and access with a new change IP address again.
These configuration steps are the same for non-ubnt access point connection with the lite beam device as client mode.
TO get proper signal strength lite beam client should be properly aligned and the line of sight should clear between the base station and station device.
Make sure you have done a proper wireless site survey before the installation of a lite beam device.
Download UBNT lite beam the latest firmware.
 Related Post