setup iBall baton wifi router as repeater mode to boost wifi signal coverage. follow the simple guide to setup iBall Baton 300M Repeater Mode with TP-link brand wifi router.
iBall Baton 300M Repeater Mode configuration
IBall WRB300N Mimo wifi router with dual external Omni antenna. It is a home wifi router for medium size house to be used with any internet service provider as the router. iBall N300 wifi router support multi-operation modes such as Router, Access Point, Universal Repeater, and WISP. WRB300N wifi router having 1 Wan and 4 LAN physical ports for wired connection.
In this post, you will get a simple guide to turn the iBall WRB300n wifi router into a wifi range extender mode to boost the wifi signal. This router supports universal repeater so easily can connect with any brand wifi access point to extend the wifi network.
You can use iBall Baton Repeater mode to connect DVR, NVR network printer, IP camera, and other network devices without laying physical cable from main wifi routers.
iBall WiFi Router Login First Time
To access iBall 300M wifi router settings required a physical connection from the LAN port.
Connect LAN cable to LAN port (yellow) and directly plugin into PC/Laptop LAN port.
iBall Baton WRB300N default IP Address: 192.168.1.1
Default username: admin
Default password: admin
Configure Laptop/PC LAN to the same series of iBall WiFi router IP.
You can use 192.168.1.200 in your PC/Laptop LAN port.
Access iBall Baton Settings
Once the above steps finish now open a web browser such as firefox Chrome, or Internet explorer and
Access http://192.168.1.1 IP address.
The login page will load, use iBall baton default settings to login router the first time.
Use Password: admin and press the OK  button to the login web interface.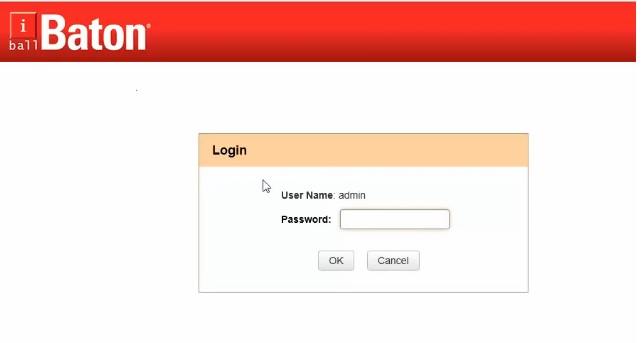 You will land on the status page where you can find all router information about hardware version, software version, factory settings, and other information.
IBall IB-WRB300N LAN IP Change
Before setup, I Ball baton repeater mode changes the LAN IP address to avoid network conflict. Today most of the brand using 192.168.1.1 default IP address so while configuring the router in repeater mode must be change default IP address.
Go to Network Settings- LAN settings
You will get the default IP Address in the IP address box.
Change the IP address to different unique IP and press the OK button to apply settings.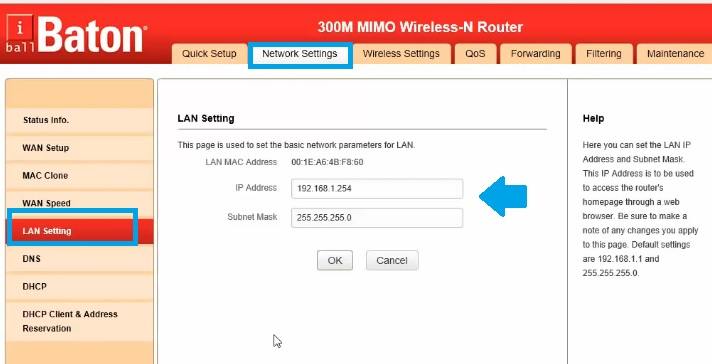 WiFi Router will reboot and need to reopen with a change LAN IP address.
Setup Universal Repeater Operation Mode in iBall Baton
Now change wireless operation mode to universal repeater mode to extend wifi networks.
Go to Wireless Settings- Operation Mode
Extender Mode: Universal Repeater (select universal repeater from the list)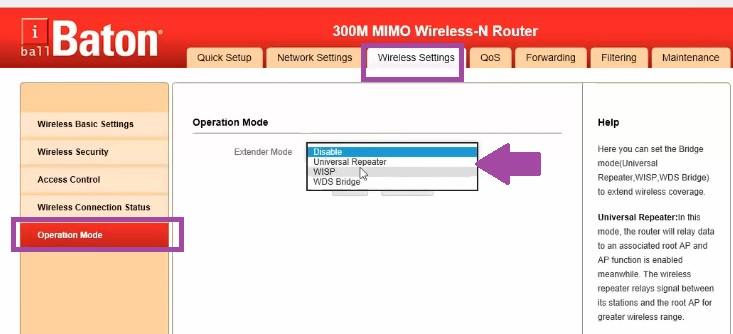 Connect Host AP from iBall Baton Repeater WiFi Router
To scan the wireless access point signalPress survey button and wait to load the list of all wifi names running nearby area.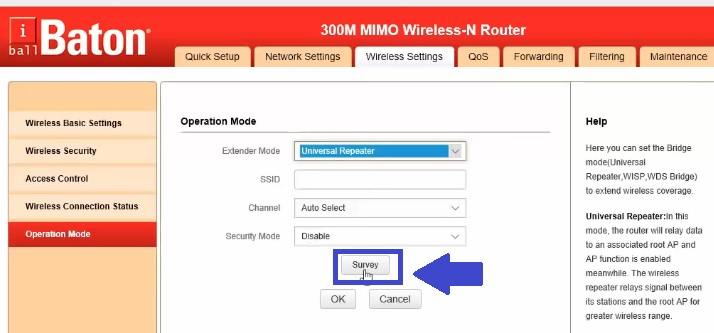 1: All running WiFi network list will load with WIFi name, Mac address with signal strength.
Select your wifi name from the list as shown below image.
2: Security Mode: security mode will auto-selected as per configure main Wifi router security.
3: Type wifi password of the Main WiFi router to allow wireless connection from the repeater device.
4: Press the OK button to save settings.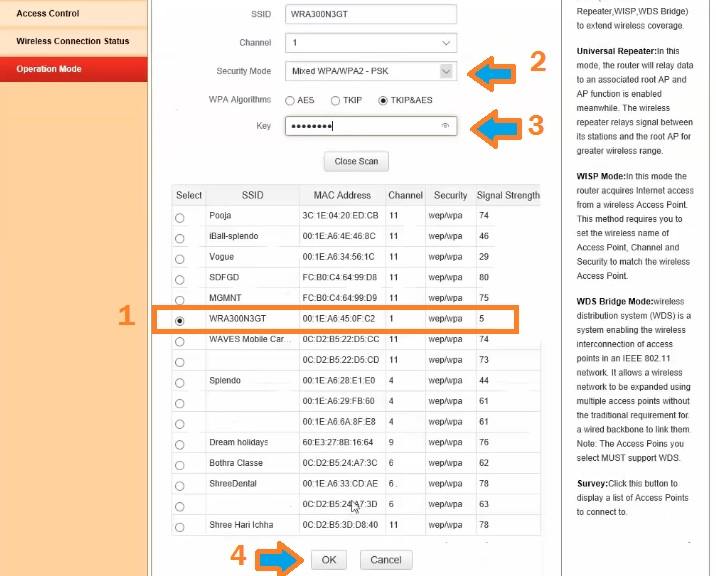 iBall N300 router will reboot and after reboot finish repeater will so connected status with the main wifi access point.
Setup Repeater WiFi name and Password
You can use a different name for extend the network wifi name to identify which one is repeater SSID so you can see the signal difference.
To set up the repeater WiFi name and password follow the steps.
Go o Wireless Settings- Wireless Basic Settings.
Primary SSID: it will be locked with the repeater configuration.
Secondary SSID: use this SSID for repeater WiFi name to extended WiFi signal.
Press the OK button to save settings and follow the Repeater WiFi password setup.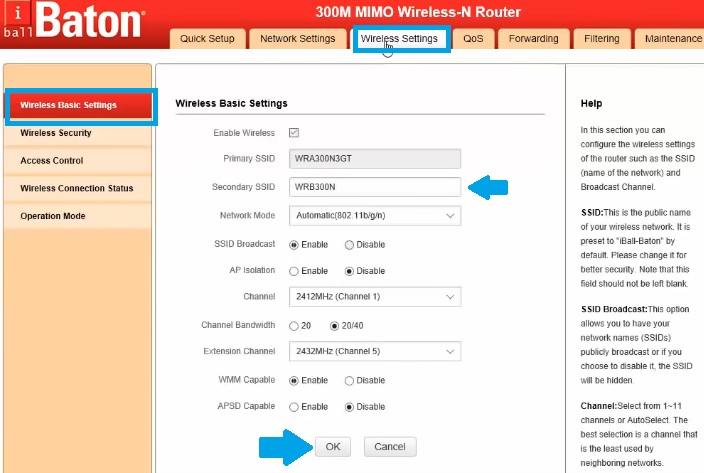 Repeater WiFi security Configuration
After the WIFI name configuration repeater password must be set up to avoid unauthorized access of i-Ball baton guest wifi.
Go to Wireless Settings-Wireless Security
Wireless Security setup:
Select SSID:  Choose Repeater SSID from the list to set up security.
Security Mode: choose WPA2PSK_AES
Security Key: type Repeater password and press OK button save settings.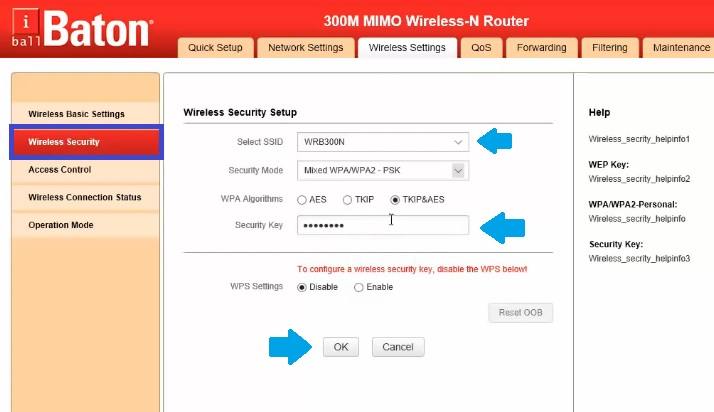 Wait to finish router rebooting.
Connect Repeater SSID from mobile and Laptop WiFi signal and see the internet should work with increase WiFi signal quality using iBall Baton N300 WiFi router.
This is the simple configuration guide for iBall WRB300n 300Mbps WiFI router turn into range extender mode and boost WiFi signal in no coverage area.
Universal repeater mode lets you connect from a non-iBall brand wifi router to use as a signal booster in wifi networks.
Related Post