Tenda AC1200 Range Extender Mode Setup
Tenda AC5  and Tenda AC10 both are series of AC1200 Dual-band router with 1200Mbps combined wifi speed with Mimo external Omni antenna. Tenda AC1200 wireless router support multi-operation mode that can use as per requirement such as Access point, AP router, WISP Router or range extender mode. Range extender mode is a simple way to extend your existing wifi signal range to dead wifi zone area without laying physical cable from the host router's
This post provides an easy user manual to setup a Tenda ac1200 router as a WiFi repeater to boost the WiFi signal. You need to connect Tenda AC5 or Tenda AC10 dual-band router using a wired connection to setup range extender mode.
Setup Tenda Dual-band router as Repeater Mode
The wireless operation mode can change from web interface so follow steps to access your Tende web interface.
Prefers to use a wired connection from router LAN port to Desktop/Laptop LAN port.
Change your PC TCP/IPv4 settings mode to DHCP mode from Network settings.
Power On Router and wait until PC got IP address from Tenda DHCP server.
Open Web browser and access Tenda default login IP http://192.168.0.1 and press enter key.
Use a login password if you already create or create a new login password and enter settings.
Once you login to the router you will get a dashboard where you can find a router connection map and status.
How to access WiFi Router settings using WiFi and Wired?
The next step is to change the WiFi Mode to Repeater mode and connect Tenda wirelessly to the host Wifi network.
Change operation Mode to Repeater
Go to the WiFi Settings option from the left side vertical menu.
Press Wireless Repeating option from the WiFi settings list.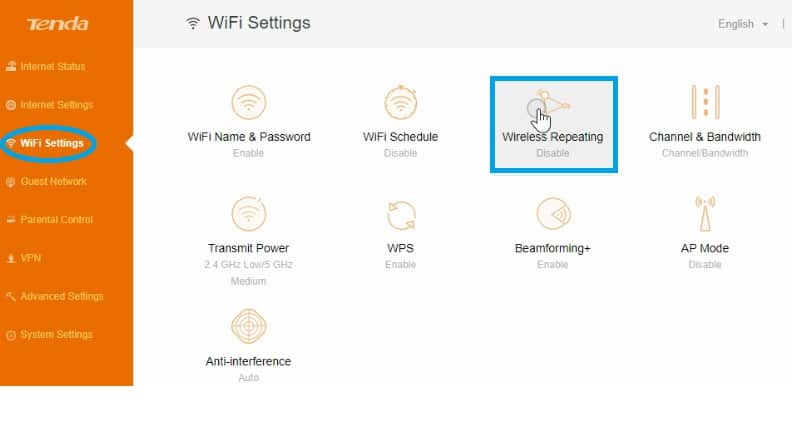 Enable Wireless Repeating button and Wait for a few seconds while Tenda repeater scanning to all wifi running nearby.
Repeating mode- WISP  or Client + AP
Use bridge mode repeater Client +AP
Upstream WiFi name– select your main wifi SSID name from the list.
Upstream WiFi Password– provide your main wi-fi password to allow connection from Tenda repeater.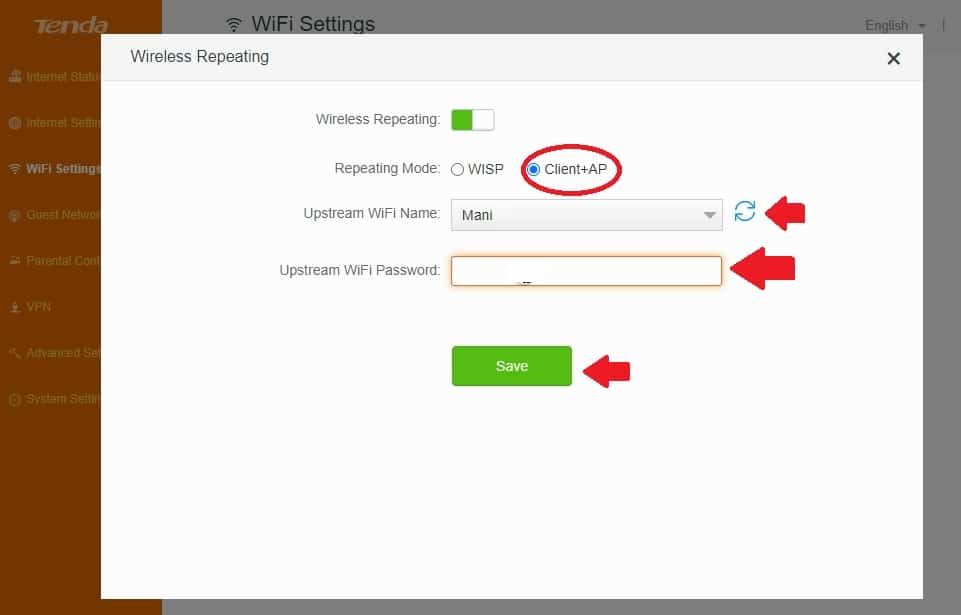 Press the Save button and the router will ask for reboot confirmation.
Access Tenda Router After change Repeater mode
Tenda's login IP address will change once the repeater mode is enabled because Tenda will get a new IP address from your main wifi router. If you cant access the Tenda login page after change repeater mode then follow the steps.
Open Web browser and access Tendawifi.com and press enter key.
Or you can use IP scanner tools to check which new IP address is assigned to the Tanda router from the internet router.
Change Repeater SSID name and password
Open browser and access tendawifi.com and press enter key. Use login password to login router and follow steps to change the extended network name. Once your repeater is connected to the main router you can see the status page.
Go to WiFi Settings- WiFi name & Password options.
1: 2.4 GHz Network
WiFI name- Tenda-repeater-2G (create new repeater SSID for 2.4G)
Encryption mode- WPA/WPA2-PSK
WIFI password- repeater network password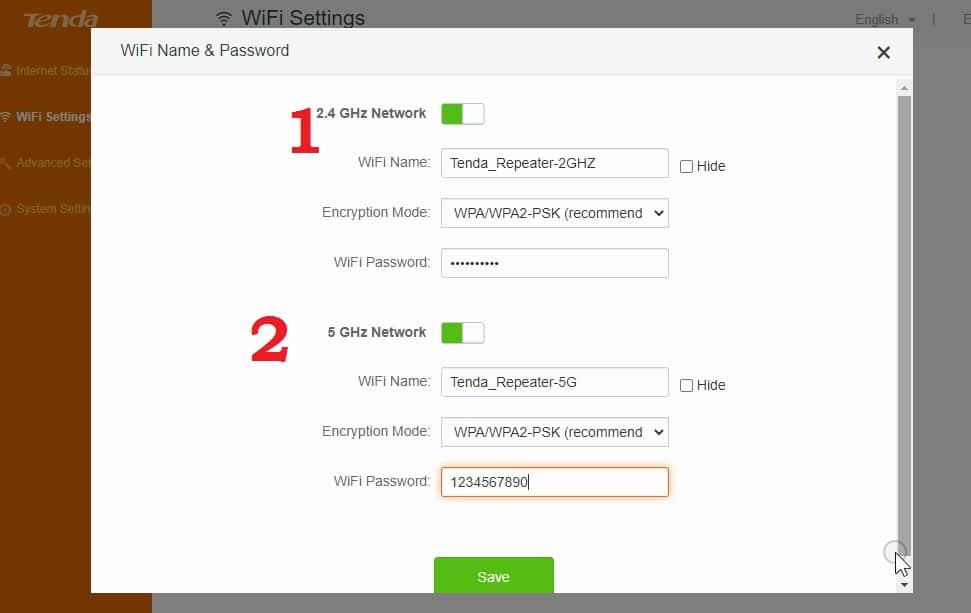 2: 5 GHz Network– Enable
WiFI name– Tenda-repeater 5GHZ (create Repeater SSID name for 5Ghz. You can use same name and password for both bands)
Encryption mode– WPA/WPA2PSK
WIFI password– set 5G repeater Password.
Save settings and check Repeater SSID in mobile wi-fi and place the repeater router to a centralized location where it can get at least a 50% signal of the main wireless router.
Tenda Range Extender Placement
To get high-speed wifi connectivity and seamless roaming in Tenda repeater mode need to proper placement of booster device.
Find a place where the repeater can get proper signal strength and the line of sight should clear from a host internet router.
Do not place a repeater router under the table and inside the box.
Related Post