Login and Setup Mi 3C WiFi Router As Range Extender Mode
Mi 3C WiFi router manufactured by China-based Xiaomi brands. MI 3C a home wifi router with multiple Ethernet ports and 300Mbps Wireless speed with dual external Omni antenna. Xiaomi MiWiFi Mini Router supports multi wireless modes such as Client mode, Access Point mode, WISP mode, and Repeater mode to extend the WiFi signal range.
If you are facing the WiFi signal range issue in your home and office area due to the low range of the main wifi router. You can boost the WiFi range using MI 3C Repeater mode setup without changing the main WiFi name and password. Configure MI router as a WiFi repeater to increase signal quality in the dead zone. You need to login router settings using a wired connection to change wireless mode as a range extender.
Step to Login MI 3C Router
The first step is to connect the router using RJ45 LAN cable from the router Ethernet port to a computer or Laptop LAN port. Follow steps to physical connection with a wireless router.
Use LAN cable to connect from Computer LAN port
Power on Router with adapter comes with box.
Default Login Settings for Mi 3C Router
Mi 3C default login URL – http://miwifi.com
or default login IP Address- 192.168.31.1
The default username and password: admin
Change WiFi Mode as Range Extender mode
Open Web browser and access default login IP address http://192.168.31.l or login URL and press enter key.
After a few seconds, you will get mi login page with a username and password option to authenticate.
Once you are logged into the router settings page, you can see the settings menu at the top.
Go to the Settings option
Scroll the page to down and see the last option "Switch" to change wireless mode.
Switch- Choose Mode
Wireless Amplifier mode for range extender mode.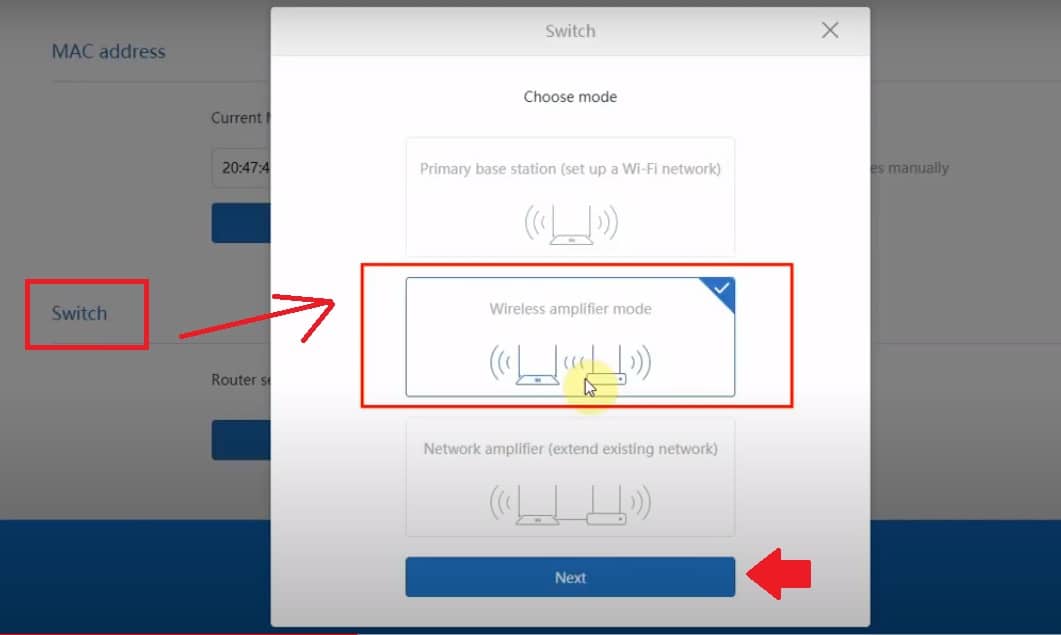 Press the Next button to connect the repeater to the main Wi-Fi router.
Choose Wi-Fi network to extend–
1: Press choose arrow button to select your main Wifi network name you wish to extend the network using Mi Router.
VN (Main wifi name)
Password- WiFi password for existing wifi network to allow connection from the repeater.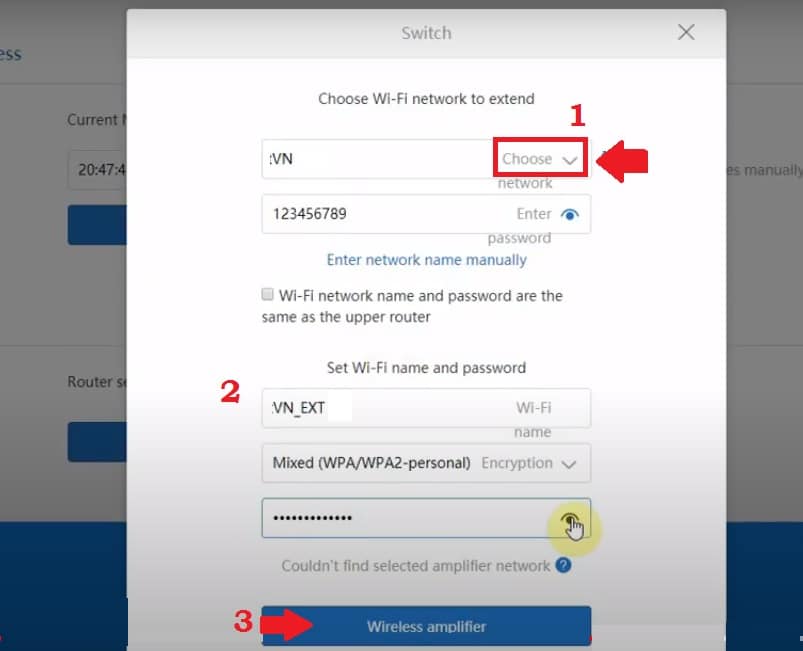 If you want to use the same WiFi name for repeater device as the existing wifi
Check the option " Wi-Fi Network name and password are the same as the upper router".
2:  Use different names and passwords for the Extender WiFi network.
VN-ExT (set SSID for Repeater signal)
Password- set the password for repeater network)
3: Press the wireless amplifier button to save settings.
Next step you will get Extender SSID name and Router LAN IP address details.
Press the OK button to confirm and save settings.
Wait for a few seconds until the repeater device rebooting and connected to the main wifi router.
How to Fix WiFi Signal issue using Old WiFi Router
Connect MI Router in Repeater mode
To check new wifi signal booster SSID start working go to a laptop or mobile wifi option.
You will get a new wifi SSID name you configured for the repeater network name.
Use the Extender password as configured during the last steps.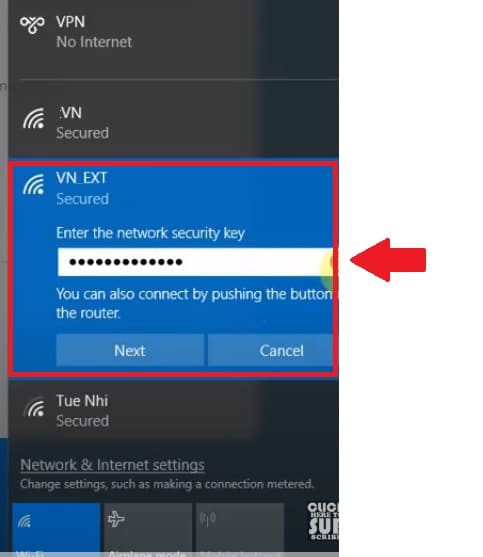 Check Repeater Status
Make sure your repeater device connected to the host wifi network.
Login your Mi router again as followed above steps.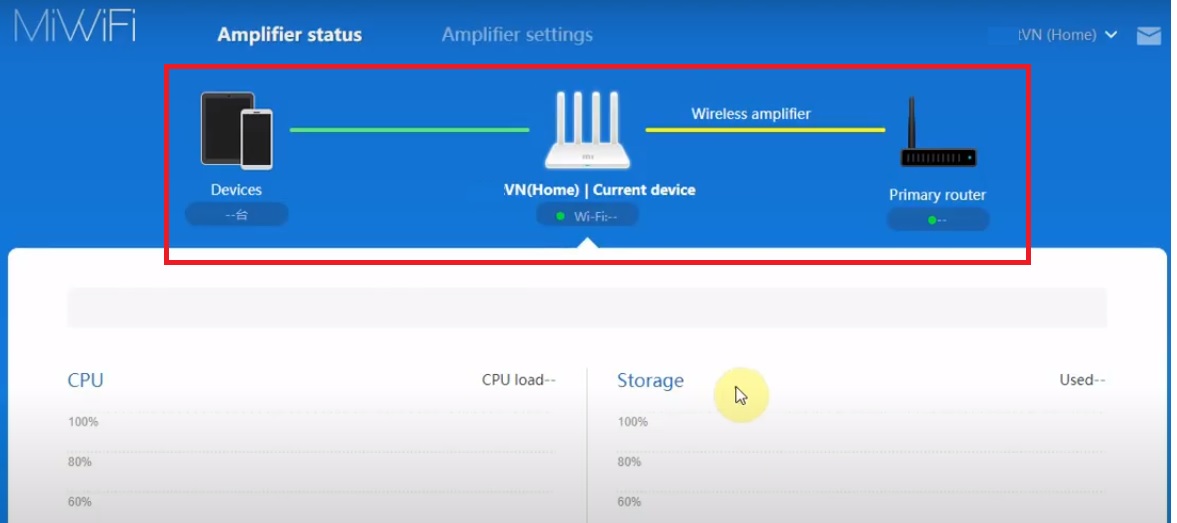 See the Amplifier status showing connected with primary router and mobile, laptop device connected to Amplifier SSID.
If you are facing any trouble login Mi router you can follow the below steps.
Xiaomi mi wifi router IP Address not working
You might be using Mi router after a long time or probably you forget IP address or username password after setup.
If  Mi WiFi router login IP address 192.168.31.1 not working or talking to a long time to respond cause of network miss-configuration or IP address not belongs to the router. Follow steps to fix the MI router login error.
Make sure your Laptop/Computer LAN cable connected to the router LAN port. WAN port will not access the router settings until WAN access enables.
Make sure your computer/ Laptop LAN network configuration in DHCP mode to get an auto IP address from the MI router.
See the default Login IP address and settings printed over the router label.
If you still facing issues try factory reset router using a reset button to restore in factory mode.
How to Factory reset MI 3C Wireless Router?
There is a small reset button available in the router besides the Ethernet port.
Use a small needle to press the reset button.
Press and hold the reset button at least 10-15 seconds until router-led blinks.
The router will reboot and wait until the rebooting process going on
Now again check the default settings as printed to router manual or sticker.
You can connect Mi 3C WiFi Router As Range Extender with any brand wireless router to extend the network in the weak signal area without changing wifi name and password.
Related Post