Change Wireless network name and password using simple steps to Login TP-Link VR400 VDSL web interface.
How to Login TP-Link VR400 VDSL WiFi Router?
TP-link VR400 is a VDSL and the ADSL brand band router supported by multiple telecom operators worldwide. VR400 is a dual-band wifi router supported up to 1200Mbps WiFi speed and 1 Gigabit Ethernet port support wired connection up to 1Gigabit and 3 10/100 Mbps Ethernet ports. Router support RJ11 port for DSL /VDSL internet line and 1 USB port to make network storage. You probably need to log in to your wifi router to change your wifi name and password to keep protect your home internet. Login into VR400 dual-band ADSL router bit simple using TP-link mobile apps as well as web browser from a computer.
Even though internet provider installs and configure VDSL router during installation but regularly changing login and wifi password make your network always secured. This post will help you to login and setup the TP-Link VR400 Dual-band VDSL router to change the wireless name and password.
You need to connect the ADSL router using a wired or wireless connection to access the web interface.
Login TPLink ADSL/ VDSL WiFi router
See the LAN port backside your router to connect wired connection for a computer or you can connect through wifi.
Power on the router and check the default login IP address and username password printed backside sticker.
TP-Link VR400 ADSL Default Login settings
Default Login IP Address 192.168.1.1
Default username – admin
Password – admin
Access Router Settings to a Web browser
Once the initial steps finish like physical connection then open the web browser and access http://192.168.1.1 to the URL bar and press enter key.
After a few seconds, you will get a router login page asking for a username and password to authenticate for the access control panel.
Use admin for both username and password and a press login button.
After successful authentication, you will land on the status page where you can find router configuration and other hardware and software information.
Change WiFi SSID network name and Password
If your ADSL wifi router still running with default WiFi network name and password then it should be updated with a new name and password.
Go to Advanced tab- Wireless- Wireless settings
VR400 supports 2.4Ghz and 5.8 GHz Band so both should setup one by one.
2.4GHz
Network Name (SSID)-  set wifi name for 2.4G band
Security– WPA/WPA2 Personal (recommended)
Password: wifi password (make a strong wi-fi password for 2.4GHz wi-fi band.
Channel– if using signal WiFi device use Auto if using multiple set 1,6,11 one by one to avoid wifi interference.
Channel Width– Auto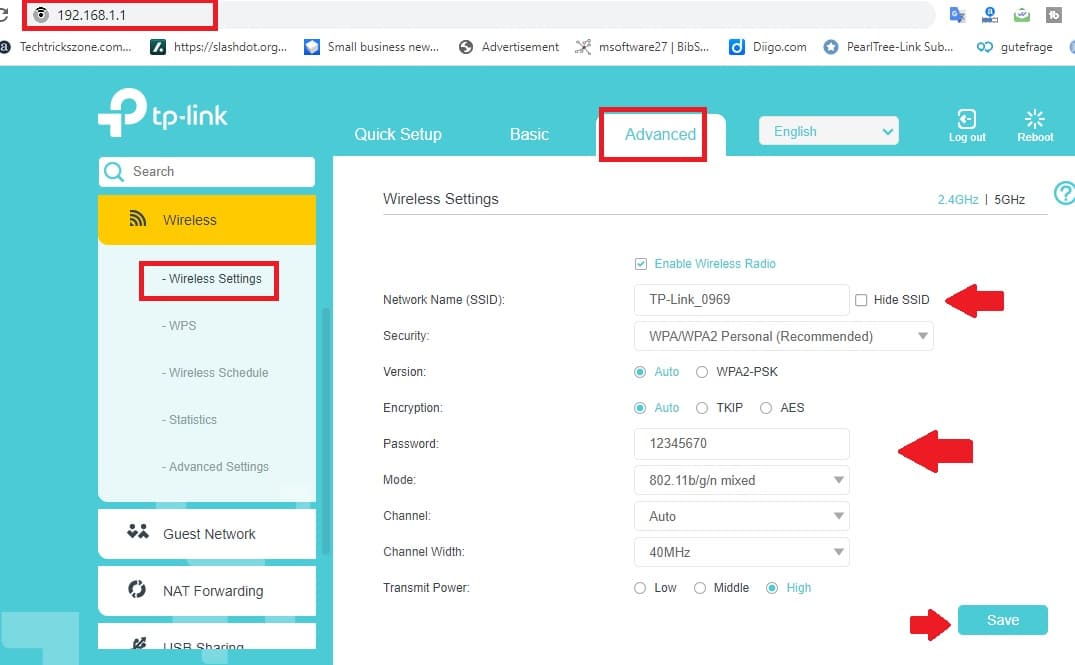 After all wireless settings, press the Save button to apply changes.
Now change Wifi SSID for 5.8 GHz band.
Press 5 GHz option and repeat configuration for 5 GHz wireless.
Although you can use the same wifi name and password to auto roaming and seamless connectivity depends on the mobile support wi-fi bands.
WiFi password is the first step to secure wifi network and seconds steps are update the default login password for the router to avoid unauthorized access.
How to Change Login Password in TP-link VDSL Router?
Admin is the widely used default login username and password for various brands.
It is always recommended that while setup router first-time login password must be changed to protect unknown access of router.
Access settings come under system tools.
Go to advanced – System Tools- Administration
Account Management
Old Password: admin
New Password: set a new password
Confirm new Password: type new password again to confirm.
Press the Save button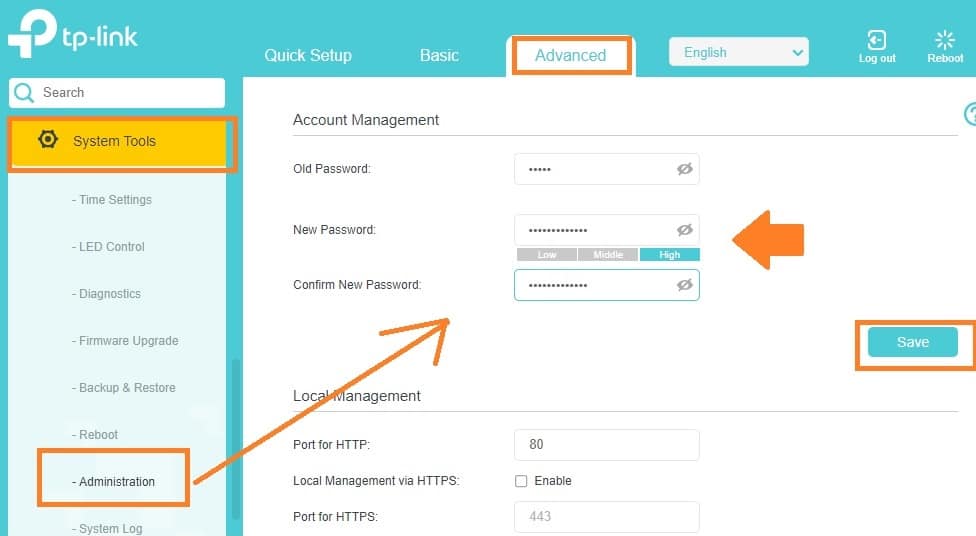 Tips to Set Password
The login password is the key to access the router control panel so the access key should always strong that can hard to break and easy to remember.
Always use a mix character combination password with Alfa numeric upper case and special character.
Never use personal information to set passwords like mobile number, home address, date of birth those are easy to guess by a known person.
Avoid to use a simple password like 1234, and that can easily guess by anyone.
This is the simple quick user manual to login and setup TP-link ADSL and VDSL broadband dual band wifi router.
Related Post