How To Fix Straight Talk Hotspot Not Working?
You probably facing an issue with a straight talk hotspot not working with your straight talk phone and must be looking to get rid of it without struggling much. There are many reasons that might be the Straight talk hotspot not working or the Straight talk hotspot disabled automatically or may be unable to connect the user with the Straight talk hotspot. The straight talk phone hotspot not working can be solved using a few DIY troubleshooting steps on the software side.  Straight talk hotspot not working means either your phone WiFi not working, data plan limit crossed or plan expired, Hotspot user limit restricting to connect user more than limit specify or problem with wifi hardware.
As Straight talk does not own any network so its relay on another network in collaboration with another network provider such as Verizon sprint and others. In some care roaming around different network failed might be an issue with the hotspot not working on a straight-talk cell phone so make sure you are in the proper location where your phone getting a good signal.
What is Straight Talk hotspot?
Straight talk phone gives you a hotspot option that turns your phone into a wifi router that shares your existing internet plan with multiple users using Straight talk hotspot option. Although every smartphone supports the Hotspot option so if you facing a hotspot not working with any phone including Straight talk, just follow the steps below to fix it.
why is my hotspot not working on straight talk?
There are many different causes behind hotspots stop working on Straightalk phones suddenly. You can fix it within a few steps once you understand why the straight talk hotspot not working on your cell phone. follow the steps below to solve the hotspot not working on the phone before taking it to a repair center or replacing a new phone.
Enabled hotspot in Straight Talk Phone
Make sure Hotspot is enabled in your phone before deciding the hotspot not working in straight talk. Follow the steps below to enable Hotspot in your Straight talk phone and check if everything working fine.
home screen > tap Settings > tap More Networks > Tethering and Wi-Fi Hotspot.
Enable Hotspot Change SSID name and set a Hotspot WifI password.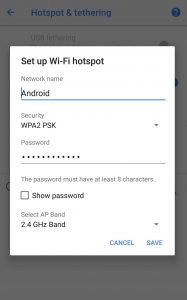 If still hotspot not working then follow the below steps to troubleshoot more.
Check Straight talk Phone signals
The possibility can be No signal or weak signal if the hotspot stops working on Straight talk phones. As straight talk doesn't have any own towers so it relays on different network towers to get signals. If you moving to any location where straight talk not getting a mobile signal from the nearest tower or getting low signal due to no mobile tower nearby can reason of hotspot problems.
Solutions- move to the outside of home or place phone in other location so it can get proper signal from the nearest tower located. You can also go to network settings to manually search for the best network in the nearest location and as Straight talk relay on other networks such as Verizon sprint mobile so just chooses which mobile network has strong and check hotspot should start working.
Internet plan Network usage limit exhausted
If your straight talk hotspot is connected with no internet problem then the reason might be internet data usage exhausted so you not getting internet with the same hotspot. Check if you are subscribed with an active internet plan or recharge with an add-on data pack to fix the hotspot connected with no internet. You can download straight-talk apps or visit the My Account section to confirm if you have an active data plan or data limit finished.
Solutions:
First, check if you have an active internet plan using apps or my account option. You can reduce data usage by force stop background apps that utilize the internet even when apps did not open on the screen.
If the data plan end is the reason for the hotspot not working, just buy an add-on data pack to start your hotspot again or upgrade your data pan with a higher limit to avoid any data exhaustion issue in the future.
Change Hotspot User Limit
If you are unable to connect hotspot after connecting to one user then you must remove the user limit in your hotspot settings. In hotspot by default user limit is 1 user so if the hotspot not working with multiple users then just go to hotspot settings and increased the user limit to more and check again.
Restart Phone and Enable Hotspot again
Sometimes mobile devices keep running many days without a reboot start bugs into some features such as wi-fi , hotspot, calling, and others. Just Power Off for 5-10 minutes or restart the phone and enable Hotspot settings again to confirm that hotspot not working issue is fixed and it started working.
Restart the Straight talk phone and enable Hotspot settings from settings again. Make sure after restarting the phone is registered with the network before connecting to the hotspot.
Reset Phone Network settings to Default
If restarting the Straight talk phone does not fix your hotspot issue then the next steps you can try are Reset network settings on your straight talk phone. Reset network settings will not affect any other settings. Only mobile network, hotspot, and WiFI settings will be factory reset in default mode.
Reset phone network settings and restart the phone and check setup hotspot settings such as SSID, Hotspot password again and check.
Full factory Reset Straight talk phone
Making a phone full factory reset will erase all your saved data in a phone so before proceeding to reset straight talk phone make sure you have downloaded all pictures, contacts, and other files.
Go to Settings and Factory reset option. Select full factory reset and wait until the phone restores to default mode.
Final Words
Facing Hotspot issues either in a straight talk phone or any other android phone this fixing guide will work for all. So just follow the above steps to solve if your straight wifi hotspot internet not working due to any reason that you are not aware of. You can just upgrade the android version from settings if any new android update is available to fix random bugs on phone. Hope this guide will help you to solve straight talk hotspots not working on your phone.
Related Post