Tp-Link Cr1900 Login and Configuration First Time
TP-Link CR1900 dual-band wireless Docsis 3.0 cable modem router with multiple Ethernet ports. TP-Link AC1900 Docsis cable modem supports 600Mbps in 2.4Ghz and 1300Mbps in 5ghz wireless band for live streaming and gaming experience. TP-Link Cr1900 cable modem supports many security features such as
Firewall, content flirting, Mac access list, port forwarding, and many other routing features. TP-Link CR1900 cable modem is fully compatible with Xfinity, spectrum, and many other service providers and the supported provider list can be found on TP-link's official website.
TPLnk CR1900 Dual band cable modem supports the IPv6 version as well as VPN passthrough and guest network for wireless so you can keep safe your wifi network to avoid sharing the main wifi password.
Physically you get a 4 gigabit (10/100/1000) Ethernet port to connect your wired desktop, NVR, network printer, or any other device to get high-speed internet. Two USB ports give you the option to turn your router into a NAS to share files in the same network. find basic hardware and software specifications of TP-link CR1900 ac1900 DOCSIS cable modem.
TP-Link CR1900 Software Feature
Software features make your network more secure and stable and you can freely use the internet with your wifi network from different devices without worry.
TP-Link Cr1900 cable modem supports the TP-Link tether app so you can manage your internet settings from your mobile device without connecting to PC/laptop every time.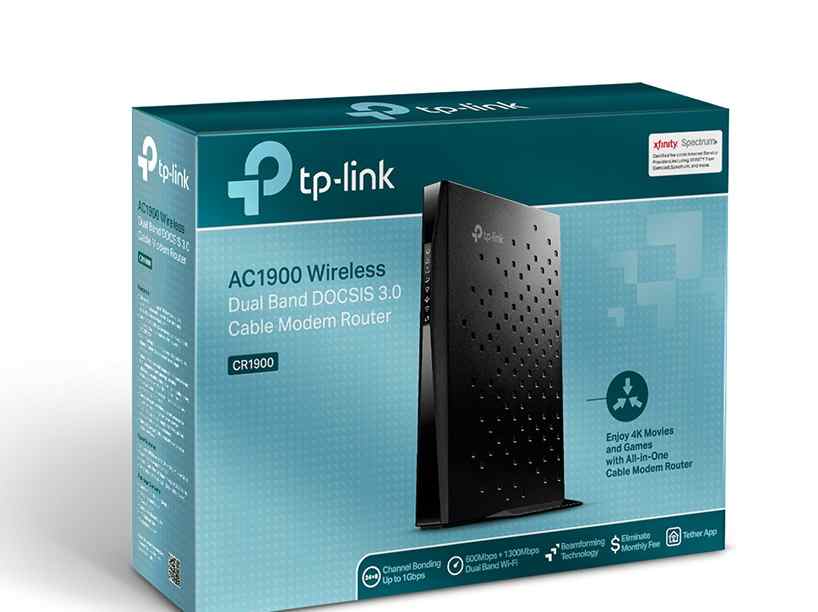 Wireless Functions
Enable/Disable Wireless Radio, WDS Bridge, WMM, Wireless Statistics
Wireless Security
64/128-bit WEP, WPA/WPA2, WPA-PSK/WPA2-PSK encryption, Wireless MAC Filtering
Management
Web Based Configuration(HTTP), Remote management,

Diagnostic Tools

Security
NAT Firewall, Access Control
Port Forwarding
Virtual server, Port Triggering, DMZ, ALG, UPnP
Advanced Functions
Parental Control, MAC/IP/URL Filtering, Network Address Translation (NAT); RIP v1/v2 (optional); DNS Relay, DDNS, IGMP V1/V2/V3
Guest Network
2.4GHz guest network × 1 5GHz guest network × 1
TP-Link CR1900 Cable modem Hardware Features
Hardware feature that makes your router power full and makes your wifi high-speed connectivity so you can share any size file without any lagging or delay.
| | |
| --- | --- |
| Memory | 32 MB flash and 256MB RAM |
| Interface | 4 10/100/1000Mbps RJ45 LAN Ports 1 Coax Port 2 USB 2.0 Ports |
| Button | 1 Power On/Off Button 1 WPS Button 1 Wi-Fi On/Off Button 1 RESET Button |
| Power supply | 12 V DC |
| DOC SIS Standards | DOCSIS® 1.0, 1.1, 2.0, & 3.0 |
| Antenna Type | 3 internal antennas |
| Frequency | 2.4GHz and 5GHz |
| Transmit Power | <20dBm(EIRP) |
All the hardware and software features you can find on the datasheet available on the official website. If you are using an internet or TV service other than Xfinity or Spectrum check compatibility before buying or also can see the TP-Link CR1900 review from different online website to confirm if work for your internet service provider.
After review, you need a simple configuration guide for the TPLink CR1900 Docsis cable modem.
Login TP-Link CR1900 Dual-band Wireless Cable modem
As the CR1900 AC dual band cable modem supports wireless and Wired so you can log in to TPlink CR1900 using wired or wireless connections.
Change Wireless SSID and Password
using tp-link cr1900 with Xfinity comcast or with any other internet service provider login and configuration methods are the same so you can follow this manual.
Go to Basic- Wireless Settings
Under wireless settings, you will get a 2.4Ghz wireless band and a 5Ghz band so you need to change WiFi SSID network name for both bands one by one along with the security key.
2.4Ghz Wireless- Enable Wireless Radio
Network Name (SSID)- TP_Link_CR1900_2.4Ghz  (change new WIFI name for SSID for 2.4Ghz)
Password: create WIFI password for 2.4Ghz
5Ghz Wireless- Enable Wireless Radio
Network Name (SSID): TP_Link-CR190_5Ghz (change WIFI name for 5Ghz band here)
Password: Set a wifi password for a 5Ghz wifi network. You can use the same SSID and Password for both bands so the mobile can auto-connect as per the support of the mobile.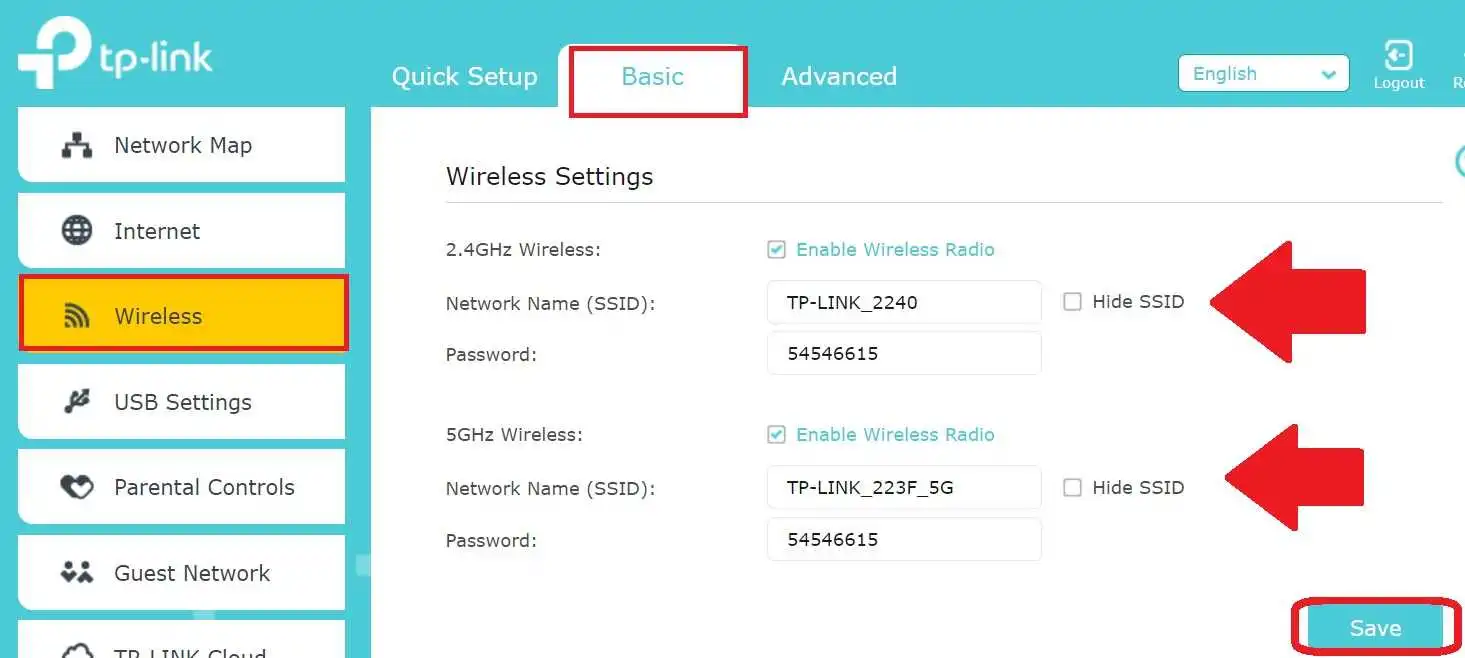 Press the Save button to confirm settings. Your mobile and other wifi devices will be disconnected from the network and you need to connect it with a new wifi name and password again.
If you want to enable a guest network for your visitors then follow the next Steps.
How to set up the Guest Network of the TP-Link CR1900 Cable Modem?
Enabling a Guest network help you to secure your Wi-Fi network because you don't need to share your main wifi password with guest and you can also limit internet speed and internet time for the guest network which also help to manage your internet plan.
Go to Advanced- Wireless
Wireless- Guest network
Enable guest network for 2.4 GHz or 5 GHz or for both bands.
Create SSID and password for Guest WIFI network.
To prevent your data access from Guest users uncheck the option "allow guest user to access my local network" Although by default this option is disabled if it's enabled uncheck the option to restrict your guest network to access your data.
Save settings and your TP-Link CR1900 Ac1900 dual-band wireless cable modem ready to use with a more secure network.
If you wish to add extra network security in your Wi-Fi network then you can also enable a Mac access list, enable parental control to save your kids from inappropriate internet and set an internet working schedule time to restrict internet during study time.
Related Post