Blueendless WiFi Extender Setup Manual
The Blueendless WiFi extender setup is a great way to solve your WiFi problems. It is a device that sits in the room and it picks up the WiFi signal from your router and it boosts the signal to your devices. 
For every internet connection in the home and office, there is a wireless router that needs to be connected to a modem to work, to get high-performance of the wireless router needs to be installed at a central location. If a wireless router is not in the best area or centralized placement, then some areas of the house might not be getting the signal. A simple solution to this problem is to use a Blueendless wifi booster to extend the network. 
This article is a simple configuration guide for Blueendless WiFi extender setup and the process of positioning the Blueendless WiFi extender to the proper location to provide a stronger wireless signal.  
Blueendless wifi booster is a device that helps extend the signal from a wireless router. This is done by picking up the wireless signal and transmitting it out to other parts of the house. This is a great way to add an extra signal to your house without having to install more devices.  
Steps to Setup Blueendless  Superboost wifi extender  with WPS button
 You may face low signal issues in some areas of your house that depend on how your wireless router is installed and it covers the area. Reason for the low range of Wireless routers or not being positioned proper location is the whole house might not be getting the signal. A simple solution to this problem is to use a wifi booster. 
To set up a Blueendless WiFi repeater device you have two ways using the WPS push method as well as the login method that need to access the device's web interface using the default login IP address. 
Unbox Blueendless WiFi Extender N300 Device from the box first.

 

Plug the Extender device into a power socket near the WiFi router to get an excellent signal for configurations.

 
Go to the WiFi router and locate the WPS button. Press the WPS button for 2 Seconds and release.

 

Within 2minuts go to the Blueendless Superboost device and press the WPS button for 2 Seconds.

 

Range extender WIFI LED will start glowing solid after a successful connection with the Wifi router.

 

Do not unplug the extender device until the process is done and the WIFI LED is solid.

 

Once the configuration is done go to your mobile/laptop wifi and search for network. You will get a new WiFi name with Range Extender_EXT something that is the SSID of the extender network.

 
Connect it and check internet speed and internet working with extender SSID.

 

Unplug the Range extender device and find a centralized location where you are facing low signal issues but using a place from the Existing host router can be feasible and get proper signal strength.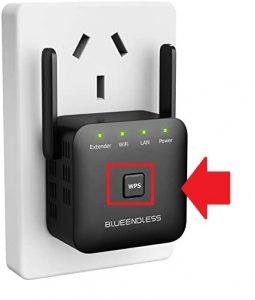 Apart from the WPS method If your Blueendless Extender not connecting using the WPS button due to WPS not being supported by your router or disabled in settings can use login methods. 
Connect Blueendless Superbooster Signal booster with Login methods
 To access the Blueendless Super booster WiFi repeater device need to connect using Wireless or Wired from an Ethernet port. Blueendless N300 Range extender device supports single band 2.4Ghz so you can only setup it up with a 2.4Ghz supported Router or dual band that supports both 2.4Ghz and 5Ghz. 
 

Unbox Blueendless Repeater device from box connect it to power socket near host router.

 

Wait a moment until it's turning on and scan in mobile/laptop wifi to get the Default Wi-Fi name.

 

Use LAN cable for Wired connection and connect to Repeater Ethernet port and another side a PC/Laptop.

 

Open the web browser and access

http://192.168.10.253

Default IP address for Blueendless Extender.

 

Blueendless repeater device log-in page will load and provide the default username and password "admin" or look device sticker or box for the default login username password.

 

An extender will start scanning for the wifi network and wait until scanning is done and you get all wifi network lists running nearby.

 

Select your WIFI network SSID name from the list. And press Connect button.

 

In the next steps, you have to provide the WIFI password of the existing WIFI network to allow connection from the Blueendless Range extender device.

 

Existing WIFI Network Password- provide password here.

 

Extended network SSID- Blueendless_WIFI_EXT (default name, you can change the different name for booster signal)

 

Press the next button to finish the steps. The booster device will reboot and after applying all configurations you can check the new Boost SSID name showing on the WIFI.

 
Connect new SSID name to get boost signal and internet range in no coverage area.

 

After configuration is done remove the extender device and place it in the proper location to cover your dark spot area with an extended wifi signal range.

 
 These are simple steps to configure the Blueendless Superboost WIFI range extender device to increase Wireless range and speed without laying new a physical cable.  
Apart from successful installation for a new repeater device if you trying to setup a Blueendless extender with a different WIFI router after upgrading or downgrading your wifi router might face an error while trying to connect from the repeater device. Follow the troubleshooting steps to fix the repeater connection device. 
Blueendless Superbooster Troubleshooting
 The troubleshooting part included solutions to fix any issue that comes during login, setup and after installation and required to fix to make your wifi network problem free. If you have any questions in mind regarding the Blueendless repeater setup find them below or can contact them if not found them here. 
Blueendless Super booster WPS button not working
 If your extender device not connecting with the WPS button and tried as above give steps but the connection is unsuccessful and the extender not working with an increased signal range.  
Make sure WPS is supported by your host router if it's an old legacy model. Also, make sure the WPS option is enabled in settings to allow connection from other WiFI devices using WPS. 
Blueendless Range extender IP Address not working
 If you trying to access the Blueendless repeater web interface but either IP address not working or unable to access the login page due to any issue. 
Find the default login IP address printed on the Range extender sticker. 
First thing if you trying to setup an old Range extender that is already set up with a different WiFi network needs to reset to default. 
If you're using the wireless connection to access settings make sure your mobile or laptop is connected to the same extender network. 
Make sure you are typing IP address 192.168.10.253 or  http://192.168.10.253 . Avoid using the wrong IP address that most people do not notice 192.168.l0.253, http//192.168.10.253, 192.168.1O.253 all will be wrong IP addresses. 
What are the Default IP address and username password? 
The default username and password for the Blueendless Booster device are printed to device sticker as well as the booster instruction manual included with the box. 
The default username is "admin" and the default password is "admin". 
How to Reset Blueendless Extender If password forgotten?
 There are simple ways to reset the Blueendless Signal booster devices using a reset button that is available beside the device.  
Press and hold the Device reset button for 10 seconds and release it when the led lights suddenly turn off and turn on. 
During the reset process, repeater device will restart automatically and restore to default settings and printed to the Repeater sticker. 
Blueendless Super Booster Review
 If you planning to buy a Blueendless Signal booster or you may already own one and still trying to find out performance reviews. Blue endless repeater device single band with 300Mpps wireless speed. 
It gives you 2 external Omni directional antenna to the repeater signal in a larger area and 1 Ethernet port to give you connect to a wired device such as DVR, NVR, printed or desktop. Blueendless WiFi Extender Signal Booster Long Range Coverage is perfect for a small or medium size house to fix signal issues in some dark spots where the main wifi router signal cannot reach. It supports a Single band so the max supported wifi speed is up to 300mbps but if you looking range extender with your dual band wifi router then you should go with a dual-band range extender such as Wavlink AC1200 and similar. 
 Related Post