Devolo Wifi Repeater AC 1200 Setup And Reviews
Devolo WiFi Repeater AC1200 Dual-band 1200Mbps Wireless extender device to boost Wireless range from exiting WiFi networks. Devolo WiFi Repeater Ac support ABGN Mimo wireless band up to 867Mbps in 5Ghz and 300Mbps in 2.4Ghz to give you a better experience for live streaming. Dovolo Range extender gives 1 Ethernet with 10/100/1000  speed to connect your Wired desktop, NVR, DVR, IP camera, Play station, or any other network device without WiFi. There are two ways to set up the Devolo WiFI repeater using the WPS button or from the web browser using login settings.
Setup Dovolo WiFI repeater with WPS is a fast and easy method that does not require your old WiFI network password to allow connections. In the login method, you are required to connect the Repeater device either wired or wireless to access settings from the browser. setting up a repeater using the WPS button is a bit simple and quick way and it takes less than a minute to connect the repeater to the Wireless router.
Unbox Devolo WiFi Repeater and follow steps to configure using WPS and login methods.
How To Install Wifi Repeater Using WPS Button
Installing the Devolo signal booster device not required any connection from mobile or laptop to configure. It's a plug-and-play process that needs to press the WPS button to connect with the router. Make sure your host router supports the WPS option and is enabled from settings.
Unbox Devolo Repeater and connect to a power socket near the host router.
Press the WPS button on the Repeater device for 5 seconds.
Go to the Internet wireless router and press the WPS button within 2 minutes after pressing the repeater WPS button.
Devolo WiFi Repeater ac signal indicator will be illuminated steady white after successful connection with WiFi router.
You will get an Extended SSID network name which will give you repeated Wireless signals from your existing wifi router.
Unplug the Repeater device and find an optimum location to make it perform well without getting the internet slow with repeater connections.
Make sure Repeater gettings at least 50% signal strength from the main internet router to boost WiFi signal in a dead wifi area.
If your Devolo router not connecting through the WPS button due to any reason, then follow the login method to setup Devolo wifi range extender device to connect with your old WiFi networks.
How to Setup Devolo WiFi Repeater AC from Web Browser
Settings up repeater using web browsers bit long process that needs to connect repeater device either wired or wireless to access settings.
Unbox WiFi Repeater AC and connect to Power socket first.
Connect using Default Devolo WiFi SSID or use Lan cable to connect from Ethernet port.
After connection open the web browser and access Devolo login URL – http://devolo.wifi or use Devolo default login IP address http://10.0.10.254 to access repeater settings.
You will get Devolo setup wizard page " Welcome to the configuration of your Devolo WiFi repeater ac".
By default Repeater mode is Selected. If you wish to use Devolo as an Access point, change the mode to the Access point.
Press the Next button and wait for a few seconds until Devolo repeater scanning for all wifi networking running nearby.
You will get a list of WiFi networks for 5Ghz and 2.4Ghz. You can connect the Devolo repeater using a 5Ghz or 2.4Ghz network if your existing wifi router supports dual-band.
Select your old WiFi network SSID from the list and press the next button to provide a WiFi security key.
Devolo WiFi Repeater ac Configuration
Please enter the network password: type your existing WifI password to allow connection from Devolo extender.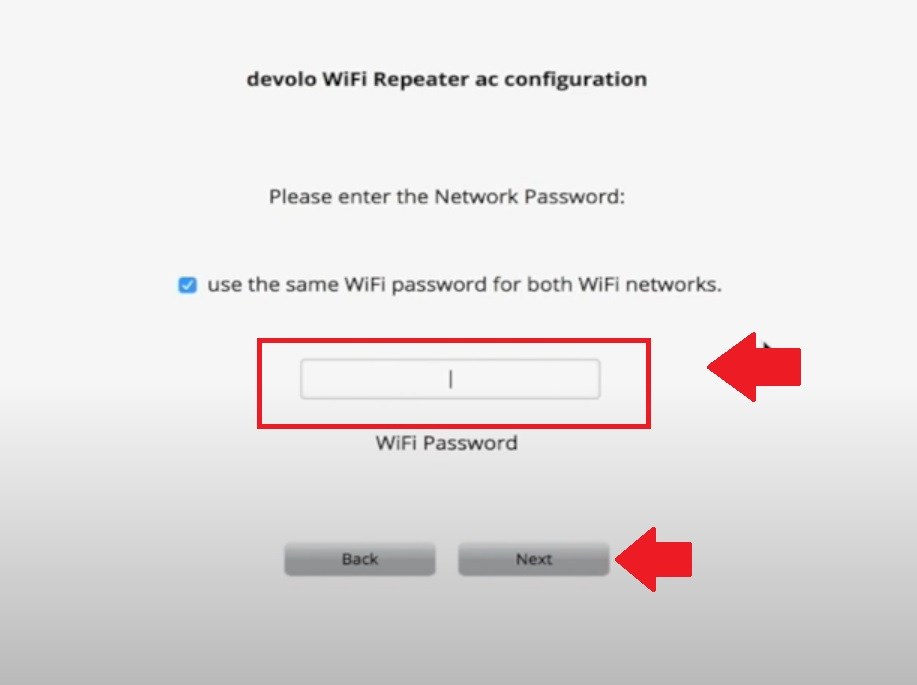 In the next steps, you can use different names and passwords for extended networks. Or select the option to use extender SSID same as existing WiFI network.
Press the next button to finish setup wizards. After finishing the configuration wizard its take a few minutes to reboot the device and connection with the existing network.
After completing the configuration wizard just relocate the repeater device to a proper location where feasible to extender the device and can give boost range to no wifi area.
Frequently asked Question and Answered
If you have any questions or facing any problems while setting up Devolo ac range extender just go through the below question answers. Question answers will help you troubleshoot your range extender setup problem.
What is the default login IP address and password for Devolo Repeater?
Although default login settings printed to device sticker and also quick user manual included with the device.
Default Login IP address – 10.0.10.254 or you can also use Devolo Login URL-http://devolo.wifi
Default Password- admin (or not required for the first time).
Can we use 5Ghz to connect Devolo Repeater?
Yes, If you host an internet router that supports dual-band 2.4GHz+5GHz, you can use 5Ghz to connect from Devolo Repeater AC 1200. For a single-band Repeater, you only have 2.4Ghz to connect the router.
Devolo Wifi repeater WPS button not Working?
If your Devolo repeater ac not connecting to the WiFi router using the WPS button then you have to make sure your existing Wifi router WPS feature is enabled from settings and it's working. You can reboot the repeater and router and try again to connect using the WPS button.
Repeater Connected but no internet or limited?
If your mobile, laptop is connected to Devolo dLAN range extender SSID but shows limited or no internet connection seems the internet is not active on the host router. follow the below steps if Develo not connecting to the internet fix
Check main WiFi router has an active internet connection or connect a LAN cable to the router and check if the internet working through the cable. If the internet led light is not stable on the router contact your internet providers.
How to Factory Reset Devolo Repeater if Forget password?
If you are unable to log in Devolo extender settings and locked out due to forgetting login password just follow the steps below to factory reset.
Steps to hard reset Devolo Range Extender
Power ON Range extender and let it boot properly.
Locate a small reset button hole near the ethernet port or beside. (Depends on repeater models)
Use a small needle or paper clip to press the reset button inside the hole.
Press the reset button for 10-15 seconds and see Devolo led light will automatically turn off and turn ON again.
Repeater device will restart and take a few moments to restore settings into default mode.
After restoring settings follow the above steps to configure again using WPS or login methods.
ATT Compatible Modems and Routers List 2021 Review
Devolo Wireless Repeater Reviews
If you looking signal booster device to fix wifi signal problem in your home or office and want to know about Devolo performance then before buying read Devolo user reviews across different online shopping sites. Although Devolo Ac1200 Range extender best for high internet speed and live stream if facing speed problem due to weak signal.
Devolo dLAN AC1200 WiFi repeater ac support 1 gigabit physical Ethernet and Devolo WiFi Repeater+ ac support 2 Gigabit Ethernet ports. Devolo supports Beamforming to send the Wi-Fi signal directly to your connected clients. Its direct Power wall socket to directly connect to the power socket. Enabled with the latest high secure WiFi security type WPA2-PSK_AES to make sure your WiFi network security.
Related Post