Wavlink AC600 Long Range Outdoor Wifi Extender Setup
Wavlink AERIAL HD2 – AC600 Model WN-WN570HA1 outdoor WiFI range extender device supports dual-band wireless 2.4GHz and 5Ghz up to 600Mbps combined WiFI speed. It is a high-power 11AC outdoor device that supports an Access point, Repeater, and router mode. Wavlink outdoor device can use as an access point with a wired connection and outdoor wifi extender mode to boost signal range without laying a physical wired cable. In an earlier article, we have covered Wavlink indoor range extender setup to boost wifi range inside the house. Wavlink AC600 best outdoor long-range extender device that can use on streets, parks, and college outdoor campuses as well as other outdoor areas. It is made with a Robust weatherproof case that withstands harsh outdoor conditions and extended your wifi range in every area.
WN-WN570HA1 supports 1 single FE Ethernet PoE enabled port and PoE injector and adapter included with the device. it ia fully weatherproof long-range WiFi extender device that work perfectly in any season without a hanging and lagging problem. If you looking a simple user manual to set up Wavink AC600 outdoor extender device to increase WiFi signal range outdoor then read the full article and follow the steps to the steps.
Wavlink Outdoor Range Extender Setup
Wavlink Outdoor Repeater device required to connect either using wired or wireless to access the web interface for setup in any mode from Router, AP as well as a repeater. Login method will be the same to access outdoor WiFI extender device to configure in any mode.
Steps to Login Wavlink Ac600 Outdoor Repeater
Wavlink Ac-600 supports a single PoE Ethernet so you have to connect your PC/laptop to the same port through a PoE injector.
Connect wavlink wifi extender Ethernet port to the LAN cable and plug into the PoE Injector PoE port.
Use a LAN cable to connect the PC /Laptop from the Injector LAN-in port.
Or use Default Wavlink SSID WAVLINK-N or WAVLINK-AC to connect from Mobile or Laptop WiFI.
Connect the Adapter DC pin to the PoE injector DC socket and plug the adapter into Power Socket.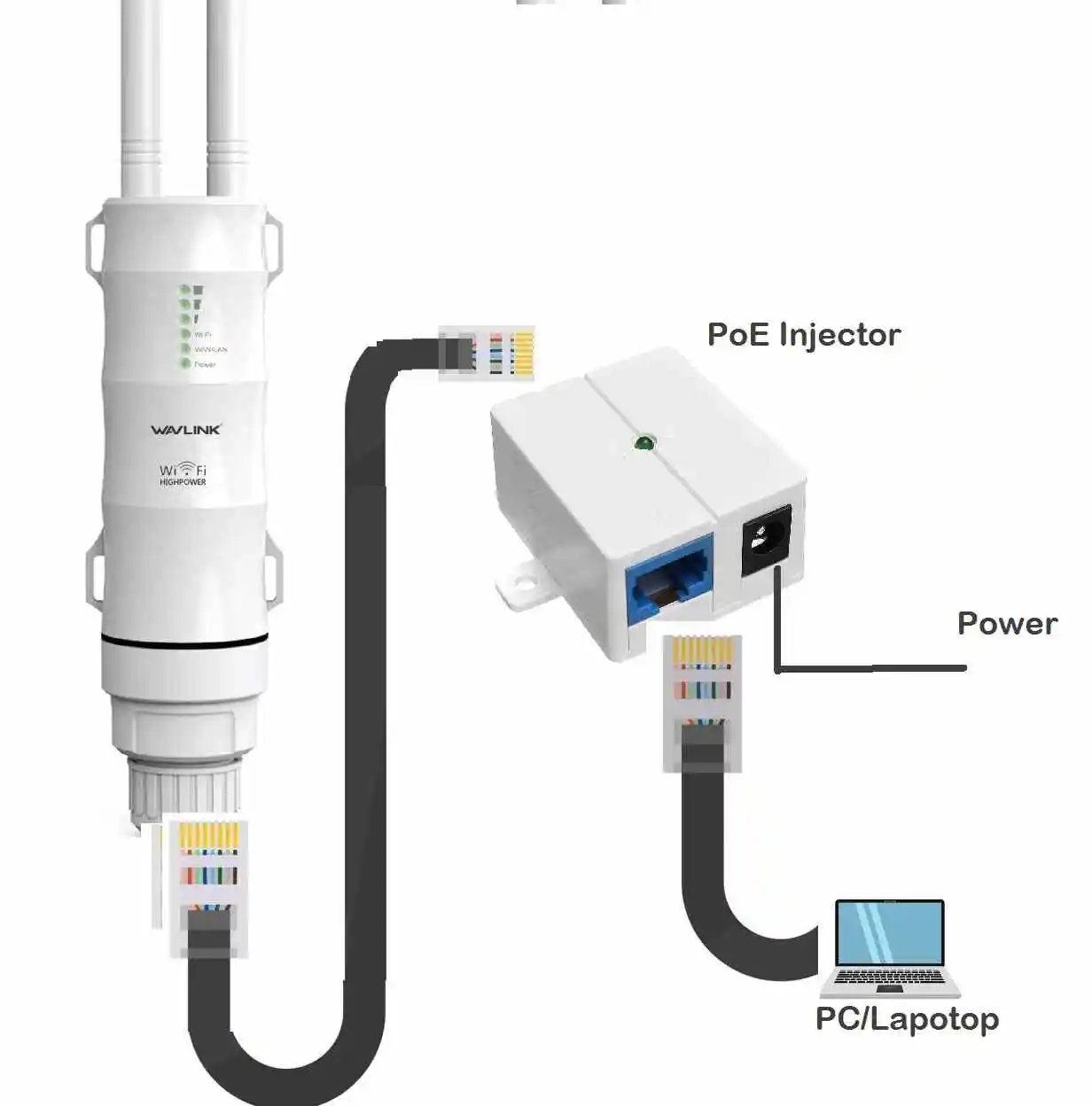 Go to PC/Lapotp LAN IP settings and configure in Obtain IP address automatically or use Static IP – 192.168.10.10 to access Wavelink Outdoor AP.
AC600 Outdoor AP Default Login Settings
Now check the default credentials printed on your outdoor repeater device striker or quick user guide included with the box. Find the default weblink login settings below.
Login URL- ap.setup or default Login IP address– 1921.68.10.1
Default login username– admin
Default login password– admin
Open the Web browser and access wavelink repeater using the URL http://ap.setup or http://192.168.10.1 Wavlink IP address.
Provide "admin" for username and password for the first-time setup or use the same login password if you already changed the Wavlink default login password.
Configure Wavlink AC600 as Repeater Mode
Wavlink outdoor extender device is by default configured to AP mode so to change repeater mode press the 'Repeater" option from the dashboard.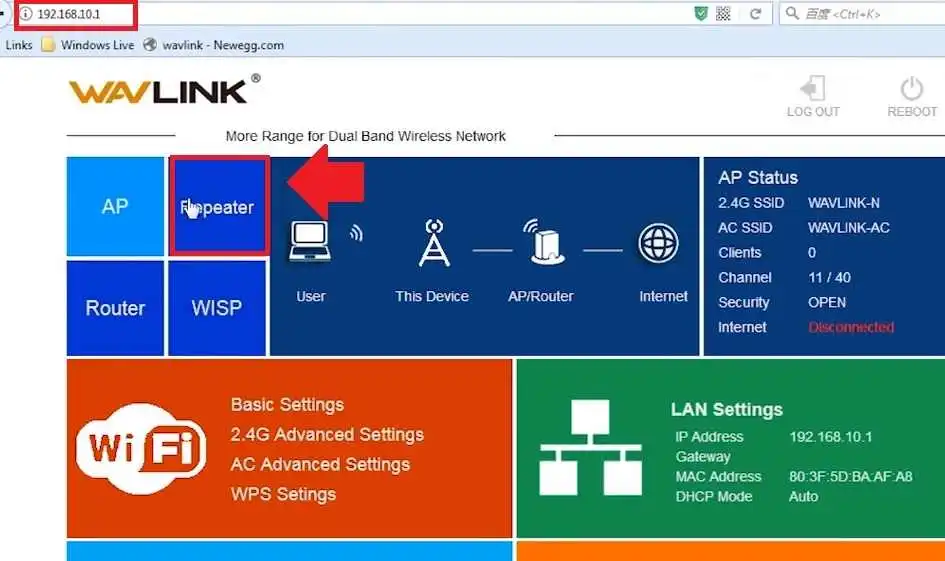 Select your Existing WiFI network To Extend
After choosing repeater mode it takes a few seconds to scan all WiFI network running nearby.
Choose your Host WIFI network from the list and provide WiFi Key.
Select Main WIFI SSID name from the List you want to boost the Range.
WiFI Key- provide the password of the existing wifi network to allow connection from Wavlink.
Repeater SSID- Set up WiFI name for Extended network for 2.4G and 5.8GHz band.
2.4G SSID– Repeater_2.4G
AC SSID– Repeater-5G
Note: Password for Repeater network will same as host wifi network.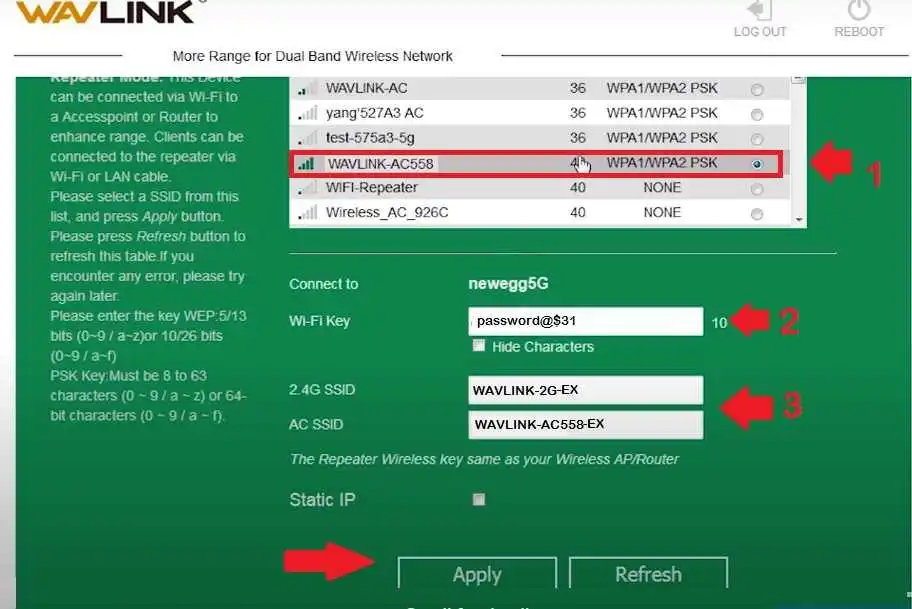 Apply- press Apply button to confirm the settings.
AC-600 outdoor repeater device will take a few seconds to connect the repeater to the host wifi router.
Go to WiFi and check you should get a new SSID for the repeater device. Connect the extended network and find the best place to install wavlink long-range outdoor extender device to get full performance and increased internet speed in every area.
AERIAL HD2 – AC600 Connection Troubleshooting
If you are unable to configure Wavlink ac600 in repeater mode or facing any other issue you may follow the below steps.
Cant Login Wavlink Outdoor AP/Repeater
If "ap.setup" or 192.168.10.1 not working while accessing from a web browser you may fix the issue by following the below steps.
If using a WI-FI connection with AC600 make sure you are connected to the same SSID name.
If using a Wired connection check if the LAN cable from the PoE injector to Wavlink and PC are both connected properly and if the LAN cable is in working condition.
Check if PC/laptop LAN settings are not in a different IP series that not belongs to Wavlink IP (192.168.l0.1).
Type login IP in proper format http://192.168.10.1 or URL http://ap.setup instead of using 192.168.1o.1 or https://ap.setup.com.
The repeater is Connected but No internet
If Wavlink outdoor device is configured as Repeater mode but shows "limited connectivity or no internet problem" then you have to follow the below steps to fix it.
Make sure you have a working internet connection host router you are connecting Wavlnk repeater.
Check if using the correct host network WiFI key in the Repeater device while configuring.
Check if your Pc/Mobile WiFI IP settings are manually not configured with any different IP address.
Check if a firewall or antivirus device blocking the internet.
Final word
This a simple and quick configuration step to setup Wavlink high gain wifi repeater mode to increase wifi range and internet speed in an outdoor area without laying physical cable from the internet router. Wavlink AC600 wifi extender with outdoor antenna gives you a long-range extended wifi range in 360-degree angles because of the outdoor omnidirectional antenna. Enjoy your WiFI now indoors as well as outdoors without worry about weather conditions. If you have ac1200 wifi range extender you can use this user manual to satup other wavlink extender models.
Related Post