How to Login Zyxel ADSL Modem Router?
Login into Zyxel ADSL router from web browser to setup and update wireless and other settings. Zyxel DSL modem used in many telecom company broadband connections those are delving internet over a telephone line. You need to change default settings in the Zyxel router when installing the first time. This user guide will help login to a ZyXEL router and access the setup page to configure the first time as well as update configuration later. Every time you need to manage your internet connection required to access the router settings page.
To access Zyxel ADSL modem or wireless router need to connect device either wired or wireless connectivity to access the settings page. If you are using a Zyxel modem or wifi router in your network than keep bookmark this configuration guide to your computer for accessing router settings.
Zyxel Router Connections and Login Steps
Zyxel login needs to physical connection with the LAN port from the computer to access the router login page. Follow steps to connect Zyxel modem and router to login settings.
Connect Zyxel modem or wifi router from LAN port to PC LAN port. Use the WiFi name and password to connect using wifi connection for wireless routers.
Internet cable coming from ISP should connect WAN port or for internet coming with phone line connect to ADSL rj11 ports.
Change computer network IP settings to DHCP mode to auto IP configuration from Zyxel Modem/Router DHCP server.
 How to access WiFi Router settings using WiFi and Wired?
Zyxel Router Default Login Settings
The next steps you need to know default login credentials to open router settings to the web browsers.
Note: Default login settings also printed to router backside sticker and user manual comes with router box.
Zyxel Login IP Adress for Modem/ WiFi Router – 192.168.l.l
Default Username- admin
Zyxel default password –  1234
Access Zyxel Router to a Web browser
Open web browsers such as Google Chrome, Firefox, Internet Explorer or Opera and access http://192.168..1.1 to the URL bar.
Wait a few second you will get Zyxel Login page or Pop-up windows asking for Zyxel username and password depends on the router models. This print shot Is the login page of Zyxem AMG1302-T10B ADSL Modem.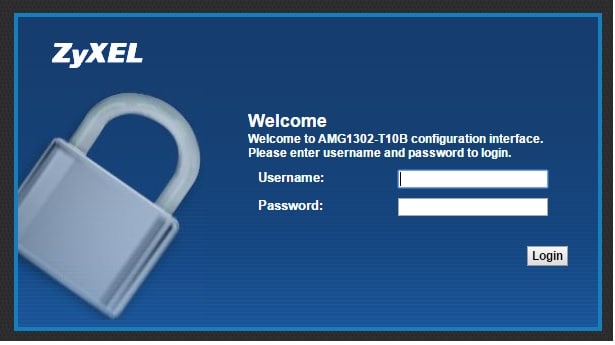 Use the Zyxel username and password for the first-time login.
After a successful login to the zyxel modem şifre değiştirme router control panel, the next important step is to update the default Wireless SSID network name and password to secure the WiFi network from unauthorized access.
Change WiFi SSID name and password
If your settings up modem or router with Wireless support than you must configure wifi settings during first-time configurations.
In default mode ZyxaL router Auto SSID generation so you must disable it and create your own wireless network name.
Wireless settings for Zyxel ADSL AMG1202-T10A Wifi Modem.
Go to Network- Wireless LAN
Wireless Setup
Enable Wireless LAN
Channel Selection- Auto Channel (if using multiple WiFi AP don't use Auto mode. Use 1 (2412),6(2437) or 11(2462) channel numbers to avoid frequency overlapping issues.
1: Enable SSID Auto Generation – Uncheck the box to set your own WiFi SSID.
Name(SSID)- Zyxel_7032vfu (delete this name and create your own Wireless name)
Wireless Security
2: Enable Key Autogeneration- Uncheck the box to create your own wifi key.
Pre-Shared Key– set a strong Alfa numeric key combination password to protect the wireless networks.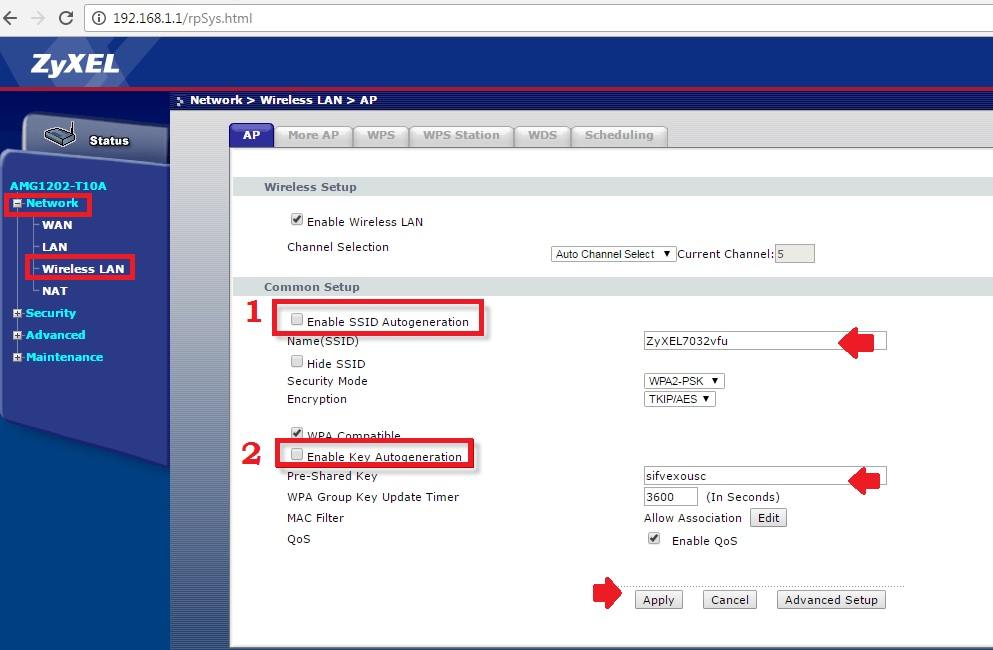 WPA Group key update Timer– 3600 Default
Mac Filter– Press Edit button to enable Mac access list in Zyxxel modem.
QoS- Enable QoS
Press Apply button save settings and connect all wifi mobile and laptops again with new wireless names and passwords.
After Wireless Configuration next recommended configuration step is to change Login password.
Change Zyxel Router Login Password
Login Username and password most common for different brand routers so easy to guess by anyone. Don't forget to change the password to protect ZyXEL login page for default authentication. If you are using Zyxel cloud login than you must keep change cloud login password to protect your wireless networks. Password change for Model AMG1001-T10A ADSL Router that similar for all zyxel ADSL modems.
Go to Maintenance- Administration
Administrator– Username: admin
New Password– Zyxel-new login password (create a strong password)
Confirm Password– Type password again to confirm.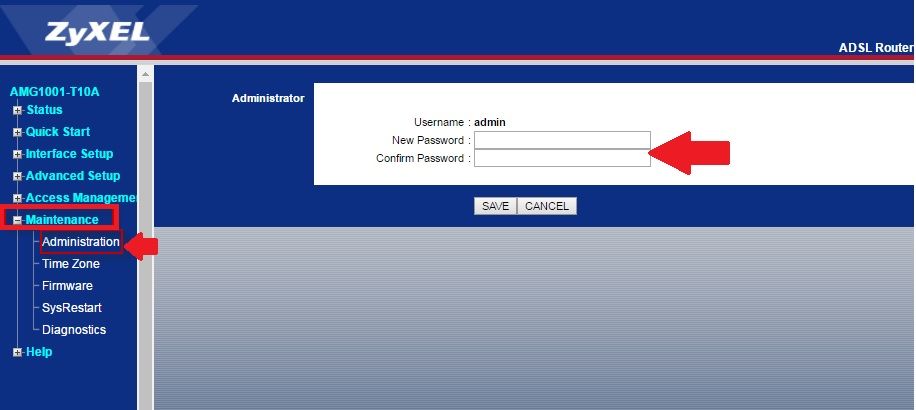 Press save button and you will get router login pop-up page to re-authenticate with new changed login passwords.
Zyxel Router Login Troubleshooting's
If you facing any login error in Zyxel router than you may read the troubleshooting steps to fix the login issue.
Zyxel router login not working
If ZyXEL router login IP address not working for you then you may confirm the Zyxel router login details printed to router sticker to avoid using the wrong login IP address.
Make sure the computer/laptop you are using to access router login page network settings configured to DHCP mode.
Confirm if default login Address not already changed with different IP address series.
You can check How to check the Router IP address?
IF still facing login error and can t login to ZyXEL router than you may use the Zyxel router reset option to restore default login settings.
How to Factory reset zyxel router?
Reset router from reset button needs to access router physically to perform reset process so make sure you are nearby router.
Locate a small reset button beside LAN ports or backside.
Press and hold the reset button for 10-15 seconds until led light blinks
Release button when the power LED light will blink and router rebooting starts.
Wait for 4-5 minutes until the reset process going on.
Try again to access 192.168.o.1.1 Zyxel login IP address in default mode.
If your broadband connection installed with CenturyLink ZyXEL 1100z and wants to access the login page you can try all the above steps. Get default login details for CenturyLink ZyXEL modem behind the router sticker.
Download Zyxel Router Guide in PDF
Related Post