Setup DIGICOM WiFi Router as Repeater Mode [DG-5624T]
You have Digicom 300Mbps or 150Mbps old wifi router laying with you. Why you do not use the old router as a range extender device within a few steps. This post will give your user guide to setup the Digicom wiFi router as Repeater mode to increase the wifi signal range. You can use this guide for Digicom DG-5624T, Digicom DG-5314T as well as any other Digicom Wireless router.
Wireless repeater mode is the best way to boost Wireless signals in the area getting low and no signal coverage from main internet router. Digicom Repeater can set up with any brand WiFi Router and access point in bridge mode and you can extend wifi range without changing the WiFI SSID name. You need to connect your Digi-Com Wireless router using wired from Router LAN port to the computer /Laptop.
Default Login Settings for Digicom Router
To access the router settings page you required default credential for the router to open the web interface from the browser. Usually, default login settings printed to the router sticker, and user manuals come with a new router box. If you are trying to setup old Digicom N300 broadband Router to repeater mode and sticker damage then follow the default settings below.
How to Find Your Router IP Address
Digicom DG-5624T Default Login IP Address- 192.168.10.1
Default Login Username– admin
Digicom Default password– admin
Steps to Setup Router into WiFi repeater Mode
The next steps are to connect your router to the computer /laptop and access the web interface. Digicom DG-5524 N150 and DG-5314T N300 physical 4 LAN port so you can use any LAN port to connect the computer.
Connect computer LAN port to Digicom Wi-FI Router LAN port.
Power On Router with adapter comes with the Router.
Go to Computer LAN settings and use Static IP address- 192.168.10.l0 to make a computer in the Router default series.
 login 192.168.10.1 IP Address with admin password
Login Digicom Router with Default IP
Open a Web browser and access http://192.168.10.l and wait for the router login page loading.
Use "admin" for the default login username and password and press the Login button.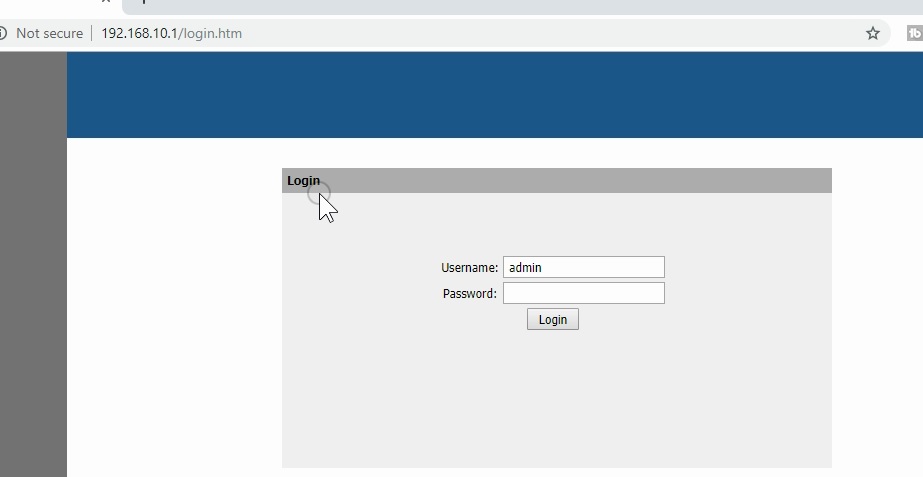 Once you successfully logged into the router settings page now configured to repeater mode.
Change router Mode to Wireless Repeater
Go to the Wireless tab from the top menu and change the Repeater mode.
Wireless- Wireless Repeater
Wireless Repeater Setup
Select the Box to enable Repeater mode
Repeater Enable (DHCP mode will be set to "none" if the repeater is enabled)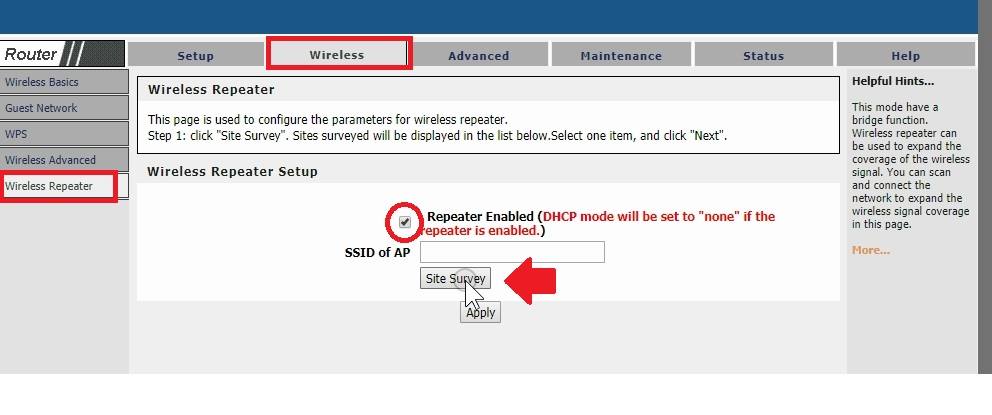 Press the Apply button first router will reboot
After router rebooting login again and go to Wireless repeater again.
Press the Site Survey button and wait to scan the wifi network running nearby.
You will get a lot of wifi SSID network name in the scan list.
Choose your existing WiFI name from the list and press the Next button.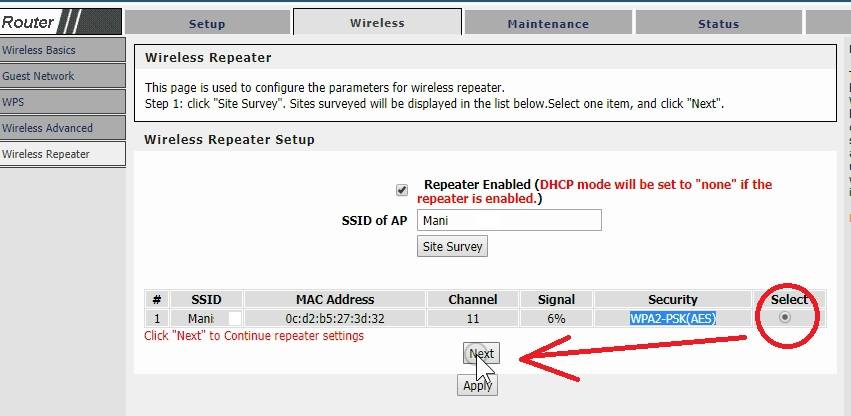 The next step needs to provide an Existing wifi password to allow connection from the repeater.
Wireless security Settings- provide here your main WiFi network password you want to extend using a repeater device.
Encryption- WPA2-PSK (AES)
Security option (WPA2-PS)-   Pre-Shared Key- 1234567890 (type your WiFI password here)
Press the Apply button and wait to save settings.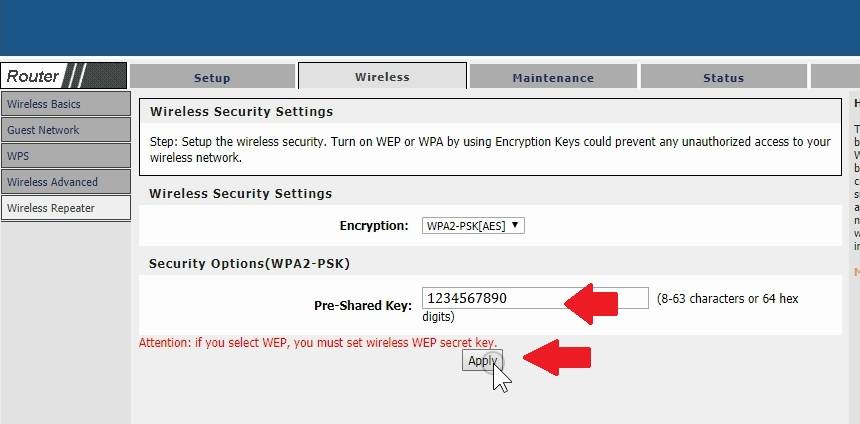 The next step is to set up the WiFi name and password for the extended network SSID name.
Although you have a choice you want to use different SSID for extender networks or use the same as the existing wifi network name.
Configure WiFi Name and Password for Repeater
You can use the same Wireless SSID as your main internet network or use a new name for the Extended network SSID.
Go to Wireless – Wireless Basics
Wireless Settings – Mode – AP
Wireless Network – Enable SSID broadcast – Keep checkbox.
Name SSID- WiFI-Repeater (change SSID for your repeater Network)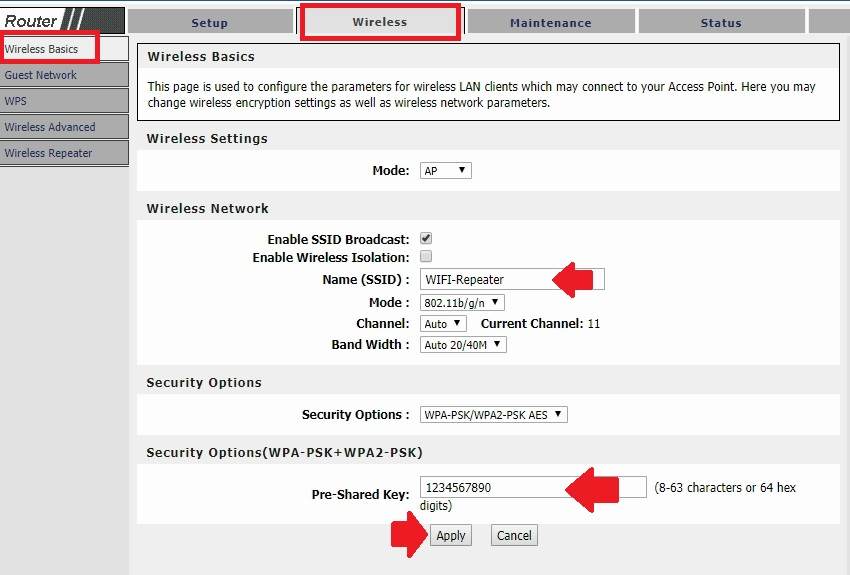 Set Password for Repeater Network
Create a Strong Password for the repeater network.
Go to Security options- WPA-PAS-WPA2-PSK-AES
Press Shared Key– 1234567890 (create a stronger password for repeater network)
Press Apply button
Now go to Mobile/laptop WiFI and check Repeater SSID name should show.
Connect Repeater SSID and connect with the password. Check the internet should start work with extended networks.
Best Placement of Range Extender
Best Placement of DigiCom Repeater
Placement of the repeater decides how your range extender device will improve wi-fi range as well as signals. Repeater performance depends on the host WiFI router signal quality so always find a place where you can get a clear line-of-sight from the repeater device.
Steps to do and don't while placing your Repeater device
Mount the Repeater device in the place where at least 50% signal get from Main WiFI AP.
Do not place the Repeater device under the table or inside the cupboard.
Find a centralized place that clearly feasible to get signal range from wifi router.
Do not bend the router antenna if keep them standing mode.
Related Post