Wiwafifa Wifi Extender Setup and Troubleshooting
 Wiwafifa Wifi extender is the best and smart way to fix WIFI signal problems in your home and office without laying any LAN cable and adding multiple Access points in the same internet connection. If you have a high-speed internet plan but due to poor wifi range you cannot enjoy buffering free streaming in every room and area then Wiwafifa will solve your signal problem.  
Wiwafifa Wi-Fi range extender support 300Mbps Wireless speed that more than enough to provide you a high-speed internet in Wi-Fi dead zone where your main internet router is unable to reach. Wiwafifa WiFi repeater has two physical external wifi antenna that provides you a strong wireless range in your dark spot area and the same time give you a stable high-speed wifi experience.  
Wiwafifa WiFi Extender WiFi Booster is simple to setup using the WPS button without fighting with cable and connection and just work like a plug-and-play device. There are two ways to setup Wiwafifa wifi extender either using the WPS button or using a login method that bit longer but you can use it if your Wiwafifa WIFI extender not working with the WPS method. Default login IP address, username and password for Wiwafifa Repeater device printed to bottom or back side sticker that used for login. 
How to Setup Wiwafifa Range Extender using the WPS method?
 WPS push button is a few seconds process to connect Wiwafifa repeater device with your existing wifi network without changing your name and password. Although the WPS method needs to be physically available near range extender as well as the host router to proceed setup steps. 
Unbox the Wiwafifa Signal booster from Box and plug it into a power socket near the host internet router.

 

Power ON the Signal booster device and wait a moment until properly power ON.

 

Go to Wireless router and locate the WPS button on the front or back side that depends on the router model number or brand.

 

Press the WPS button for 2 seconds on your host router and go to Wiwafifa WiFi extender device.

 

Within 2 minutes press the WPS button on Rang extender for 2 seconds and monitor the LED light.

 

Signal booster Signal LED lights will be solid green after a successful connection with your host router.

 

Go to mobile wifi and you will get a new wifi name with "Wiwafifa_Extedner_EXT" or something. Connect the new name and you will get increased WIFI range and speed.

 

Unplug your extender device and place it in the location you facing the signal issue. Do not place inside the box or any location from the host router not feasible properly.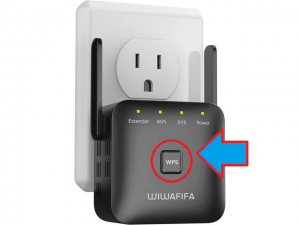 This is a quick setup method for extender configuration if your Wiwafifa WPS not working and not connecting to the host router or showing limited or no connectivity then follow the next method to setup using login. 
Connect Wiwafifa Signal booster from the Web interface
 Configuring the range extender using the login method is time taking process that also needs login credentials for the range extender. Default login credentials such as IP address, username, and password are printed to the repeater label so you can find and follow the steps below. 
Plug Wiwafifa Booster into the power socket near the main internet router and turn on the power.

 

Go to WiFi from mobile. Laptop or desktop and connect Wiwafifa range extender SSID name.

 

Connect a LAN cable from the Extender Ethernet port to the PC/laptop LAN port for wired connections.

 

Open the web browser and access Wivafifa login IP address 192.168.188.1 to the URL bar and wait for the login page.

 

Use the default username and password "admin" or find the username password printed on your device sticker.

 

After login setup wizard will start and the extender device will start scanning for all wifi networking running nearby.

 

Select your old wifi SSID name from the list and provide the WIFI password as configured for the existing wifi network.

 

Change the extender SSID name if you don't want to use Default extended network name.

 

Extender network wifi password will be the same as the existing WIFI network password.

 

Finish wizard and extender device will restart and take a few minutes to complete setup.

 

Go to Wi-Fi and you will new SSID for the extended network as you configured the name or if using default then existing-wifi_ext.

 

Unplugged the extender device and placed it in the location facing a signal problem.

 
 This is simple user instruction to configure Wivafifa range extender to boost the existing wifi network to no coverage area without a lying cable. If you facing any issues or This setup manual not working for you then you need to follow troubleshooting steps to fix the problem. 
Wiwafifa Range Extender Troubleshooting
 WPS not working or login IP address not working is a common problem that comes while setup any range extender. If You are unable to connect the range extender to your existing wifi network or if you trying to setup an old Wiwafifa extender device with a different router and failed to connect then follow the steps below. 
WPS button not working for Wiwafifa Extender
 If you tried to connect the repeater device using the WPS button but not connecting or failed to connect then follow the below steps to fix the issue. 
 Make sure the WPS option is supported by your host Wifi router. 
Check if the WPS button is Enabled in router settings.

 

If-Range the extender is already configured with another Wifi router just make it factory reset and setup again.

 

Make sure the range extender and wifi router are nearby to get at least 50%

signal.

 
Login IP address Not working?
If you try to login but the IP address not working or failed to load the login page looks like there is a network glitch or misconfiguration.

 

Make sure the range extender is already not configured with any other router.

 

Check the default login IP address printed on the label or the quick user guide included with the box.

 

PC/Laptop should be in DHCP mode to get IP from the extender device.

 

Use IP address

http://192.168.188.1

or 192.168.188.1 and avoid using the wrong IP 192.168.188.l, 182,168.188.1, 192.168.188.01 or any other invalid IP address.

 

If the repeater is preconfigured with another network make it factory reset using the reset button and setup again.

 
 How to Factory reset TP-Link Range Extender
How to factory reset Wiwafifa WiFi Extender?
 

Locate a small reset button beside or backside.

 

Press and hold the reset button for 10 to 15 seconds and release

 

The extender device will turn off and turn on again quickly after executing the reset command.

 

After resetting the default IP address and SSID name will show.

 

Follow the above steps to set up Extender again using WPS or the login method.

 
More Range extender Setup Guide